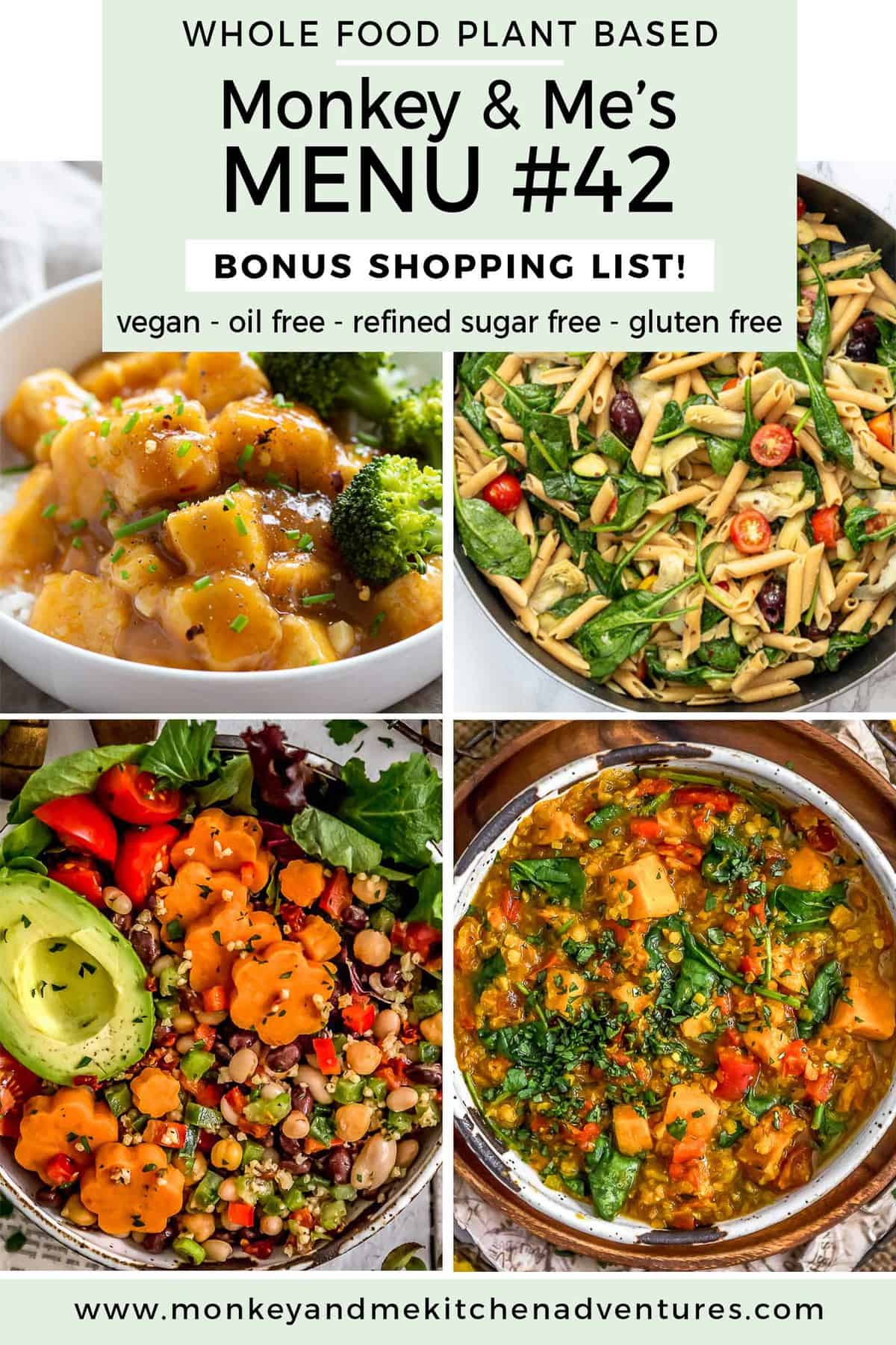 This week's Monkey and Me's Menu features some of our favorite foodie bloggers in menu #42 as well as a FREE bonus shopping list.  All recipes are Whole Food Plant Based, vegan, plant based, oil free, refined sugar free, no highly processed ingredients, and gluten free.
This super tasty menu features delicious dishes from Richa at Vegan Richa, Monica at The Hidden Veggies, Jessica at Garden Fresh Foodie, and Danielle at Code Green Wellness, as well as featuring a few of our own dishes. 😉

Downloadable Menu which offers the following:

2 Breakfast ideas
2 Lunch ideas
2 Snack Ideas
5 Dinner Ideas, including a FREE downloaded shopping list (PDF – Below)

A comprehensive (downloadable) shopping list for the 5 Dinners

The shopping list is segmented into the common grocery store sections like "produce, spices, etc." making it easy to pick up these items from your local grocery store.
It also includes product suggestions that are Whole Food Plant Based compliant* for easy reference.  Note: These products are suggestions, please feel free to select your own favorite products.
Includes helpful codes so you can easily subtract items that you choose not to make.

Downloadable Instructions on how the meal plan work.
Note:  The term "Whole Food Plant Based compliant" is from a general standpoint.  There are Whole Food Plant Based diet branches that restrict certain food items.  Our recipes are all Whole Food Plant Based compliant based upon a high-level compliance standpoint. i.e. vegan, plant based, oil free, refined sugar free, minimally processed foods.
Some breakfast, lunch, and snack ideas are simple concepts that require no recipe.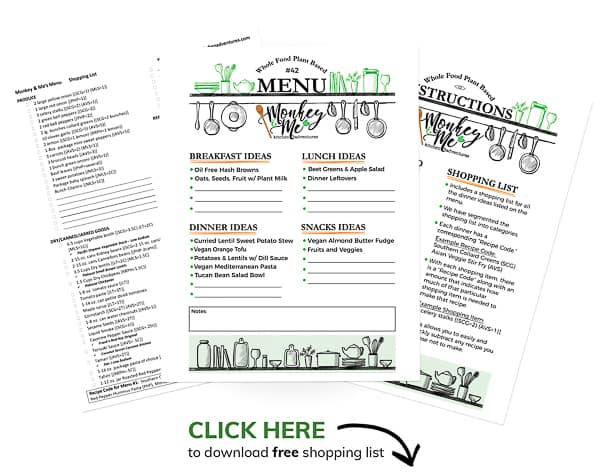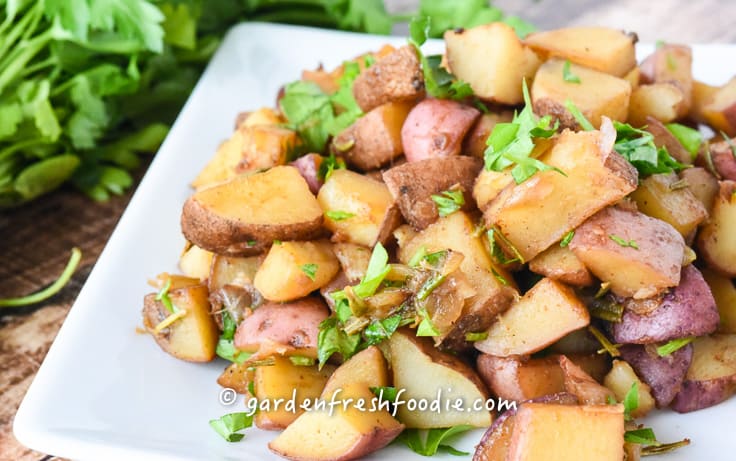 Tasty, crisp potato heaven is what these Oil Free Hash Browns are all about. A fantastic and healthy breakfast boasting no oil, feel-good ingredients, and warming spices. Enjoy this easy and simple breakfast that is sure to put a smile on your face. Head on over and check it out on Garden Fresh Foodie!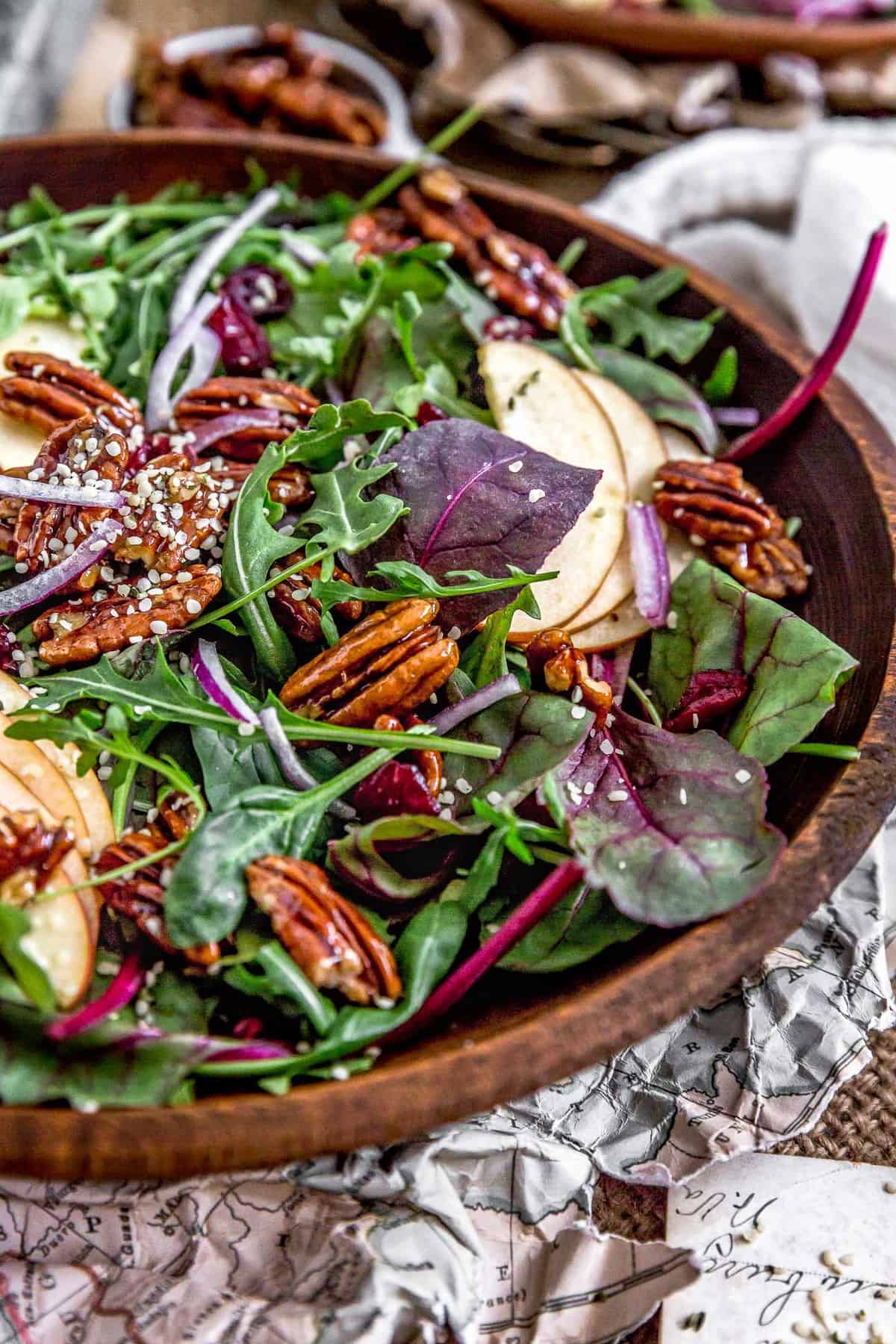 Eat your greens! Aaaand we've got a mouthwatering salad that will have you craving delicious leafy greens! Healthy and nourishing this Beet Greens and Apple Salad with Maple Mustard Vinaigrette is a powerhouse for vitamins, nutrients, and antioxidants with baby beet greens, spinach, and arugula, topped with crisp apples, zesty red onions, rich pecans and tart cranberries, and tossed with a deliciously tangy and sweet dressing that completes this wholesome salad. Get ready to up your greens with this fantastic salad. Head on over and check it out on Monkey and Me Kitchen Adventures!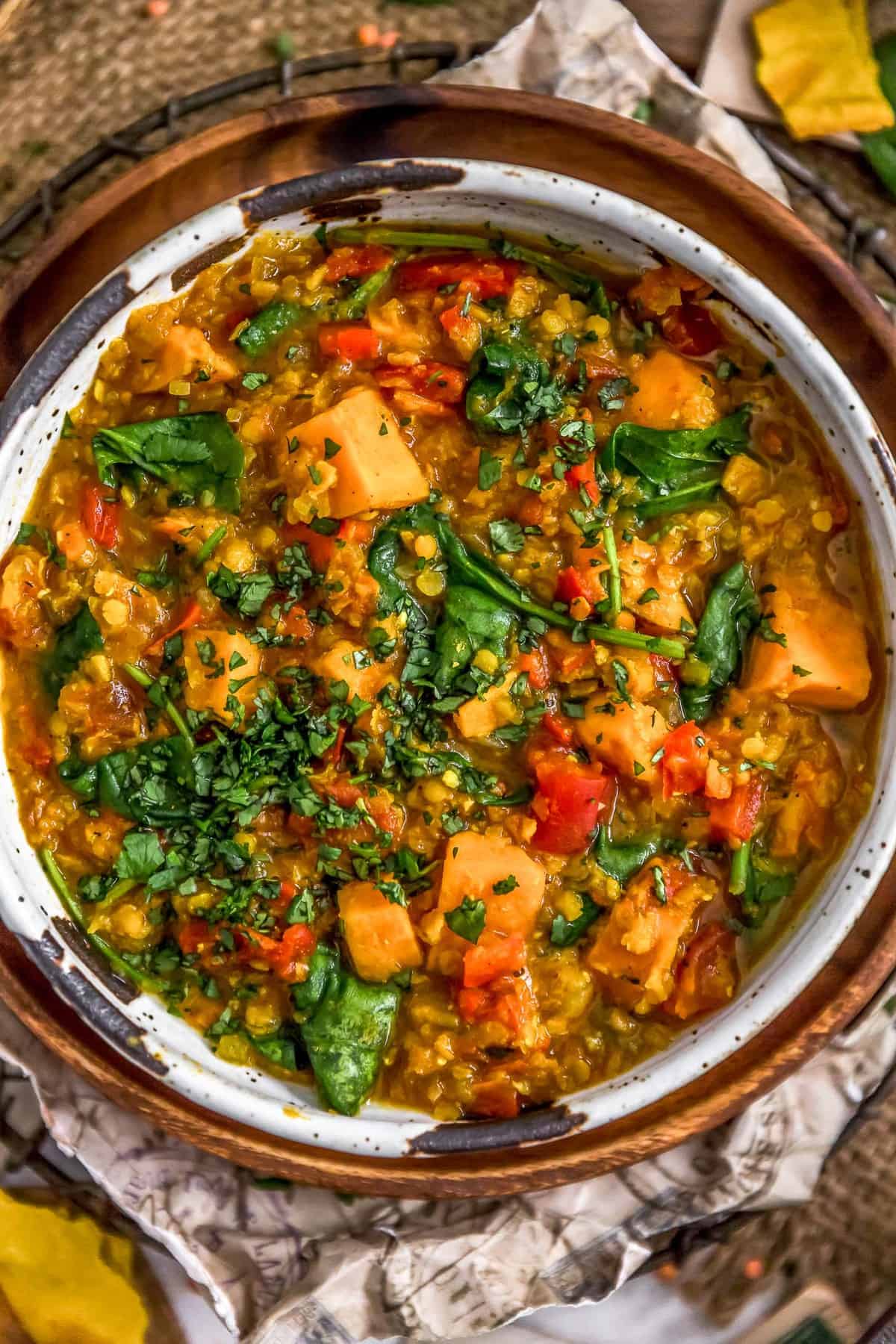 When fragrant, aromatic spices fill the home and make you feel all warm and cozy, those are the soul-soothing dishes that make you feel good from head to toe. This hearty, wholesome, and oh-so-delicious Curried Red Lentil and Sweet Potato Stew is that kinda dish! Not only is it easy to make, but it is packed with plant-strong ingredients!  Creamy red lentils, coupled with tender sweet potatoes, and mixed in a heavenly stew with aromatic spices create this perfectly amazing bowl of wondrousness that everyone in the family will be running back for seconds. Head on over and check it out on Monkey and Me Kitchen Adventures!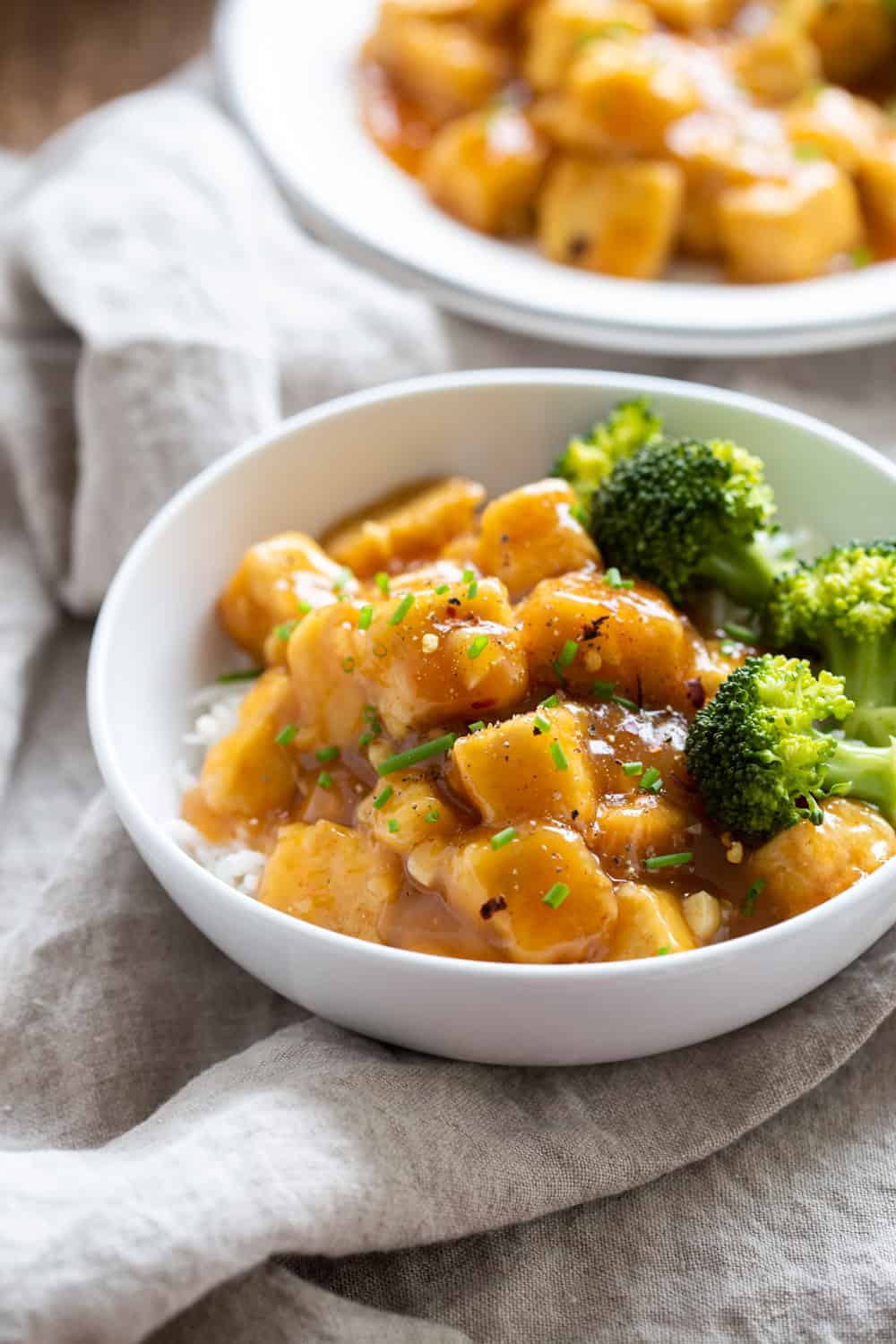 Sweet, tangy, and oh-so-saucy, this Vegan Orange Tofu Recipe will make your belly happy and satisfied. Crispy, crunchy baked tofu drenched in a thick and refreshing orange glaze takes weeknight meals to another level. Serve with some chewy brown rice and tasty veggies for a fantastic meal. Head on over and check it out on Vegan Richa!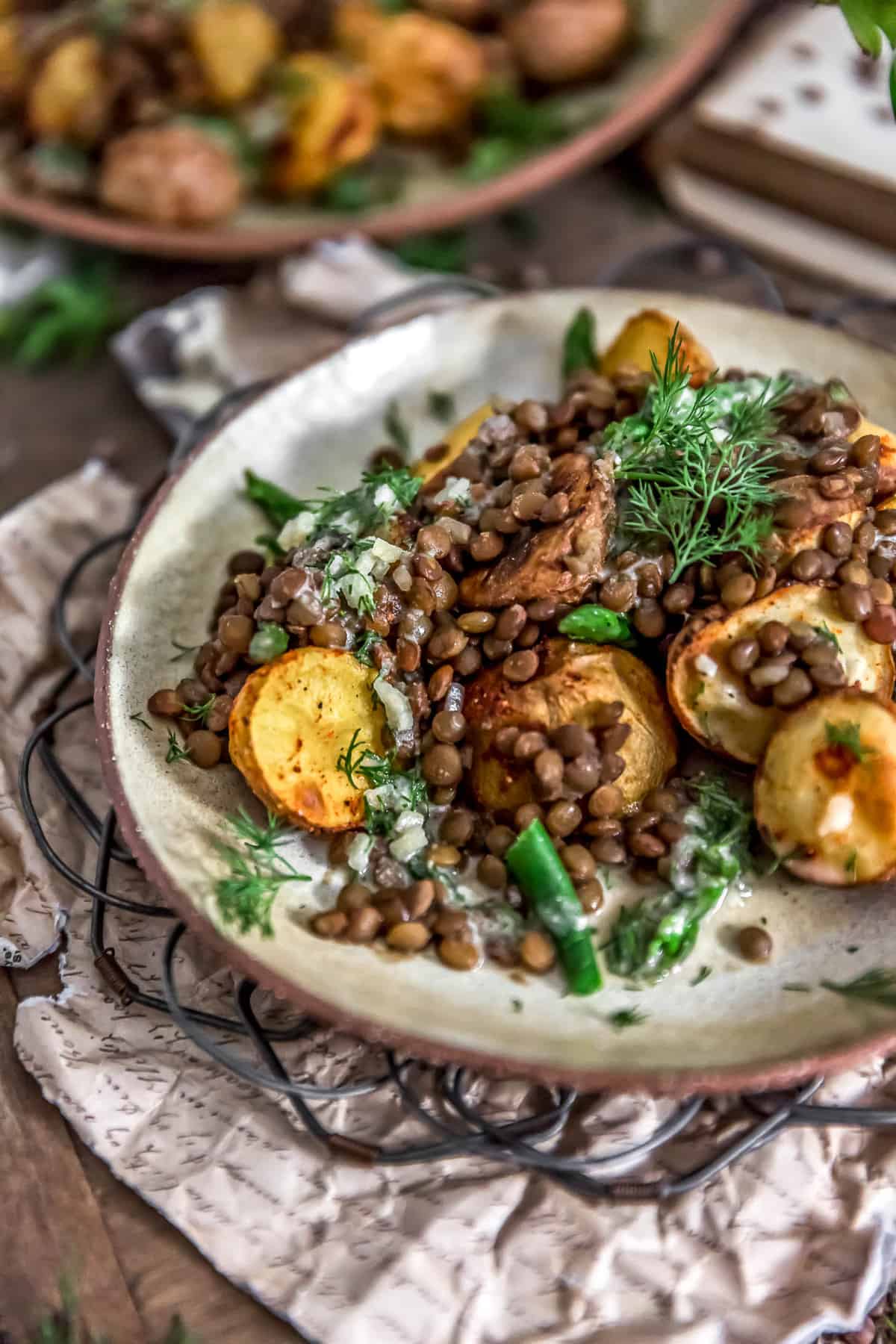 When the cravings hit for something comforting, hearty, and full of flavor, we have the perfect dish for you!  Crispy oven roasted baby potatoes coupled with deliciously seasoned lentils and topped with a tangy, fresh dill sauce is a dish made of dreams. Be prepared to experience a new level of yumminess with the first bite of this amazingly scrumptious Oil Free Roasted Potatoes with Seasoned Lentils and Dill Sauce. Served hot or at room temperature, it's absolutely AH-MAZING and sure to have everyone running back for seconds Head on over and check it out on Monkey and Me Kitchen Adventures!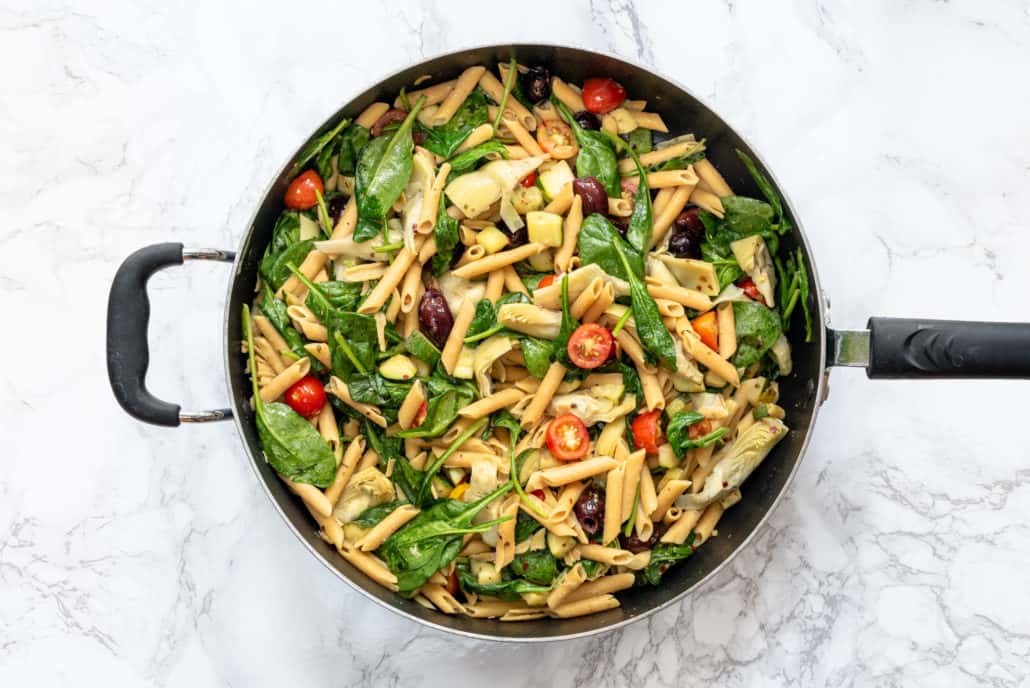 Wholesome, comforting, and brimming with flavor, this Vegan Mediterranean Pasta is packed with veggies like tender artichokes, tangy kalamata olives, sweet tomatoes, and tasty zucchini all tossed in aromatic herbs. A fast and easy dish for those busy weeknights. Head on over and check it out on Code Green Wellness!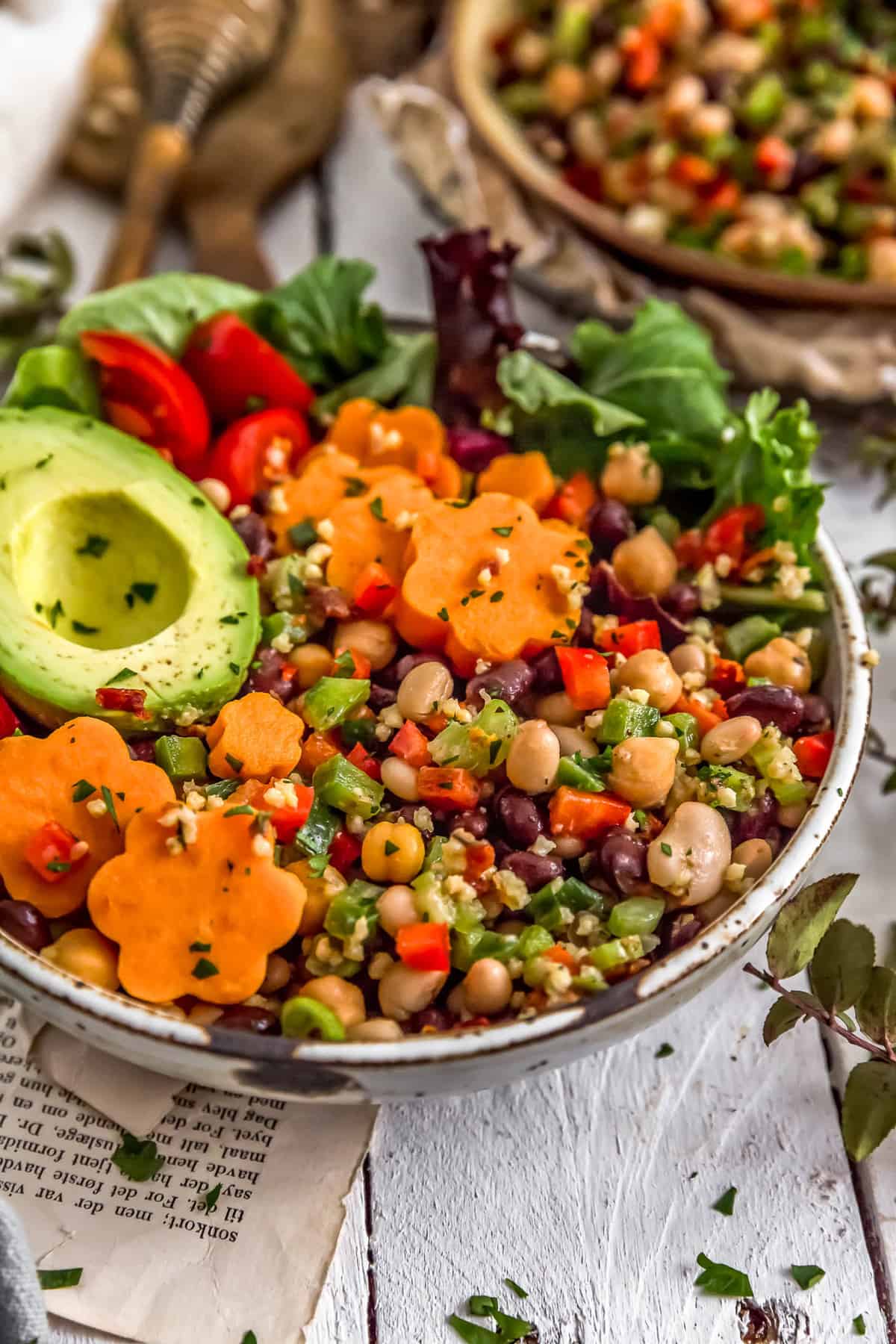 We're taking lunches and salads to the next level with this tasty dish! Healthy and utterly delicious, this easy to make Tuscan Bean Salad is filled with delicious ingredients, aromatic spices and herbs, and sure to make your belly happy.  Perfectly fluffy millet, hearty chickpeas, navy beans, black beans, cannellini beans, zesty scallions, flavorful sundried tomatoes, sweet red and green bell peppers covered with a rich and delicious Tuscan dressing makes for a fantastic, filling salad. An excellent lunch dish, add some tasty taters or roasty veggies for a lip-smacking dinner! Head on over and check it out on Monkey and Me Kitchen Adventures!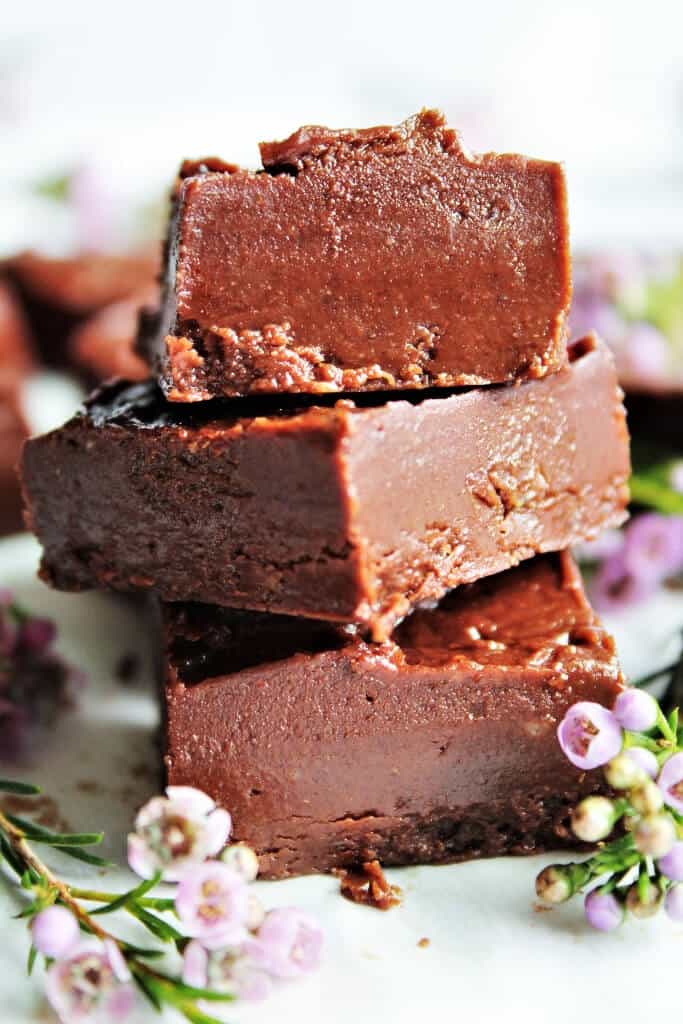 Rich, chocolatey goodness in Healthy Fudge form will be making your sweet tooth happy all while indulging in a protein-packed healthy choice dessert. Sweet, simple, and comforting, you will be doing your happy dance with this Vegan Almond Butter Fudge. Head on over and check it out on The Hidden Veggies!