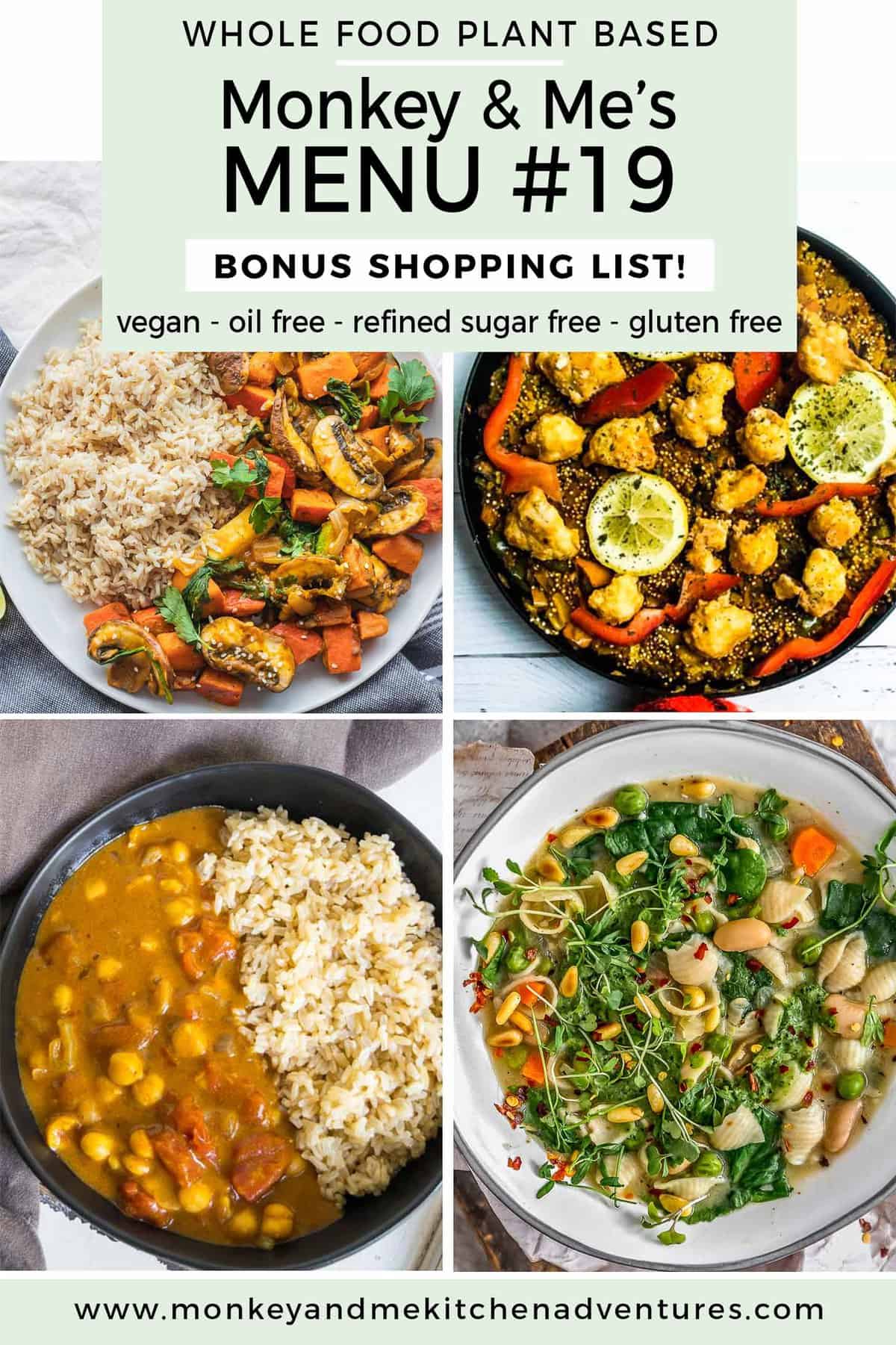 We are so happy to share with you that our Monkey and Me Weeknight Meal Menus have been huge hits.  We received a lot of excellent feedback.  This week we are very excited to feature some of our favorite foodie bloggers in Menu #19.  All recipes are Whole Food Plant Based, vegan, plant based, oil free, refined sugar free, no highly processed ingredients, and gluten free.
This super tasty menu features delicious dishes from Shane at Shane & Simple, Maria at Earth of Maria, Maeve at My Planted Plate, and Kari at Beautiful Ingredient, as well as featuring a few of our own dishes. 😉
Menu #19 meal plan features the following:
Downloadable Menu which offers the following:

2 Breakfast ideas
2 Lunch ideas
2 Snack Ideas
5 Dinner Ideas, including a shopping list

A comprehensive (downloadable) shopping list for the 5 Dinners

The shopping list is segmented into the common grocery store sections like "produce, spices, etc." making it easy to pick up these items from your local grocery store.
It also includes product suggestions that are Whole Food Plant Based compliant* for easy reference.  Note: These products are suggestions, please feel free to select your own favorite products.
Includes helpful codes so you can easily subtract items that you choose not to make.

Downloadable Instructions on how the meal plan work.
Note:  The term "Whole Food Plant Based compliant" is from a general standpoint.  There are Whole Food Plant Based diet branches that restrict certain food items.  Our recipes are all Whole Food Plant Based compliant based upon a high-level compliance standpoint. i.e. vegan, no oil, no refined sugar, minimally processed foods.
Some breakfast, lunch, and snack ideas are simple concepts that require no recipe.
Meal Plan #19 includes the following recipes: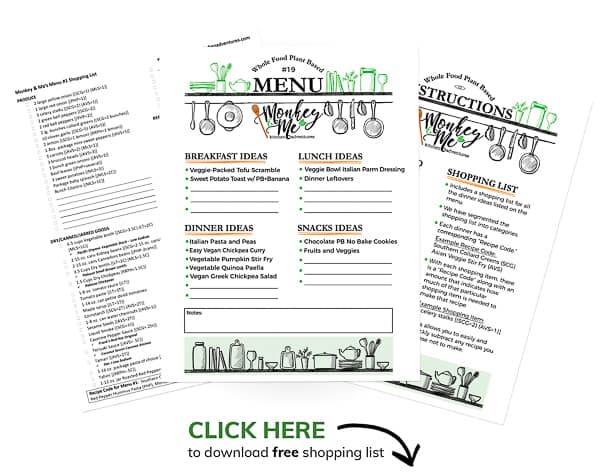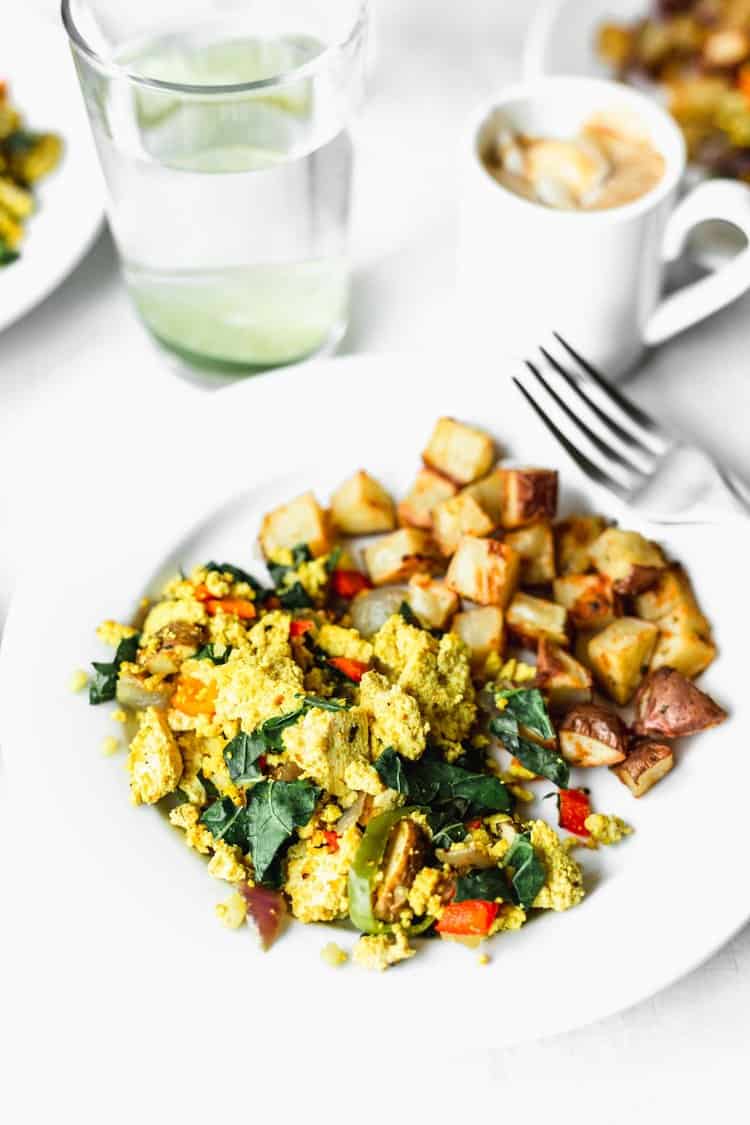 This beautiful savory Veggie-Packed Tofu Scramble is packed with healthy whole protein, fiber, and feel good ingredients. Nutritious veggies, aromatic spices, and hearty tofu all combine to great a delicious breakfast that is sure to have the whole family running to the table. Grab a plate and fork and get ready to dive in! Head on over and check it out!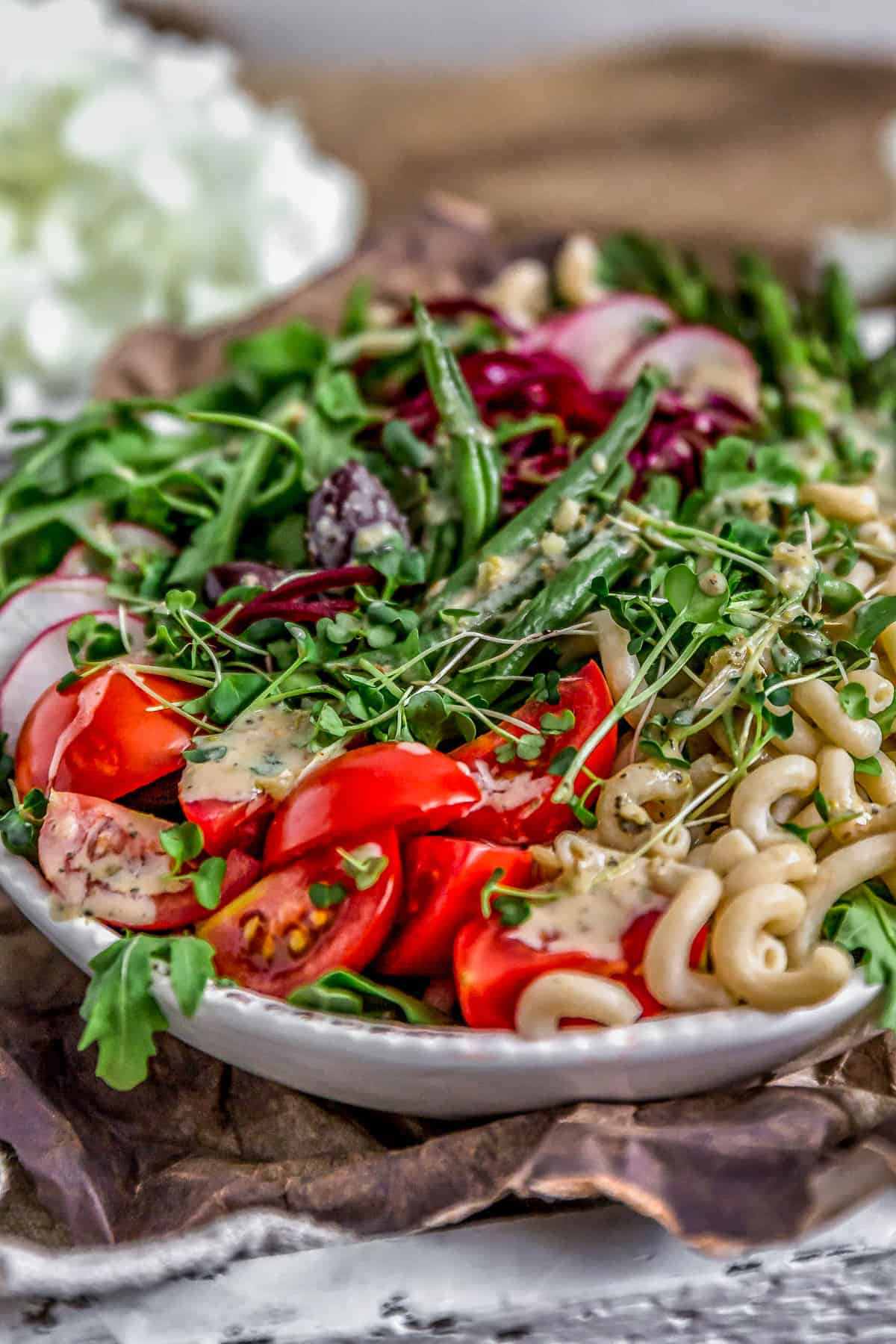 We don't know about you, but we seriously crave salad ev-ery-day and the KEY is a healthy, delicious, and satisfying dressing. This creamy, tangy, rich, and cheesy Oil Free Vegan Italian Parmesan Dressing will have you dreaming of salads. It's a perfect blend of tangy red and white wine vinegars,  velvety tahini, tart lemon juice, aromatic Italian seasonings, carmely maple syrup, nutty nutritional yeast all combined together to delight your taste buds. Making salad dreams come true with this delicious dressing! Head on over and check it out!
When pasta and greens come together, it's a beautiful thing! Simplicity at its finest, this hearty, flavorful, and oh-so-delicious Italian Pasta and Peas is total comfort food.  A one-pot wonder, ready in 30 minutes or less, and a perfect blend between a soup and a pasta dish. If you're a pasta lover, this dish is sure to win your over, not to mention your wallet too. Head on over and check it out!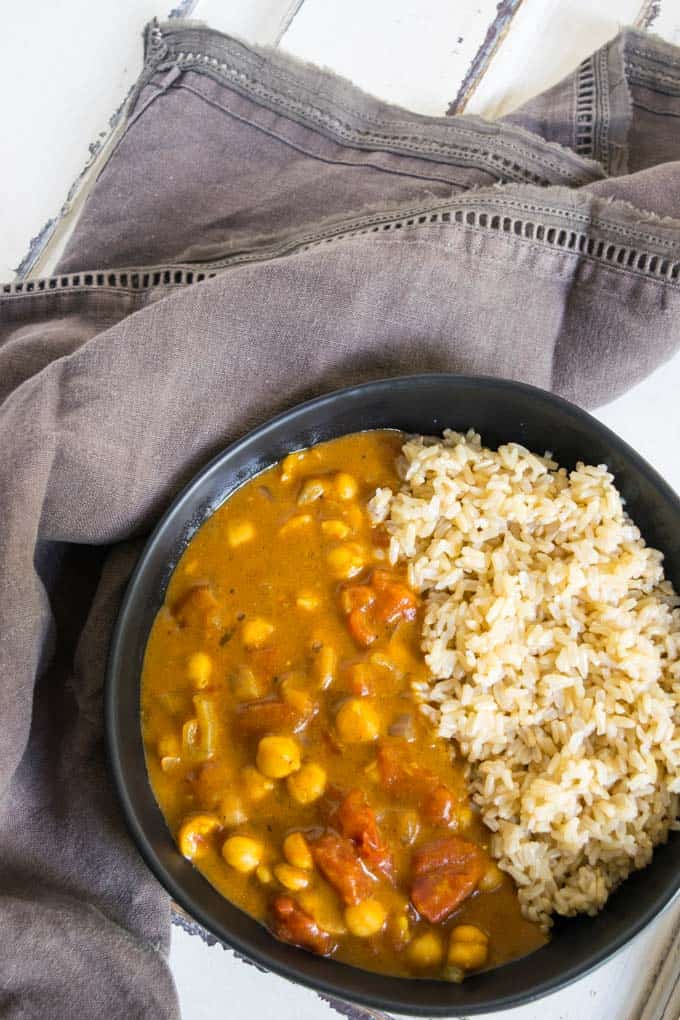 When you have a super busy day, and you need a healthy, wholesome, and most importantly delicious dish for dinner, this gorgeous bowl of Easy Vegan Chickpea Curry has got your back! Brimming with aromatic flavor, velvety sauce, and protein packed chickpeas, all ladled over hearty brown rice, for a yummy dish that is sure to put a smile on your face. Head on over and check it out!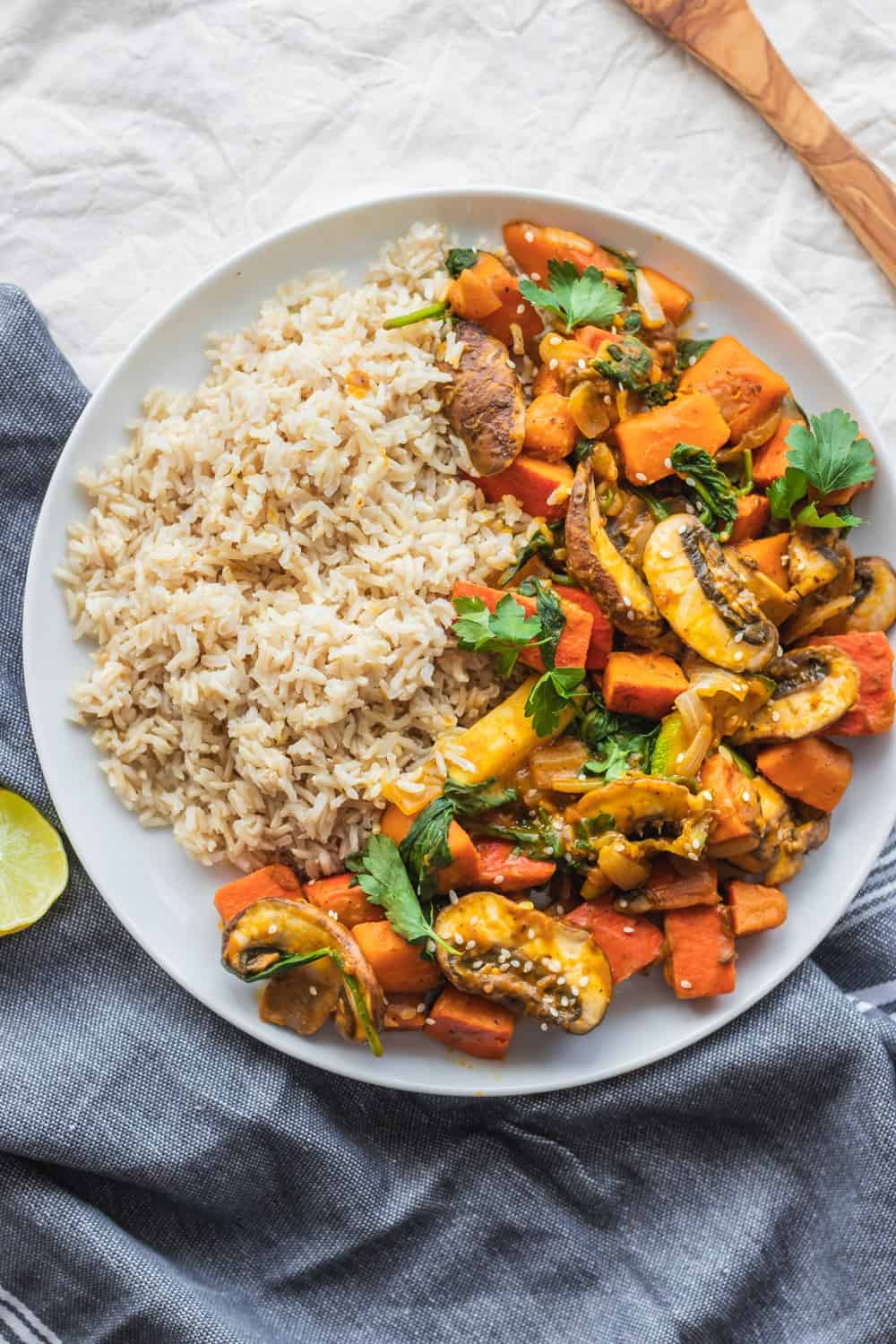 Bursting with wholesome ingredients and mouth-watering flavors, this gorgeous Easy Vegetable Pumpkin Stir-Fry will have you coming back for seconds. Hearty squash, zucchini, mushrooms and spinach all cooked in a rich, creamy, and aromatic sauce then served over brown rice for a delicious dish that is sure to please. Head on over and check it out!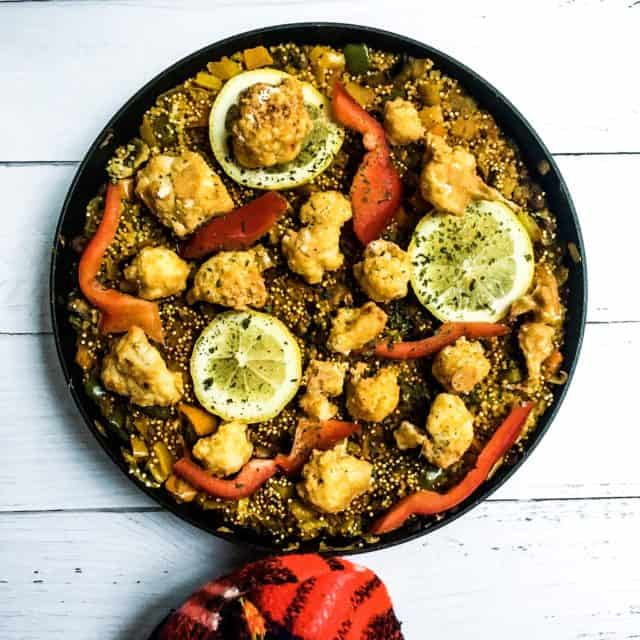 This incredibly flavorful and comforting One-Pan Vegetable Quinoa Paella is packed for of veggie goodness, hearty quinoa, and flavorful spices all cooked together in glorious harmony, and topped with a crispy, crunchy Popcorn cauliflower "shrimp" for the perfect addition. Head on over and check it out!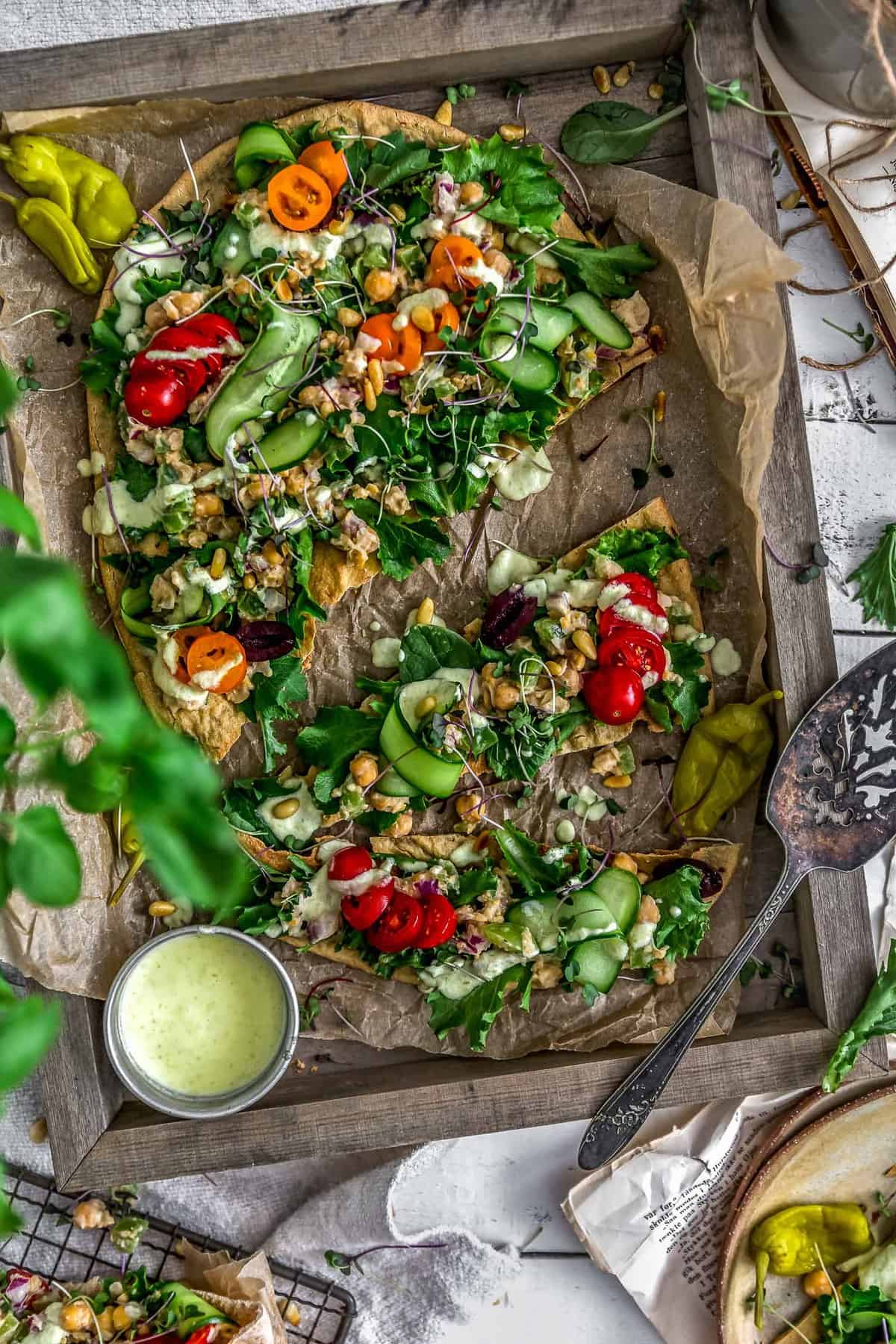 For those hangry days when you NEED something fast, but want it to taste ah-mazing like you worked super hard in the kitchen for hours putting together a flavor profile that is going knocking your socks off… This delicious Vegan Greek Chickpea Salad is that dish! Not only is it fast, easy, and bursting with flavor, but it's oh-so-healthy! Protein-Packed chickpeas, coupled with crisp green bell peppers, and diced red onions mixed with a tasty tahini-yogurt dressing is your ticket to flavor-town with the first bite. Add this hearty Vegan Greek Chickpea salads to a bed of nutritious greens, a quinoa flatbread, lettuce cups, pita pocket, and so much more! Head on over and check it out!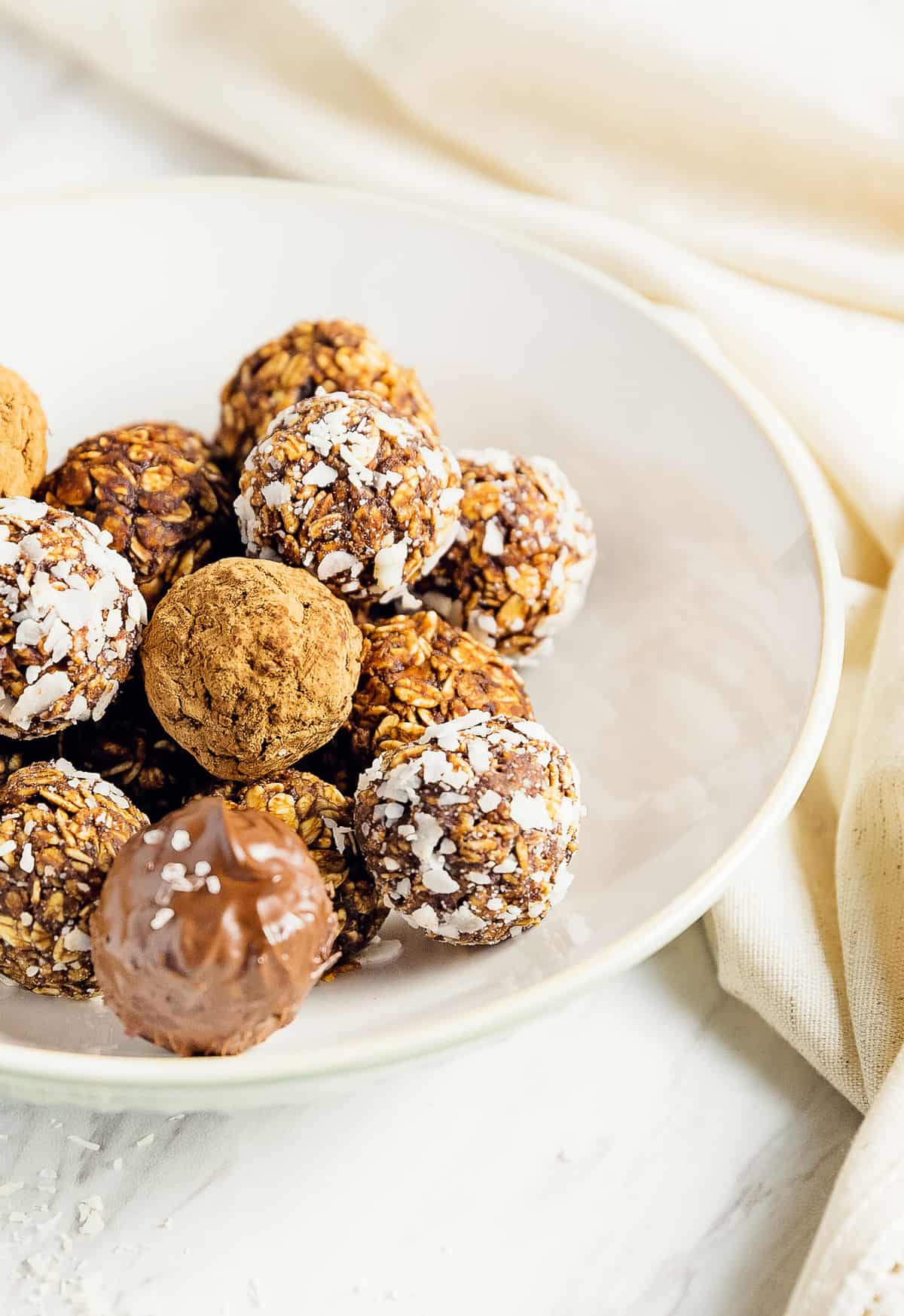 These beautiful chewy, sweet, and oh-so-dreamy Chocolate Peanut Butter No Bake Cookies is mouthwateringly delicious. The perfect combination of chocolate and peanut butter coupled with simple ingredients create a perfect after-school treat or pick-me-up after a long day at work. This incredibly easy and tasty cookie will be sure to put a smile on your face. Head on over and check it out!