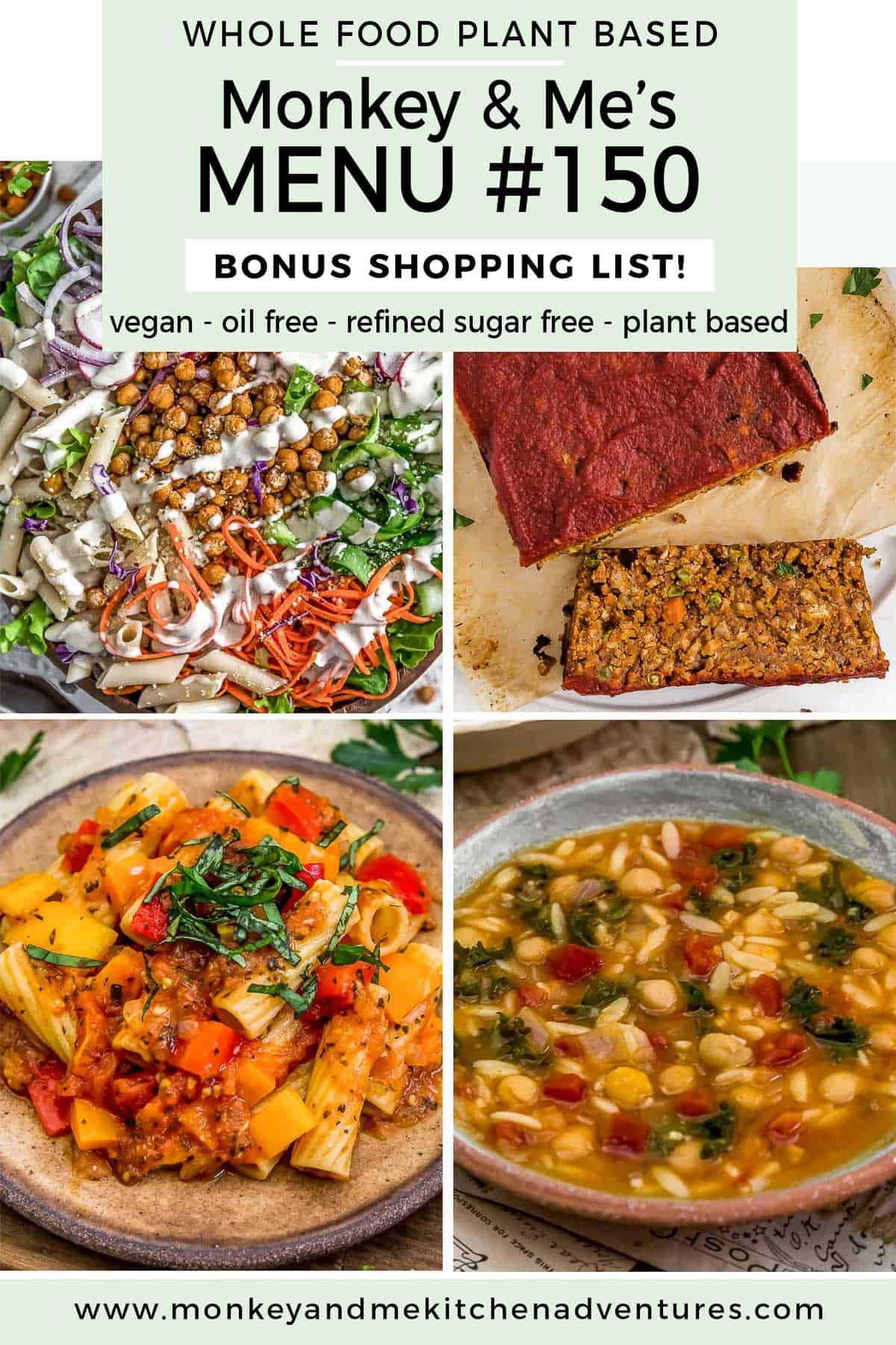 This week's Monkey and Me's Menu features some tasty recipes.  Menu #150 includes a FREE bonus shopping list.  All recipes are Whole Food Plant Based, vegan, plant based, oil free, refined sugar free, and no highly processed ingredients.

Downloadable Menu which offers the following:

2 Breakfast ideas
2 Lunch ideas
2 Snack Ideas
5 Dinner Ideas, including a FREE downloaded shopping list (PDF – Below)

A comprehensive (downloadable) shopping list for the 5 Dinners

The shopping list is segmented into the common grocery store sections like "produce, spices, etc." making it easy to pick up these items from your local grocery store.
It also includes product suggestions that are Whole Food Plant Based compliant* for easy reference.  Note: These products are suggestions, please feel free to select your own favorite products.
Includes helpful codes so you can easily subtract items that you choose not to make.

Downloadable Instructions on how the meal plan work.
Note:  The term "Whole Food Plant Based compliant" is from a general standpoint.  There are Whole Food Plant Based diet branches that restrict certain food items.  Our recipes are all Whole Food Plant Based compliant based upon a high-level compliance standpoint. i.e. vegan, plant based, oil free, refined sugar free, minimally processed foods.
Some breakfast, lunch, and snack ideas are simple concepts that require no recipe.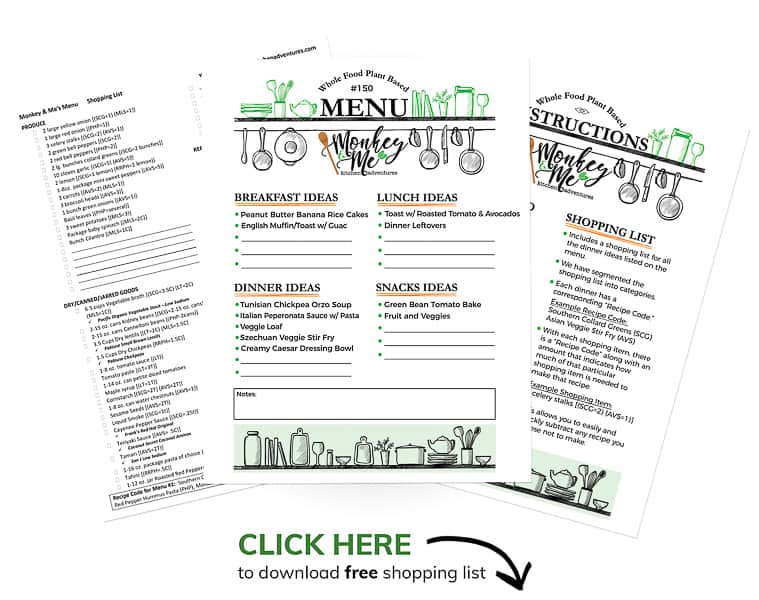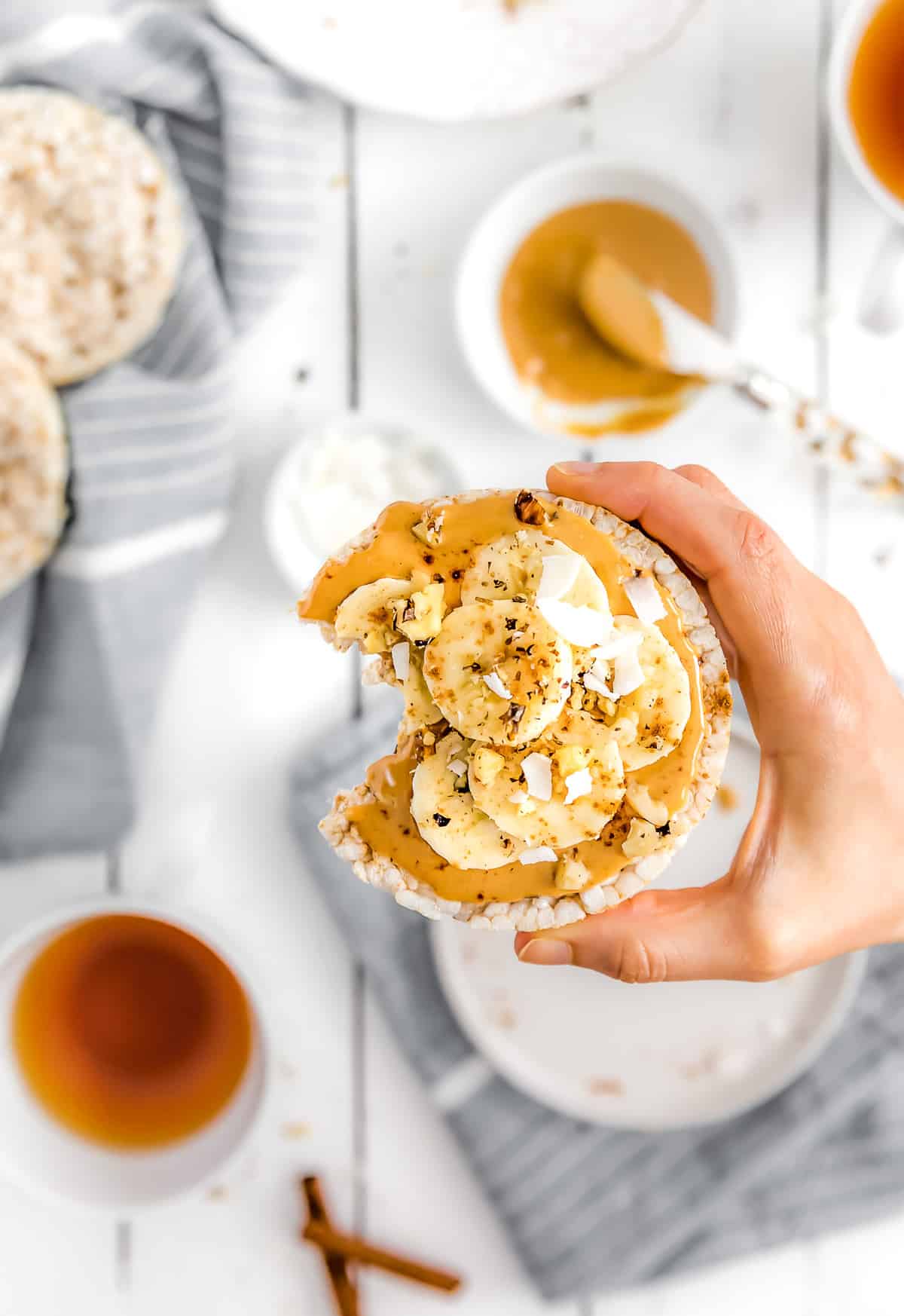 Creamy peanut butter, sliced bananas, chopped walnuts, and coconut flakes with a dash of cinnamon on a crunchy brown rice cake or wrap makes breakfast a breeze.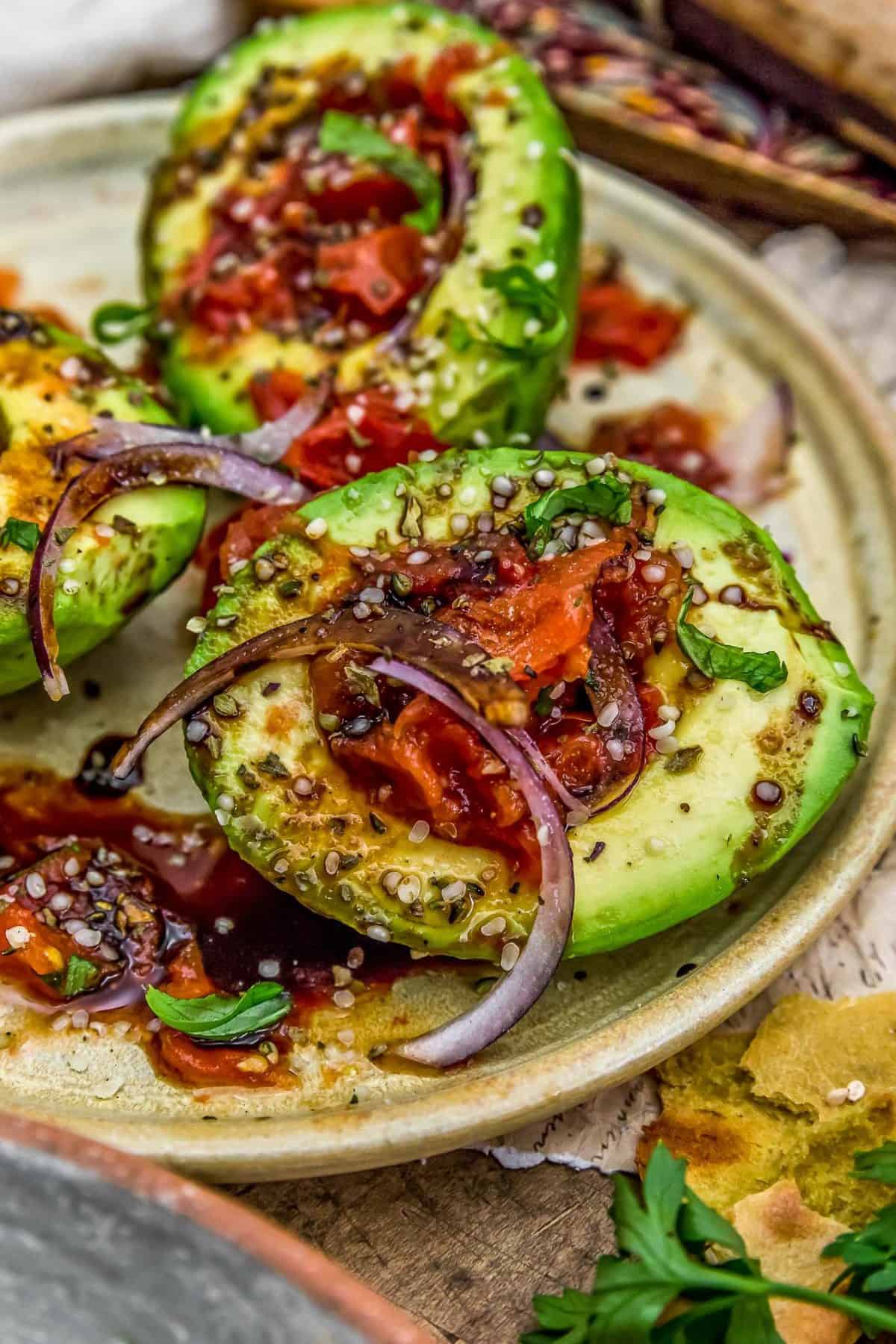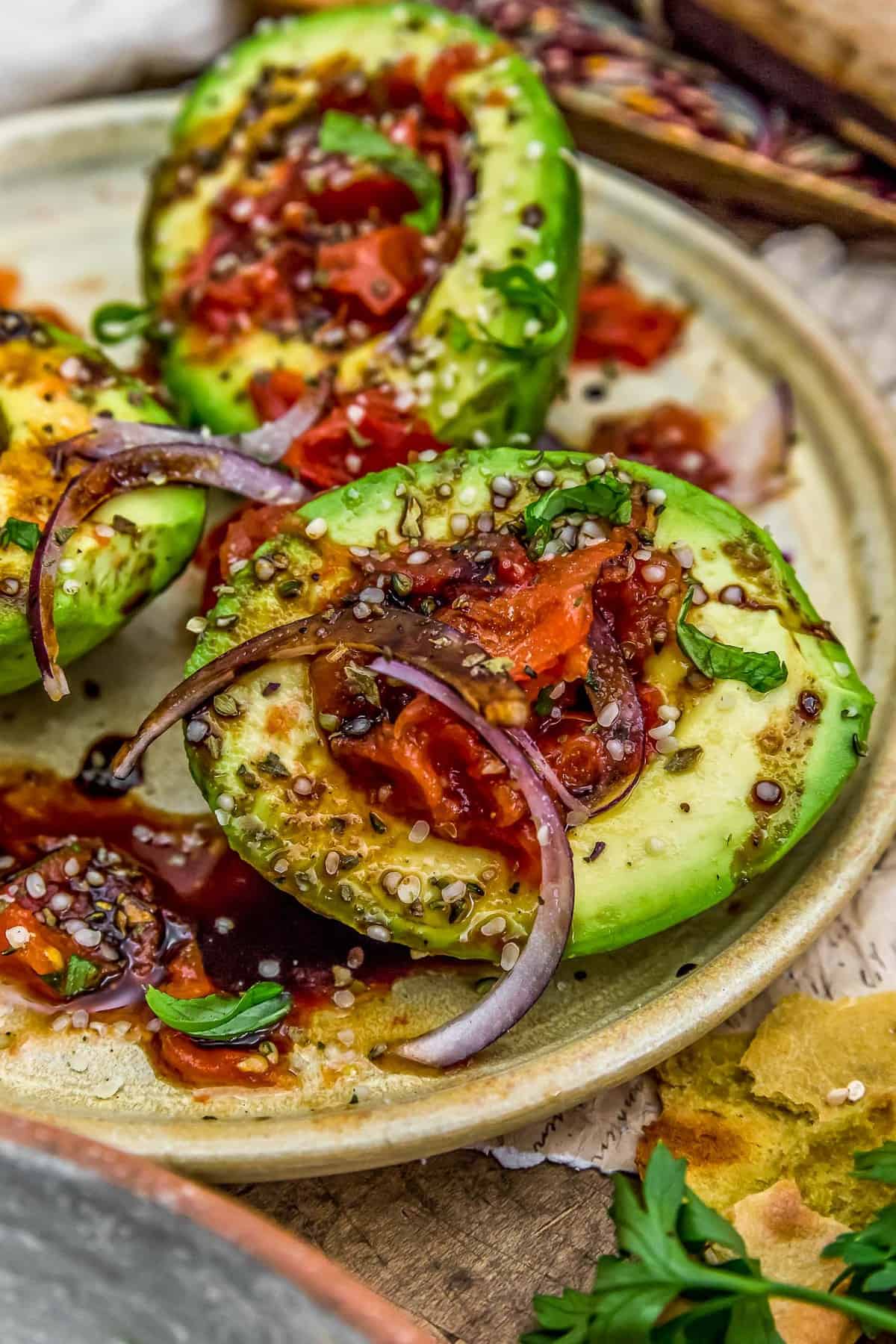 This incredibly delicious Roasted Tomato Stuffed Avocados with Balsamic Reduction will bring all those wonderful summer vibes into your life!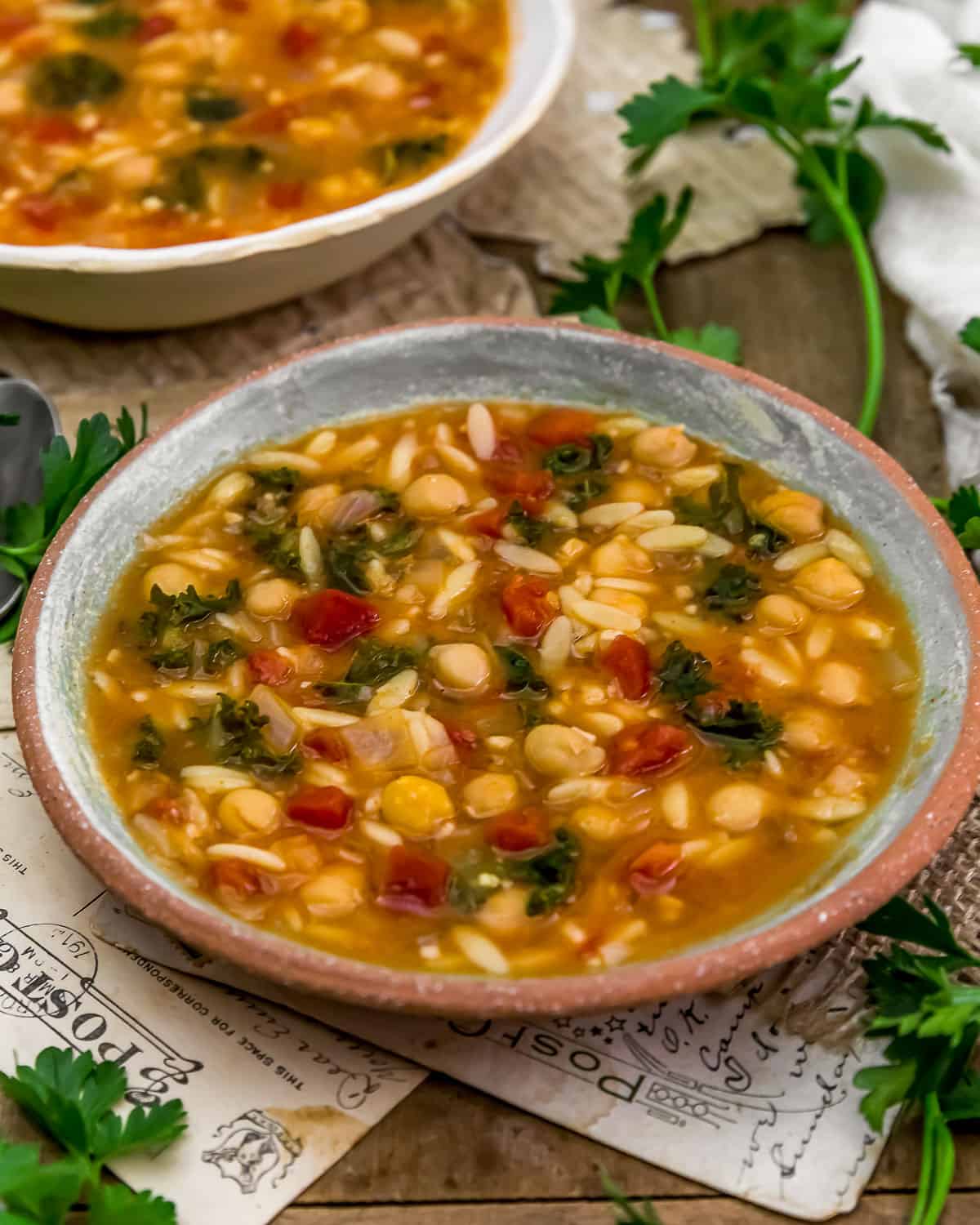 This oil-free Healthy Tunisian Chickpea Orzo Soup is a flavorful nod to the traditional Tunisian Chickpea Soup.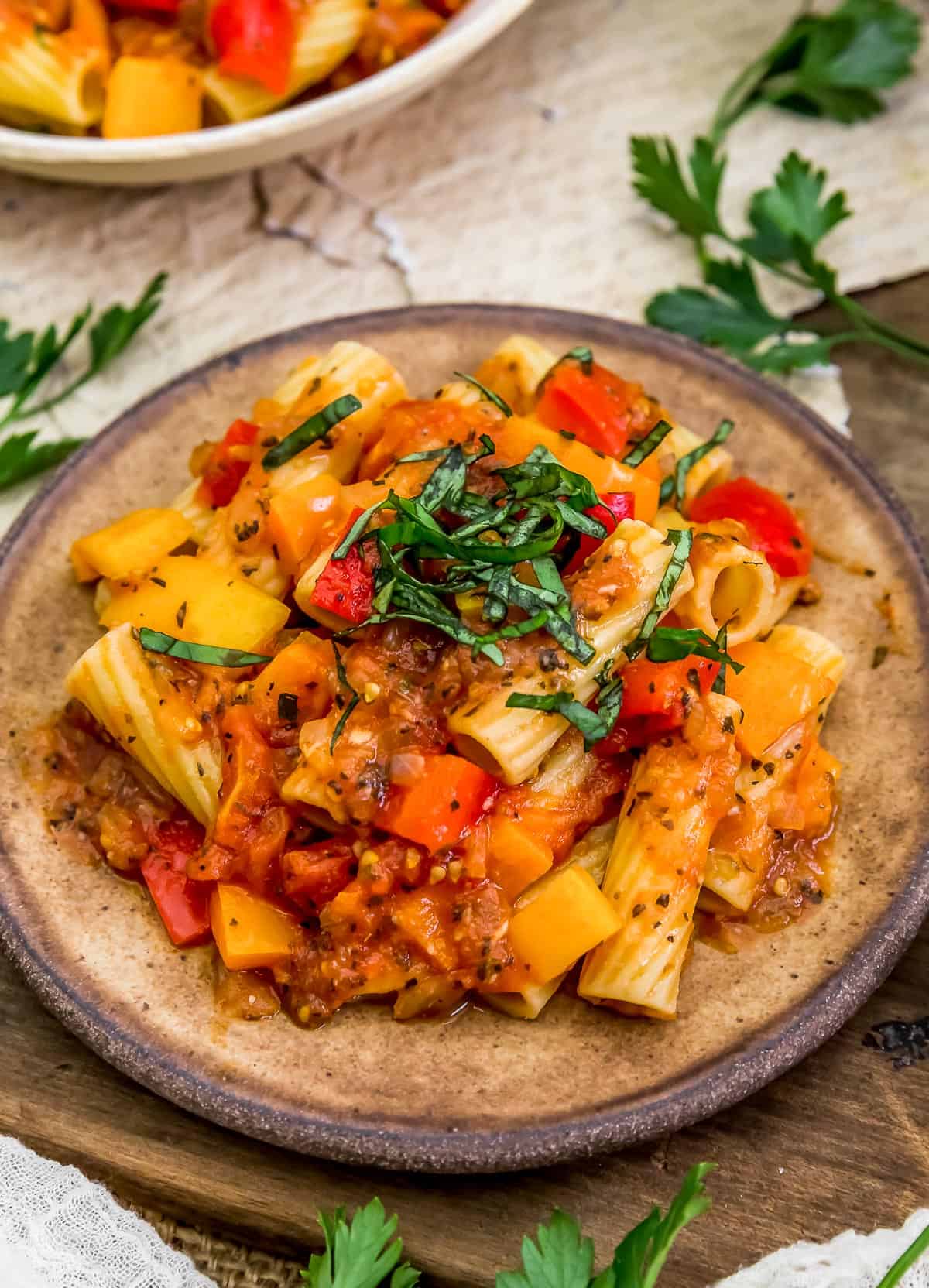 We are pasta lovers along with their vast variety of tasty sauces, and this light and refreshing sauce is on repeat.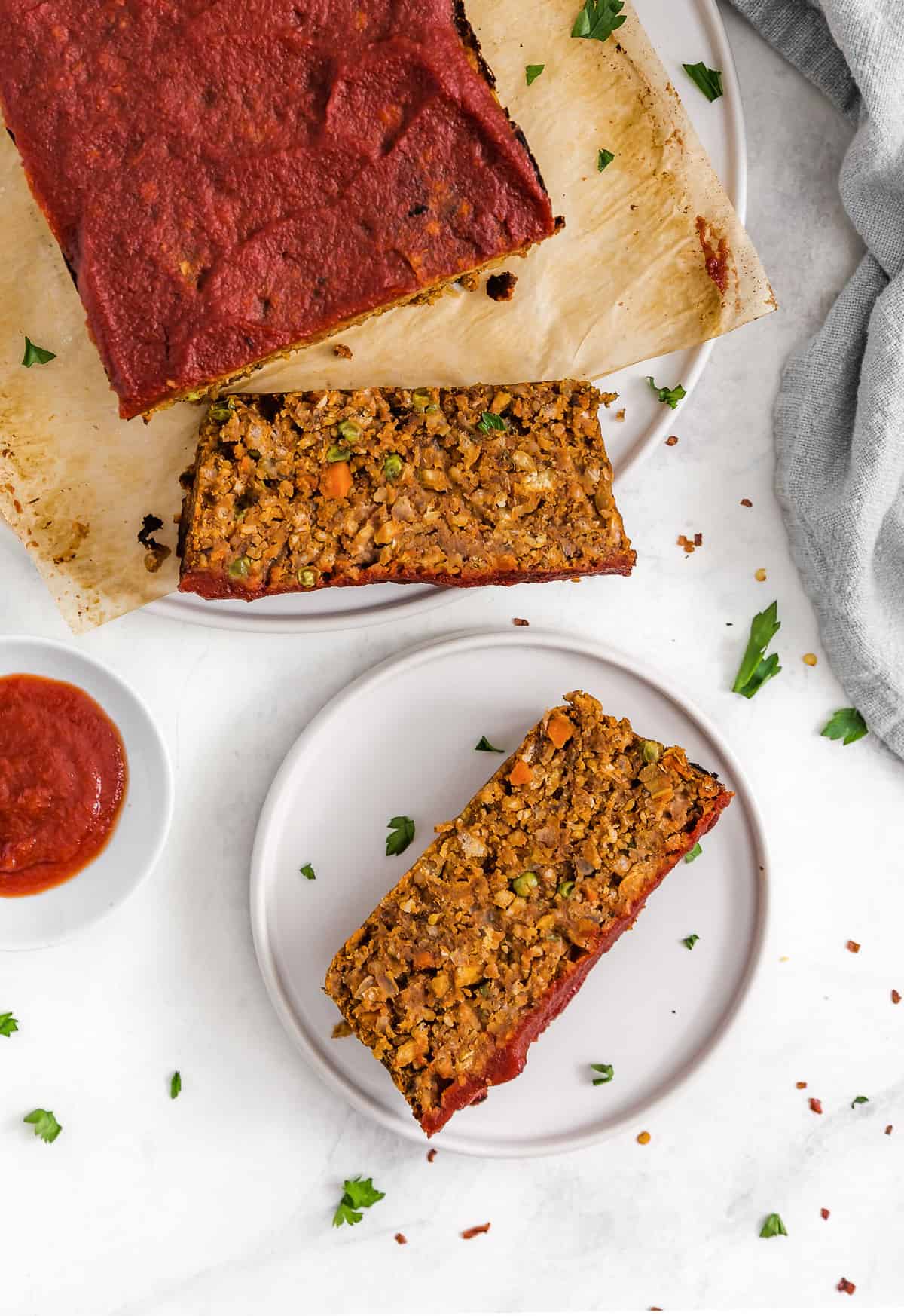 Healthy and delicious, perfectly seasoned, and amazing texture, you'll be coming back for seconds!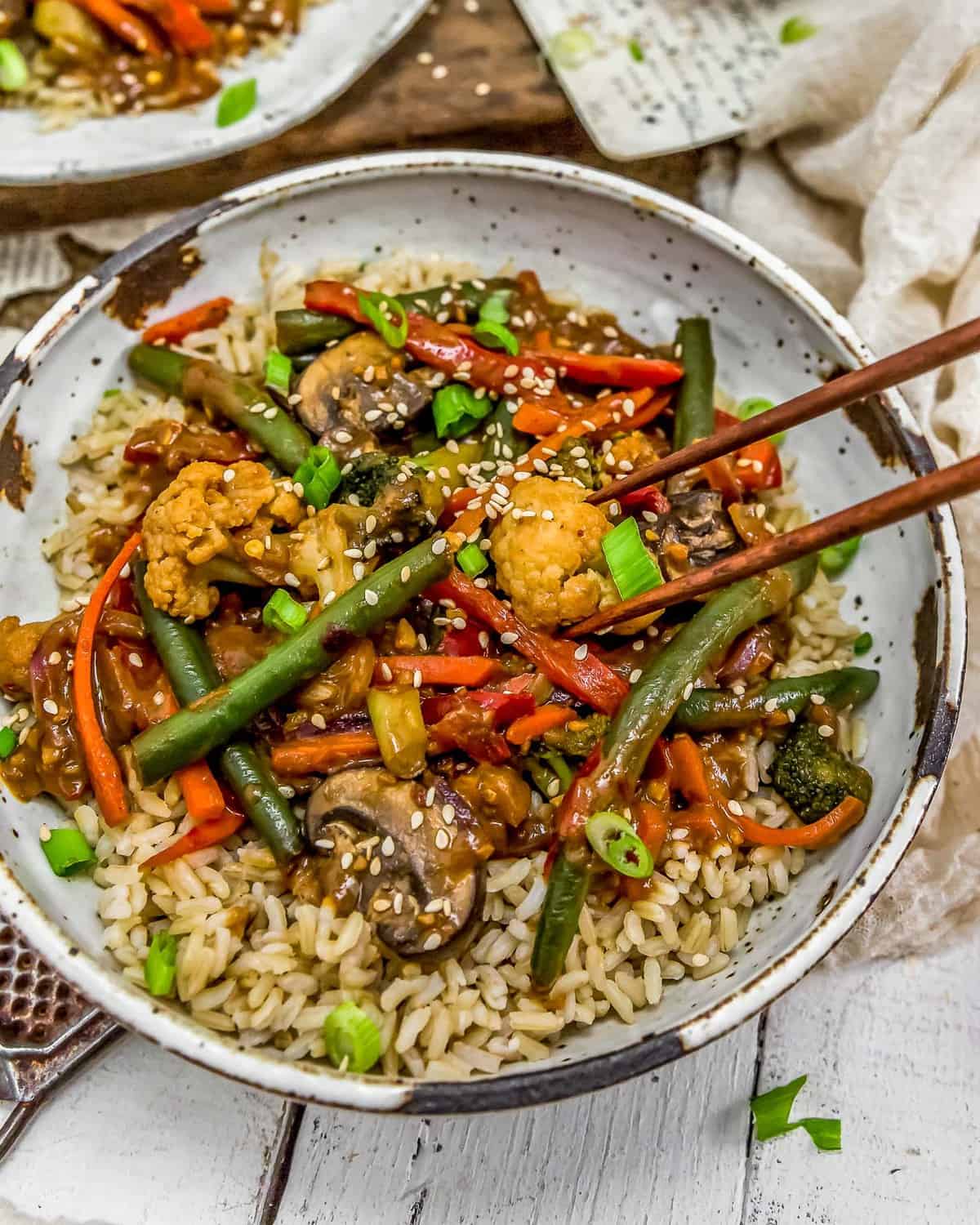 Better than take-out, this bold and spicy Szechuan Veggie Stir Fry is so fast, easy, and utterly delicious your family will think you've been holding out on them!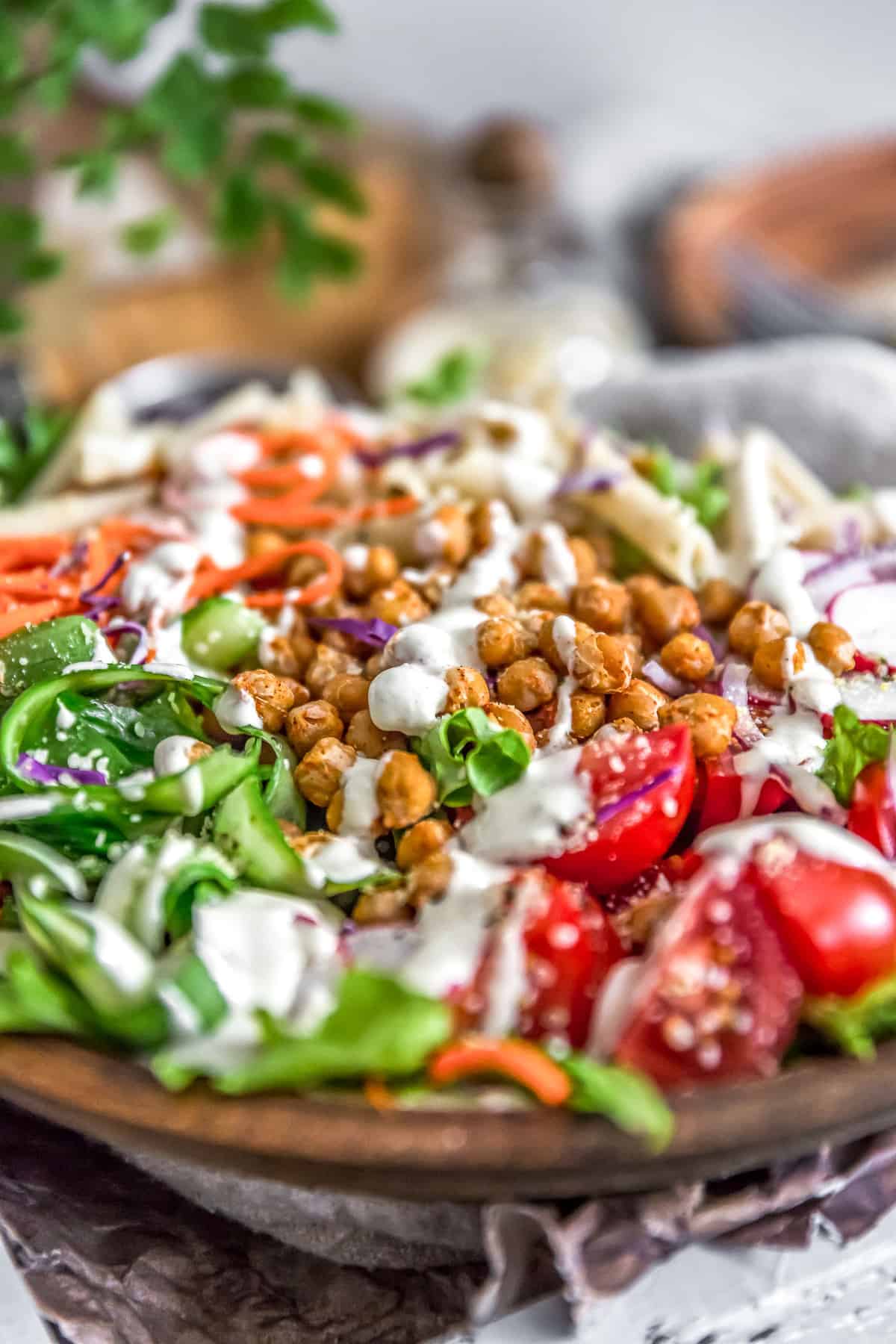 Not only is it fast, easy and perfect for salads and dipping veggies, but it tastes just like the real deal.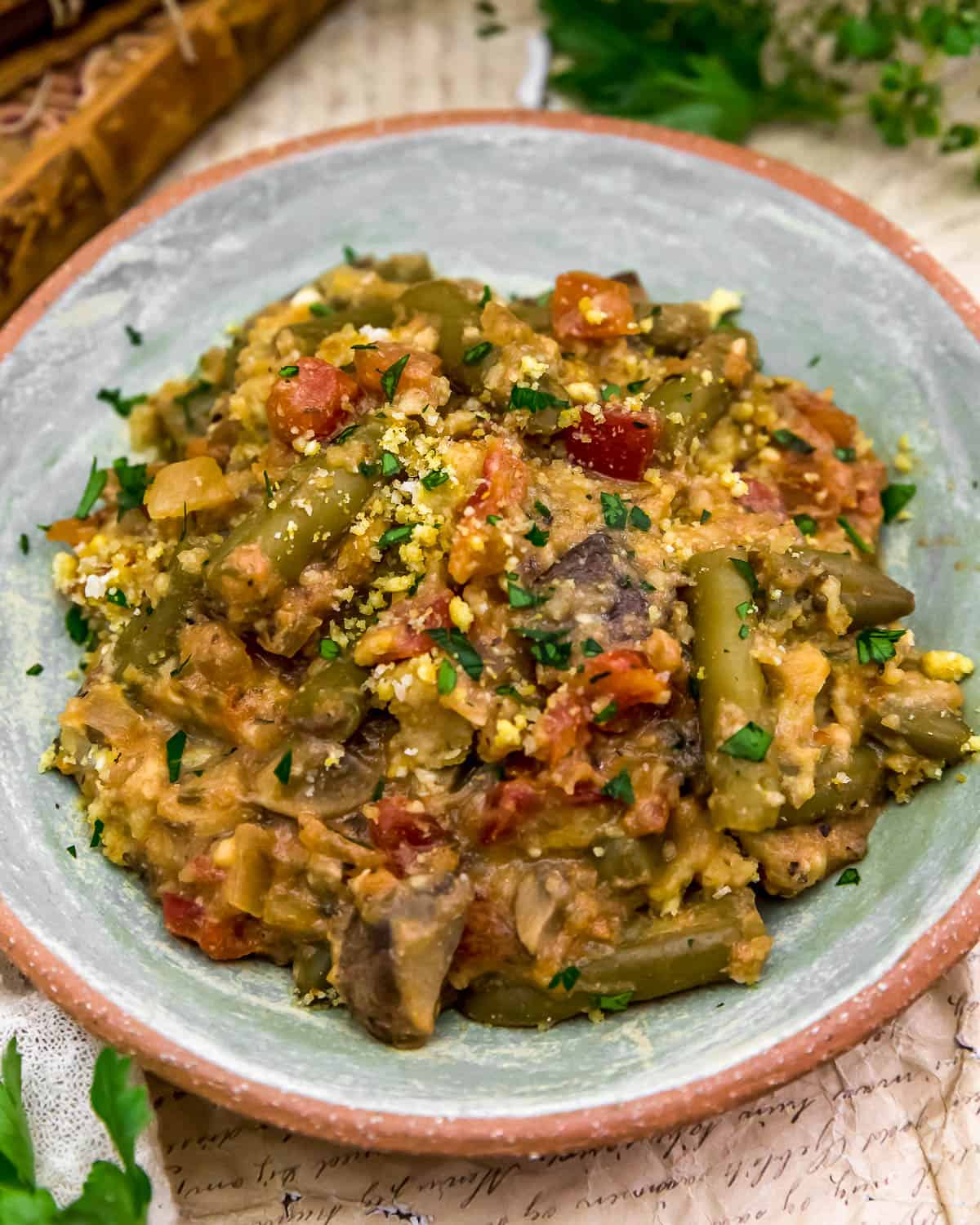 Amp up your side dish game with these flavorful and comforting greens beans coated in a herbaceous tomato sauce.