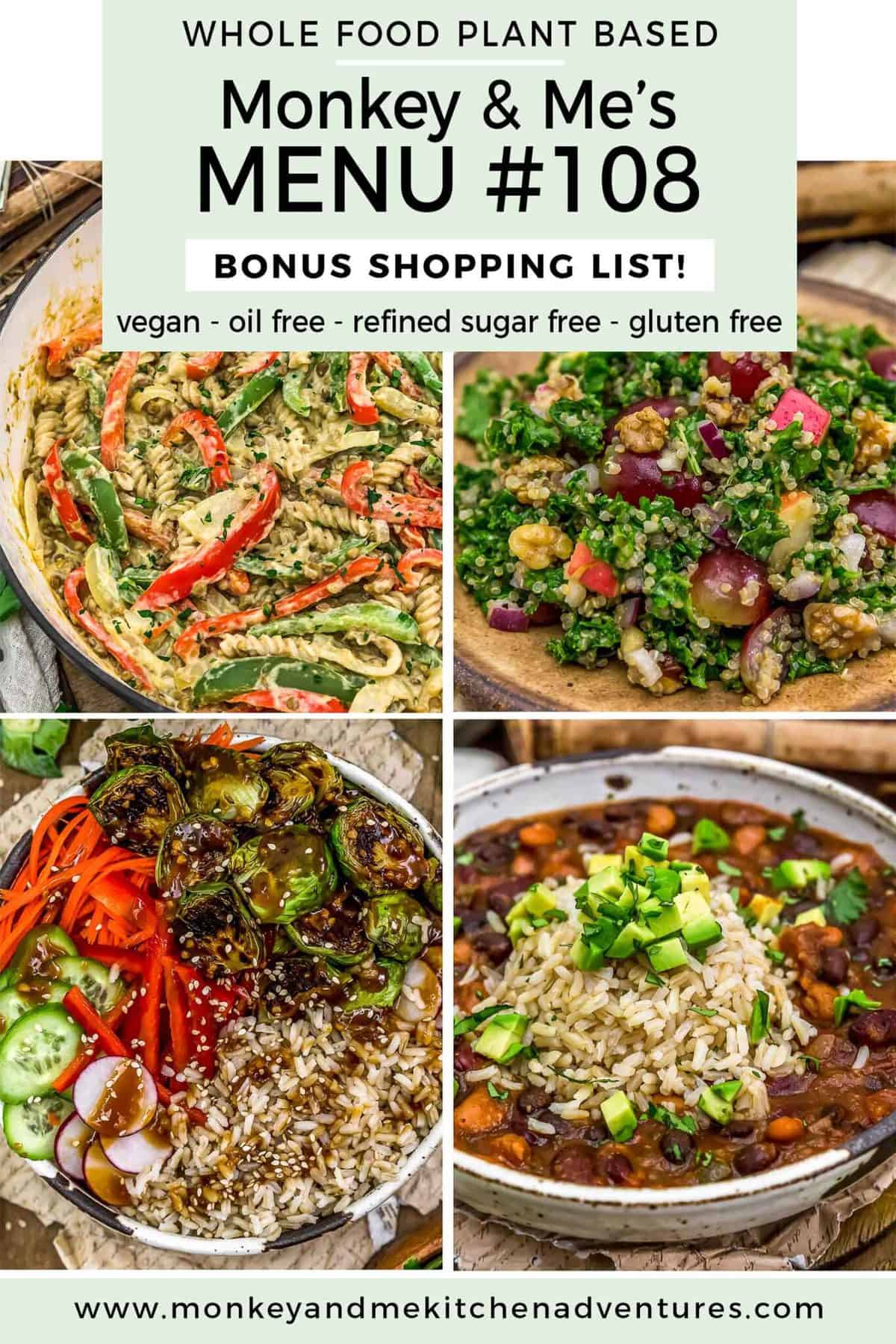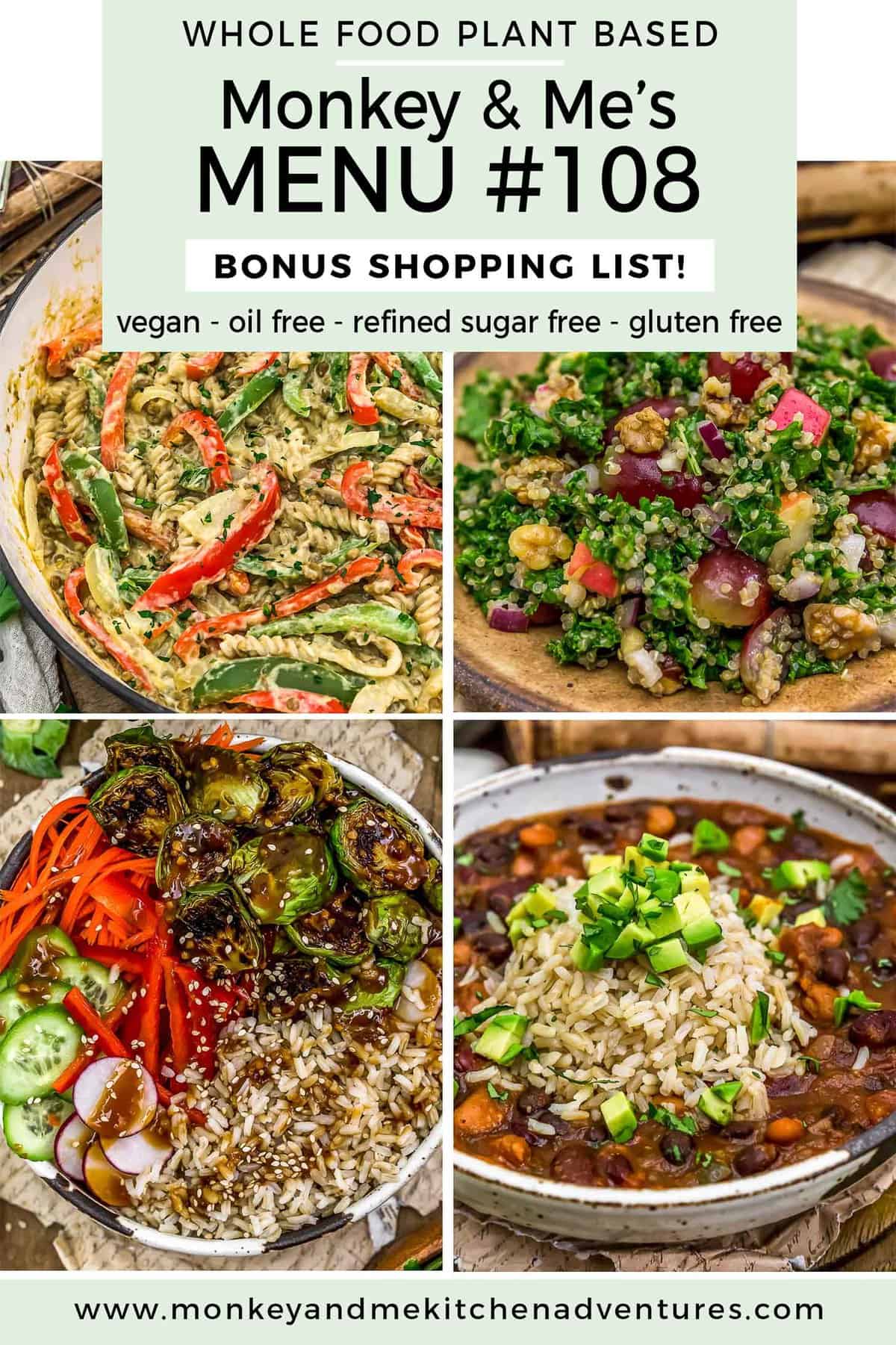 This week's Monkey and Me's Menu features some tasty recipes.  Menu #108 includes a FREE bonus shopping list.  All recipes are Whole Food Plant Based, vegan, plant based, oil free, refined sugar free, no highly processed ingredients, and gluten free.

Downloadable Menu which offers the following:

2 Breakfast ideas
2 Lunch ideas
2 Snack Ideas
5 Dinner Ideas, including a FREE downloaded shopping list (PDF – Below)

A comprehensive (downloadable) shopping list for the 5 Dinners

The shopping list is segmented into the common grocery store sections like "produce, spices, etc." making it easy to pick up these items from your local grocery store.
It also includes product suggestions that are Whole Food Plant Based compliant* for easy reference.  Note: These products are suggestions, please feel free to select your own favorite products.
Includes helpful codes so you can easily subtract items that you choose not to make.

Downloadable Instructions on how the meal plan work.
Note:  The term "Whole Food Plant Based compliant" is from a general standpoint.  There are Whole Food Plant Based diet branches that restrict certain food items.  Our recipes are all Whole Food Plant Based compliant based upon a high-level compliance standpoint. i.e. vegan, plant based, oil free, refined sugar free, minimally processed foods.
Some breakfast, lunch, and snack ideas are simple concepts that require no recipe.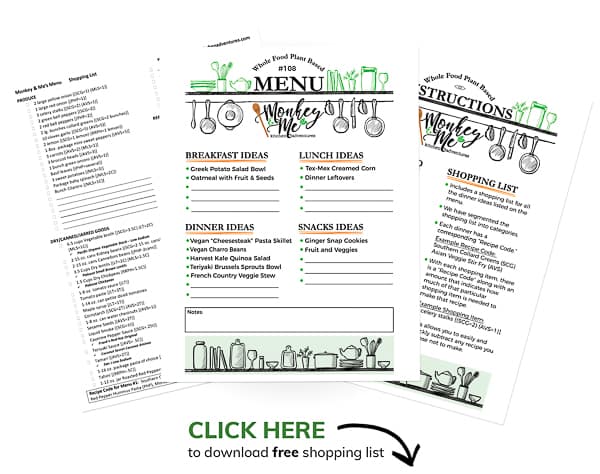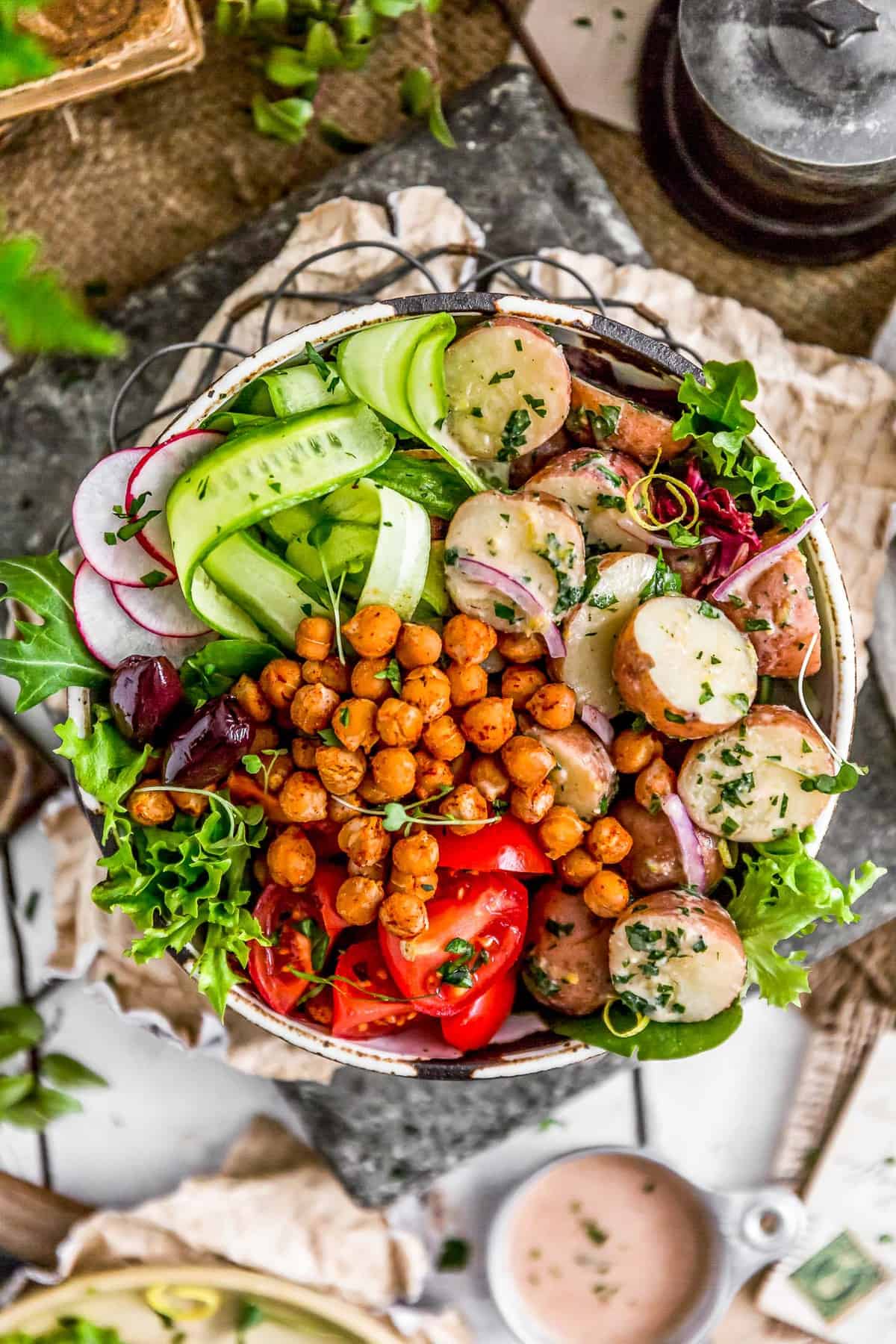 Running out of things to do with potatoes? HAHA – just kidding, we know that's impossible! We are potato lovers too, and we are SO excited to share a new delicious dish to add to your repertoire. Warm, zesty and oh-so-satisfying, this warm Greek Potato Salad is bursting with lemony goodness and super easy to make! Best served warm or at room temperature, this simple potato dish makes for a fantastic side or picnic dish.
We can't stop, won't stop with this deliciousness over here! Creamed corn just got a whole lot more exciting AND healthier.  Rich, creamy, and bursting with Southwestern flavors, this Tex-Mex Creamed Corn is super easy to make and packed with hearty, healthy ingredients. Sweet corn, bell peppers, onions paired with creamy plant milk and yogurt all simmered together with warming aromatic spices for a feel good dish that can whipped up in 20 minutes.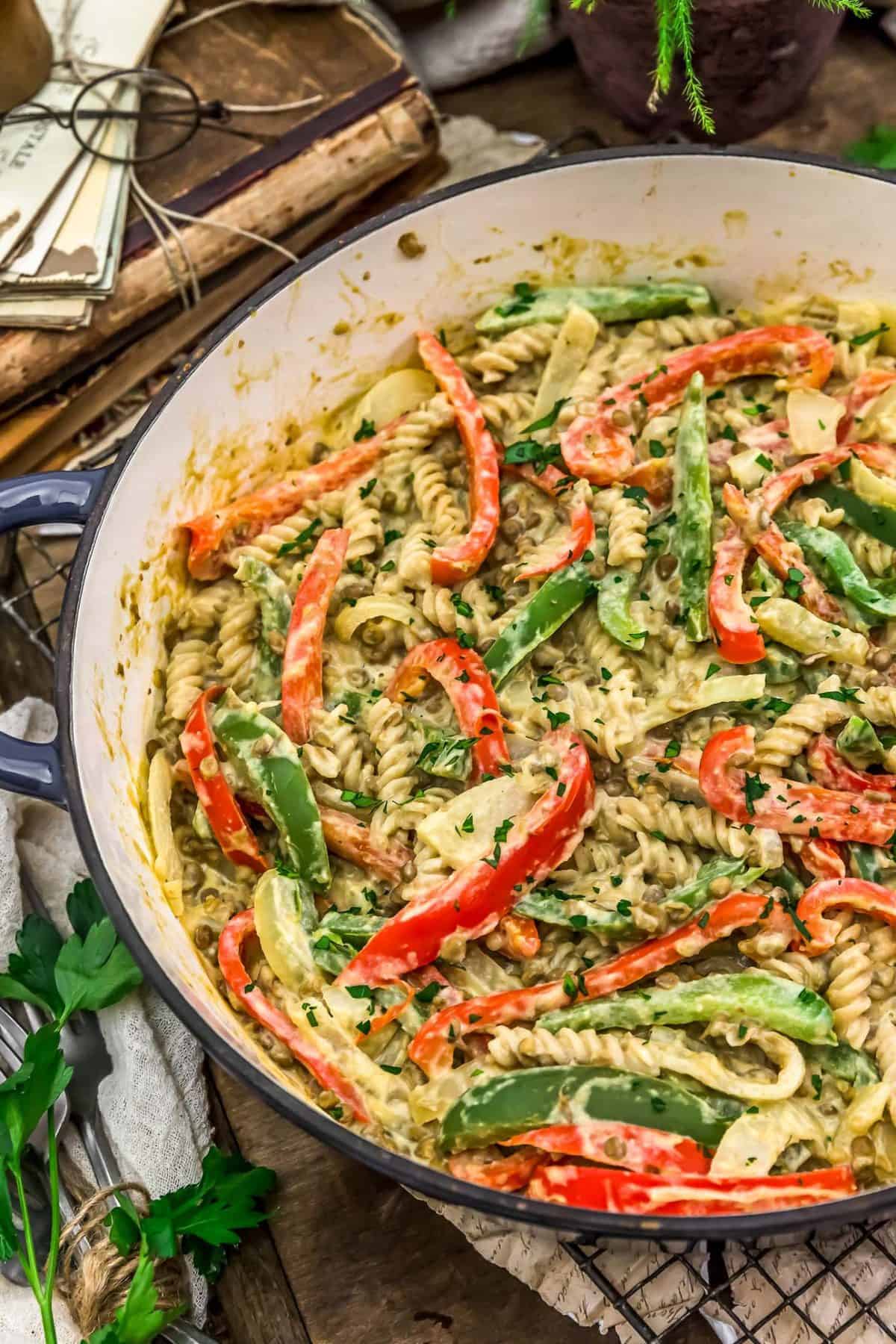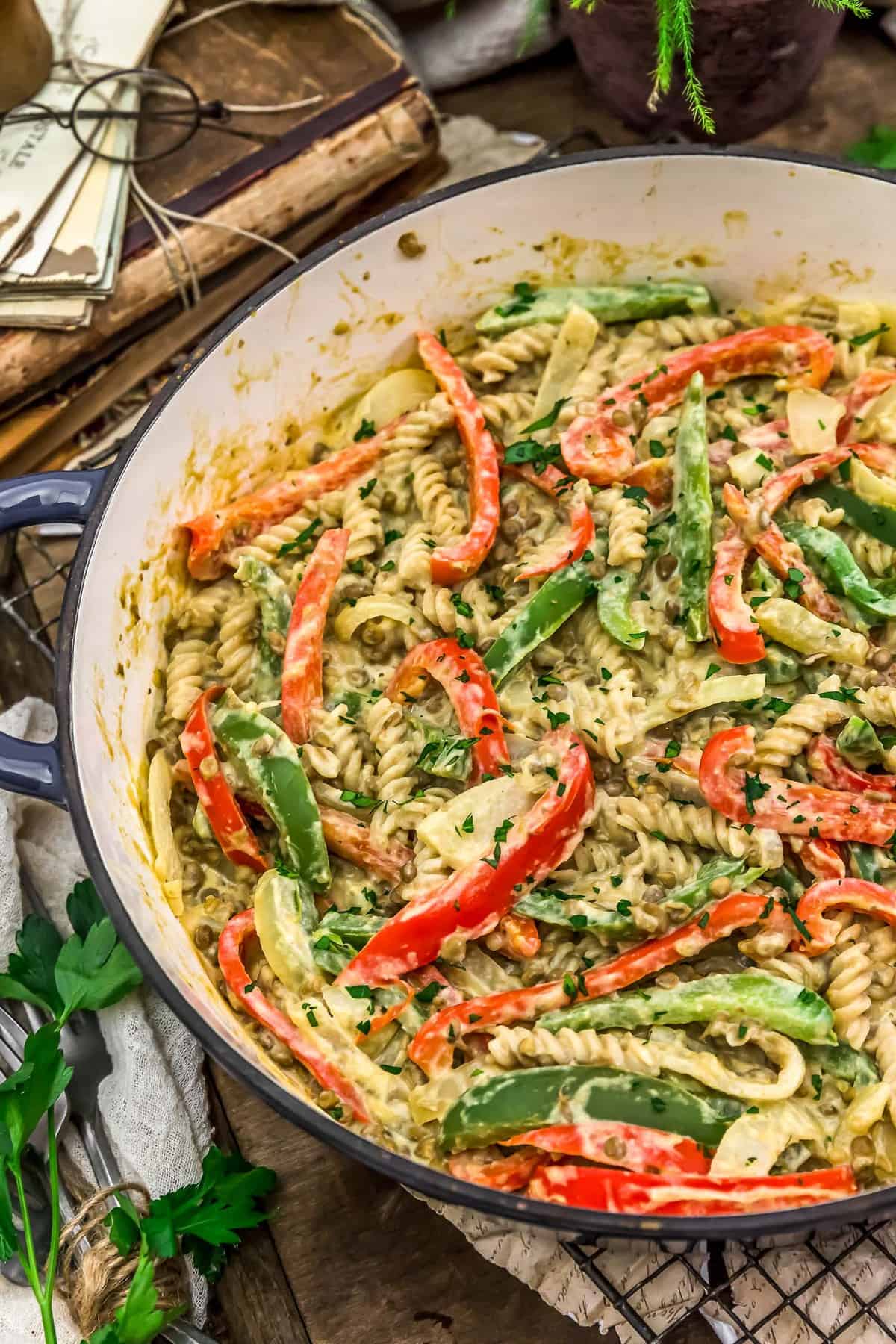 The versatile cashews create a rich, velvety, tangy cheese sauce perfect for coating "meaty" lentils and tender, crisp bell peppers and onions in this ultimate Vegan "Cheesesteak" Pasta Skillet. Pasta, a comfort food must, is the pièce de résistance  in this one-pot wonder. Grab your fork and get ready to dive into this 30-minute meal that will have the whole family doing a happy dance.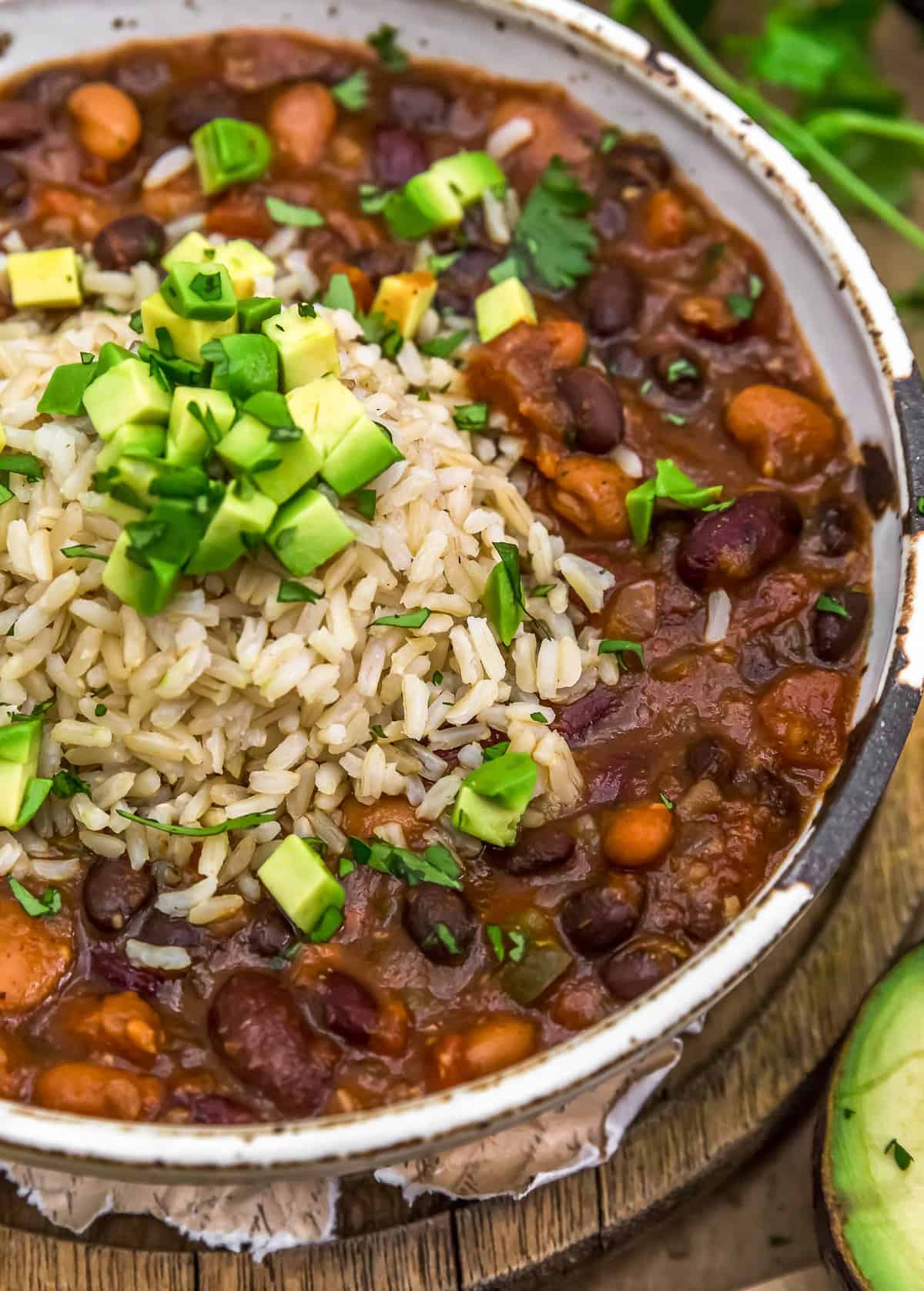 All those comforting Southwestern flavors come together in this cozy, oil free Vegan Charro Beans (Frijoles Charros or "cowboy beans.") Protein-packed black beans, kidney beans, and pinto beans, combine with spicy jalapeño peppers, rich tomatoes, and fragrant spices, and simmer into wholesome goodness. Ladle over brown rice for a budget friendly and satisfying meal. The entire family running to the dinner table with soup spoon in hand!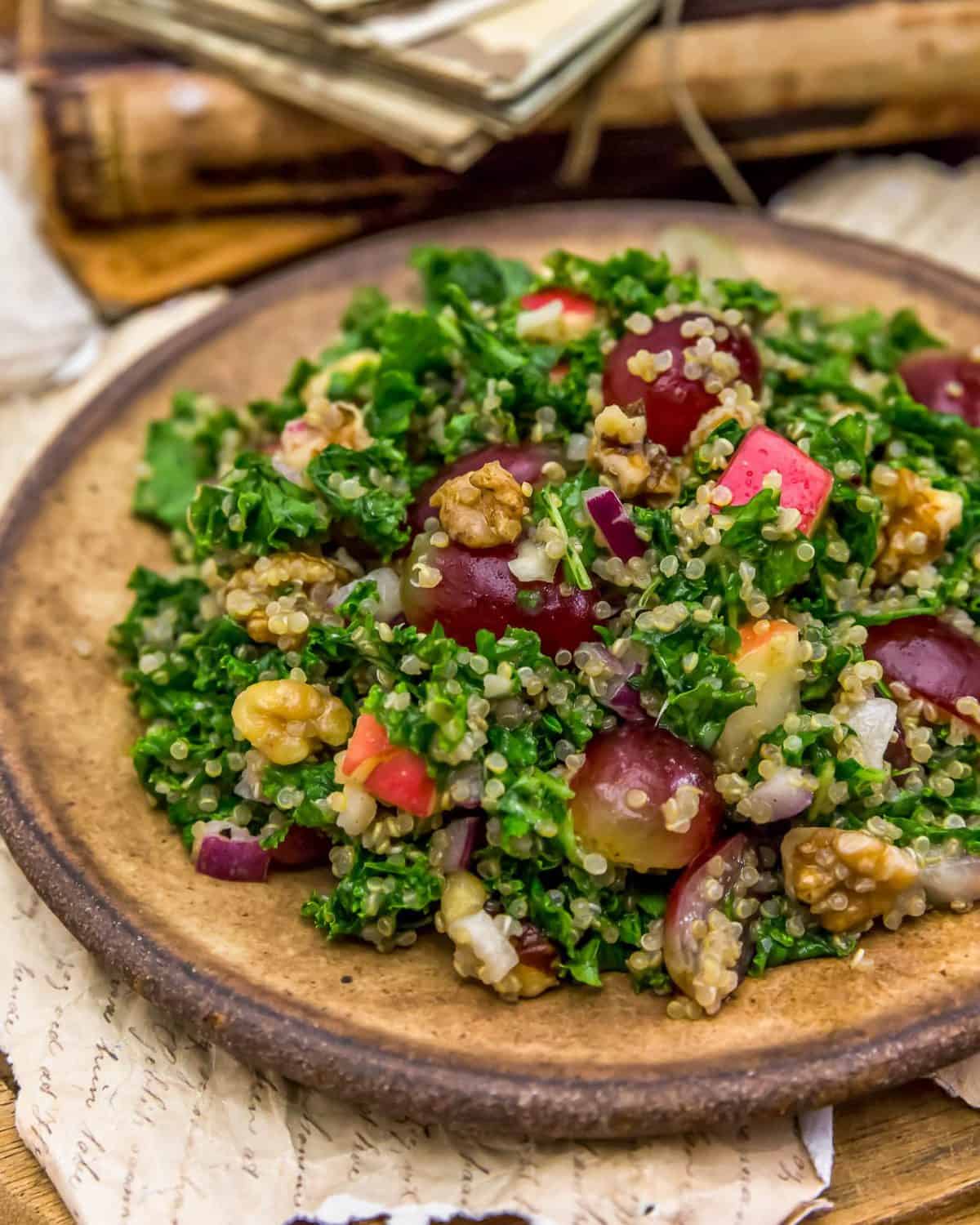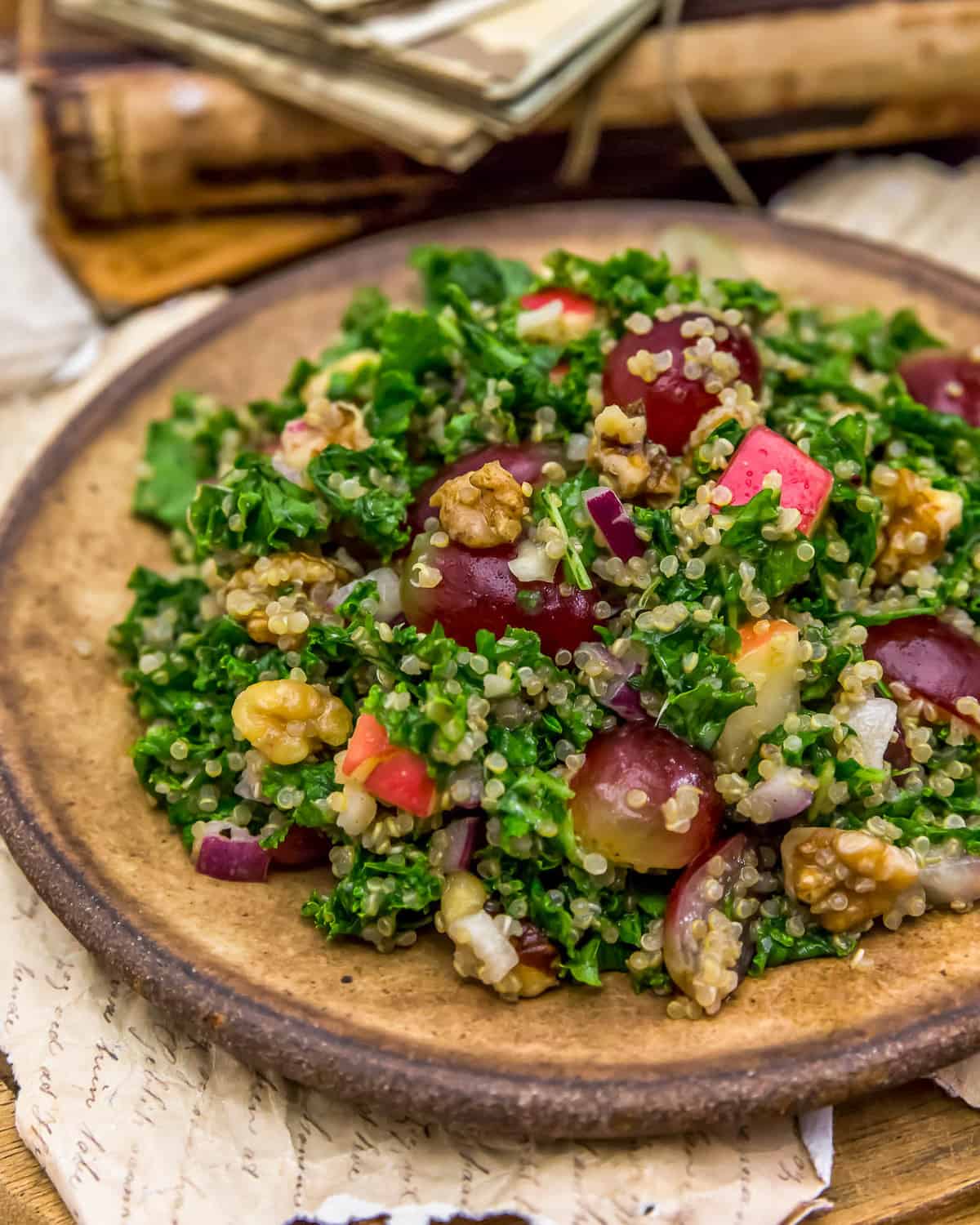 We are bring all the refreshing, healthy, and utterly delicious harvest salad must-haves like: nourishing kale, hearty quinoa, toasty walnuts, sweet apples, juicy red grapes, and zesty onions. Then we coated this wholesome goodness in an amazing bold Maple Mustard Dressing packed with zing and flavor. Fantastic for pot lucks, school and work lunches. It's sure to get rave reviews with the very first bite.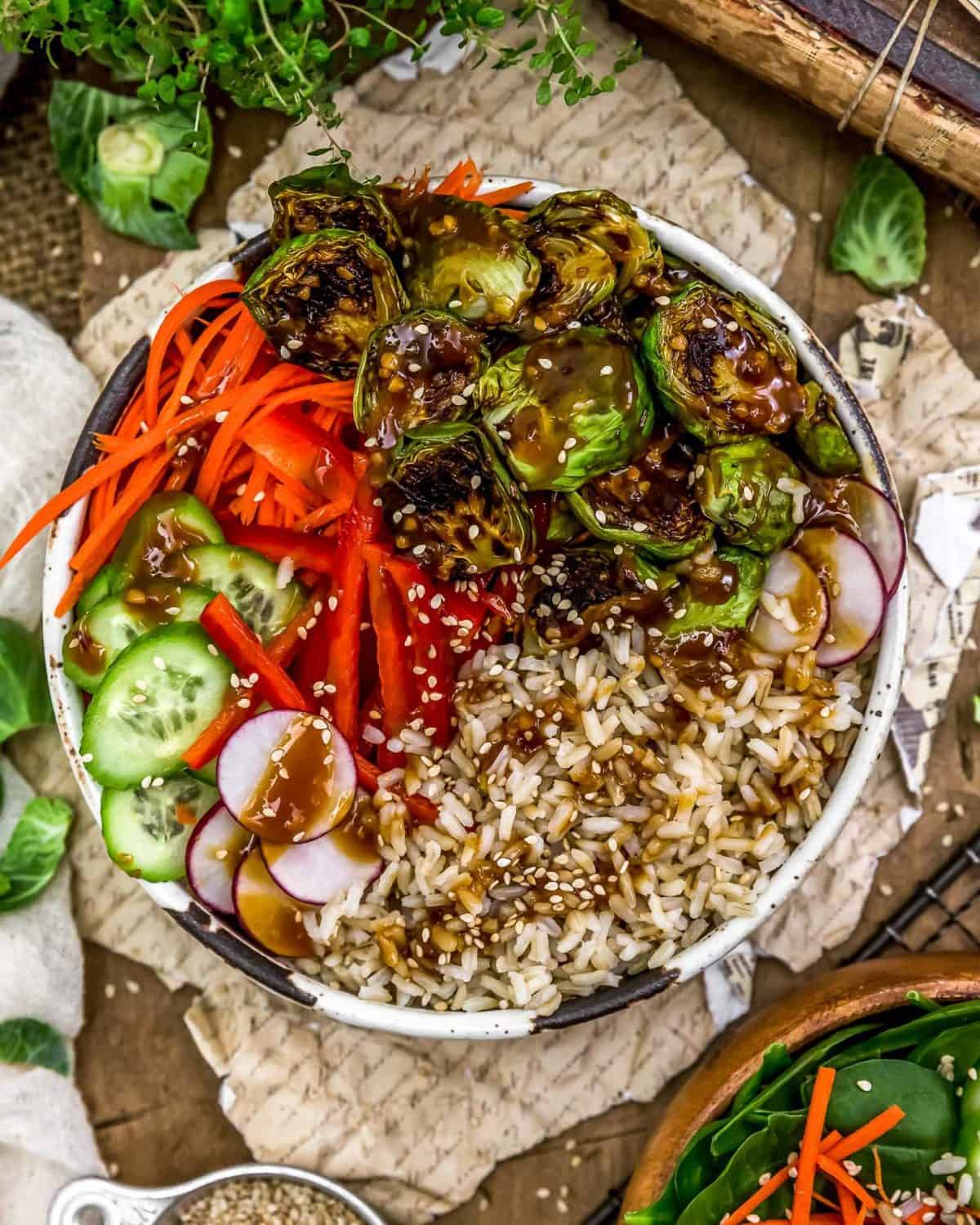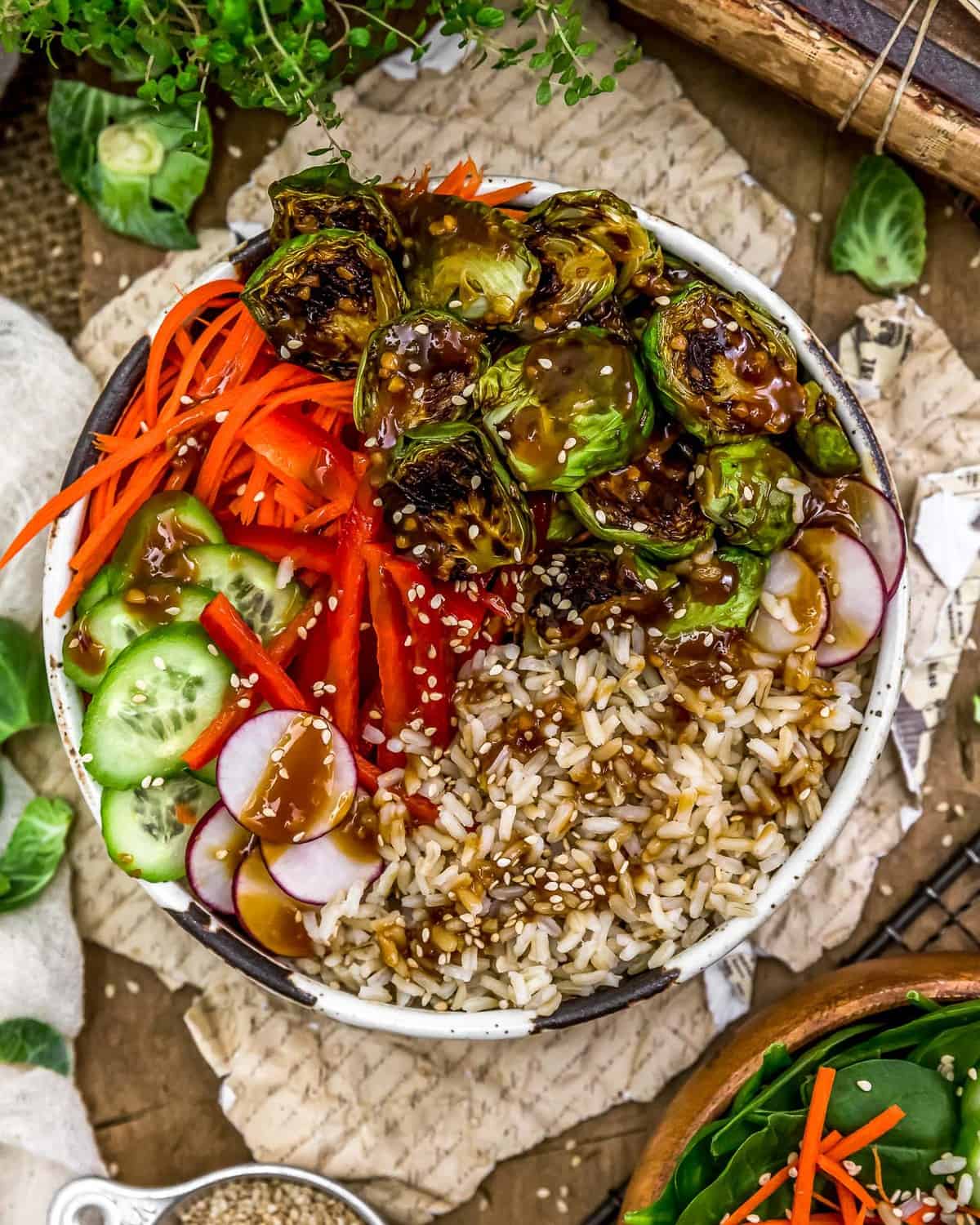 Incredibly flavorful, this Teriyaki Brussels Sprouts bowl is bursting with tasty Asian deliciousness.  Oven roasted Brussels Sprouts coated in a sticky, savory, and sweet Teriyaki sauce that will drive you full speed all the way to flavor town and back. Load these babies into a bowl of steamed rice with refreshing veggies and you will have a delicious meal filled with healthy flavors and loaded with tons of texture.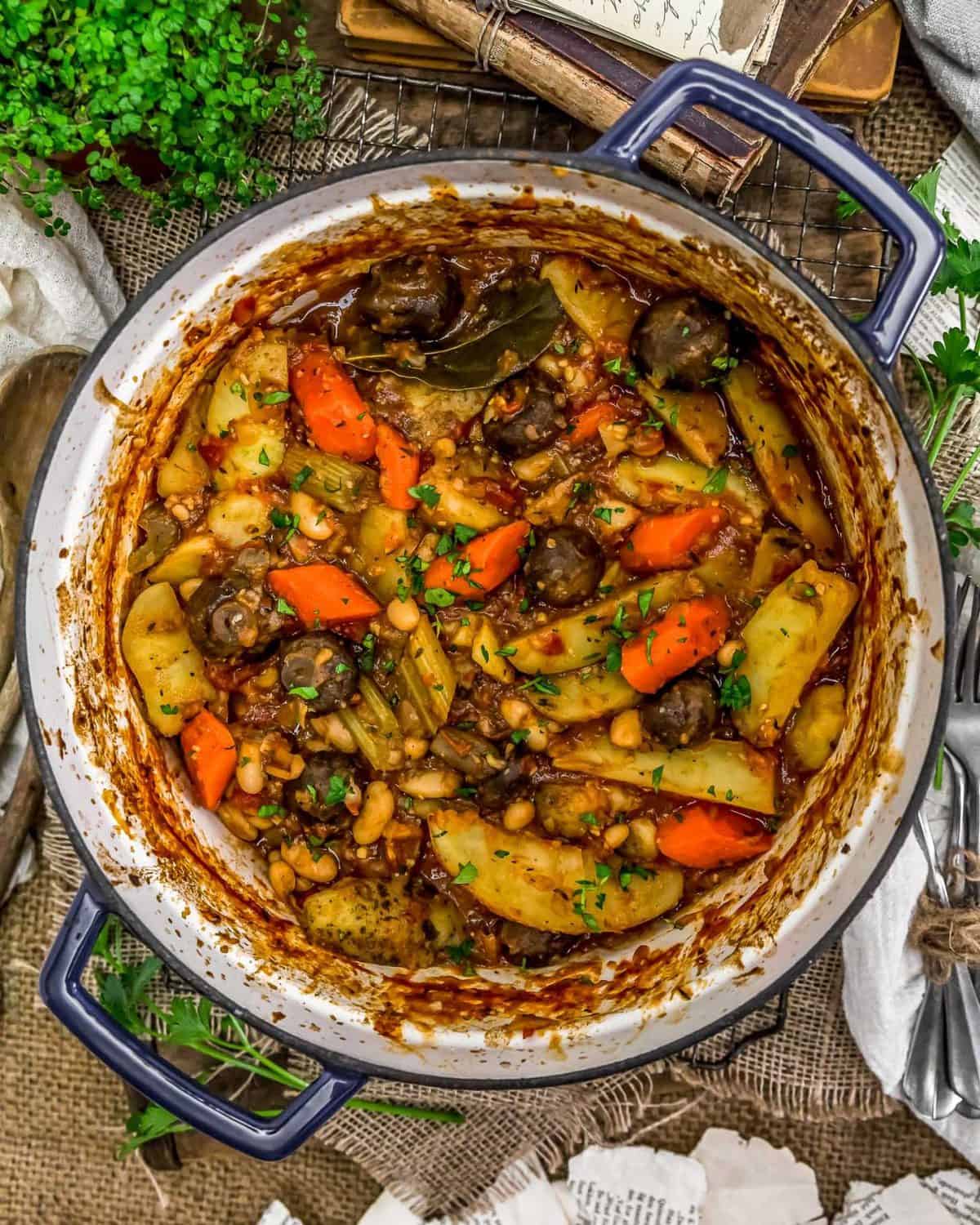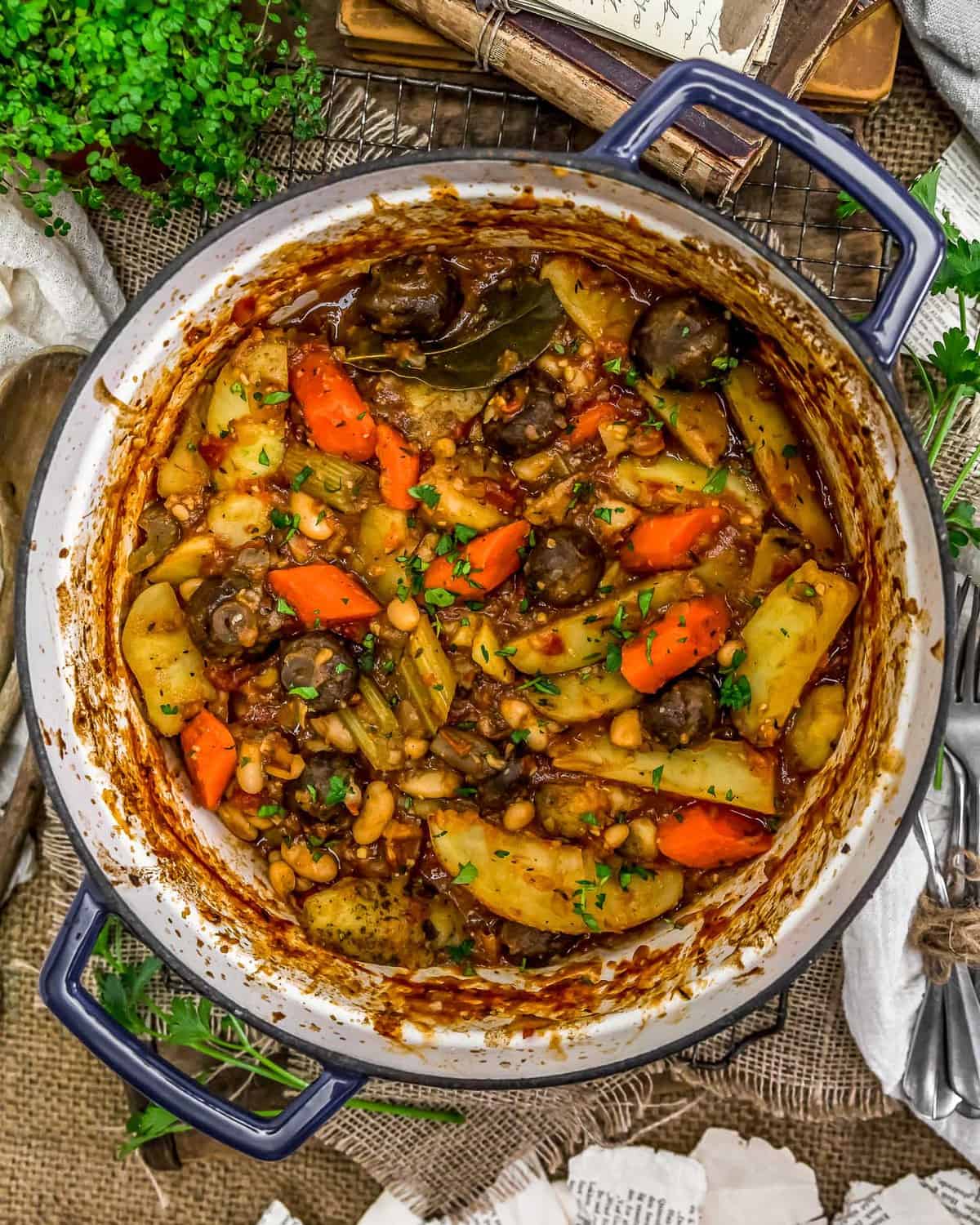 Vibrant veggies, hearty potatoes, earthy mushrooms, and aromatic spices come together in the most delicious way in this French Country Veggie Stew. This wholesome seasoned stew is full of comforting goodness and flavors. Oven roasted to perfection, it is everything you would expect in this vegan nod to a classic French stew. Easy to make, hearty, and satisfying, this dish has a tasty seasoned sauce that coats the veggies giving your body those soul-warming flavors that you have been craving.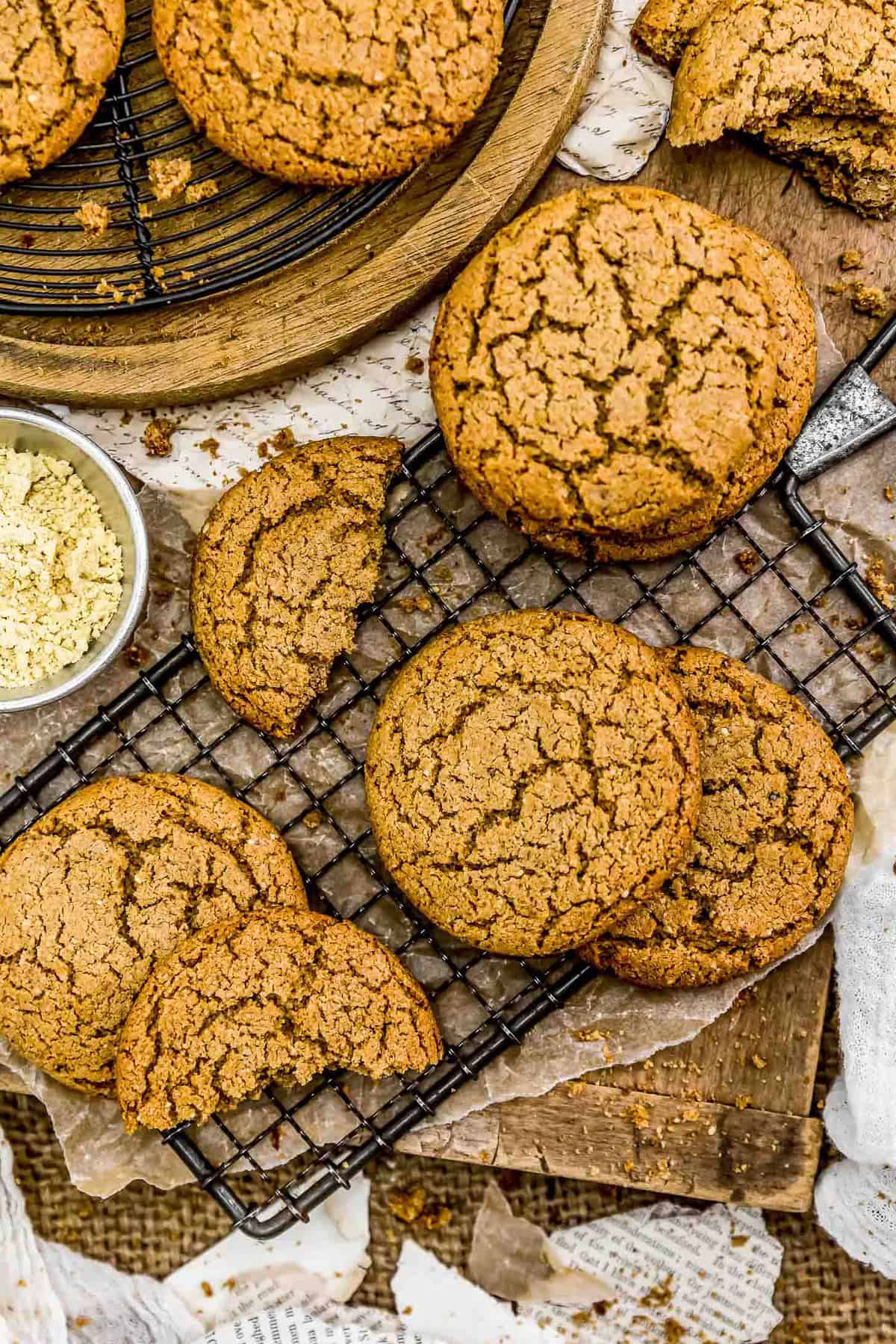 Bringing all the Christmas vibes with warming ginger and good cheer! A vegan version of the quintessential holiday cookie, these wholesome Ginger Snap Cookies are loaded with aromatic spices and amazing texture of crunchy goodness on the outside and chewy loveliness on the inside, Mmmmmm. Easy to make, these cookies will quickly become your new family favorite! Lightly sweetened with maple syrup and robust molasses makes for the perfect healthy cookie. Guaranteed to get rave reviews these cookies will be gone in a flash!