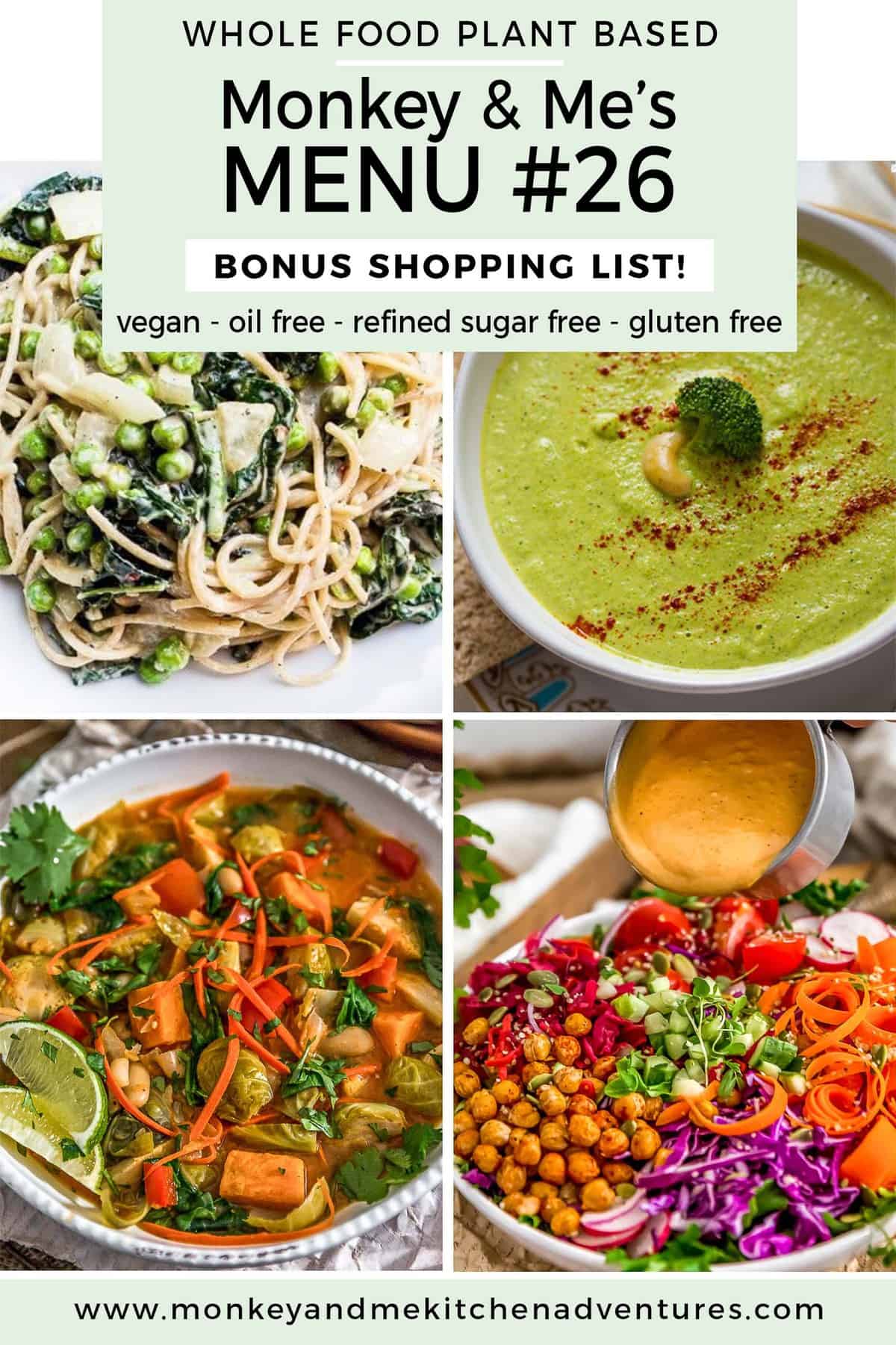 This week's Monkey and Me's Menu features some of our favorite foodie bloggers in menu #26 as well as a FREE bonus shopping list.  All recipes are Whole Food Plant Based, vegan, plant based, oil free, refined sugar free, no highly processed ingredients, and gluten free.
This super tasty menu features delicious dishes from Gina at Healthy Little Vittles, Kathy at Healthy Happy Life, and Amy at Fragrant Vanilla Cake, as well as featuring a few of our own dishes. 😉
Monkey and Me's Menu #26 meal plan features the following:
Downloadable Menu which offers the following:

2 Breakfast ideas
2 Lunch ideas
2 Snack Ideas
5 Dinner Ideas, including a FREE downloaded shopping list (PDF – Below)

A comprehensive (downloadable) shopping list for the 5 Dinners

The shopping list is segmented into the common grocery store sections like "produce, spices, etc." making it easy to pick up these items from your local grocery store.
It also includes product suggestions that are Whole Food Plant Based compliant* for easy reference.  Note: These products are suggestions, please feel free to select your own favorite products.
Includes helpful codes so you can easily subtract items that you choose not to make.

Downloadable Instructions on how the meal plan work.
Note:  The term "Whole Food Plant Based compliant" is from a general standpoint.  There are Whole Food Plant Based diet branches that restrict certain food items.  Our recipes are all Whole Food Plant Based compliant based upon a high-level compliance standpoint. i.e. vegan, plant based, oil free, refined sugar free, minimally processed foods.
Some breakfast, lunch, and snack ideas are simple concepts that require no recipe.
Meal Plan #26 includes the following recipes: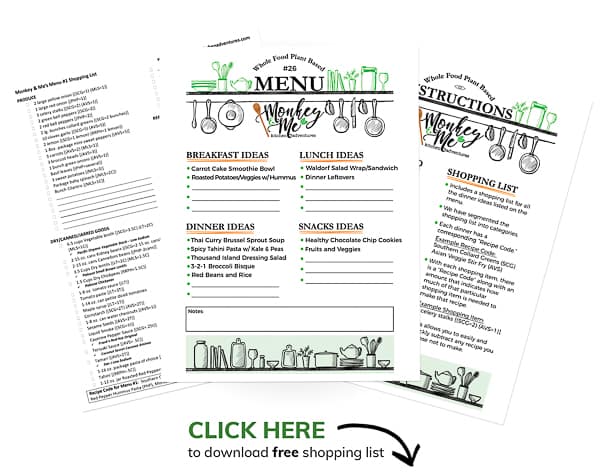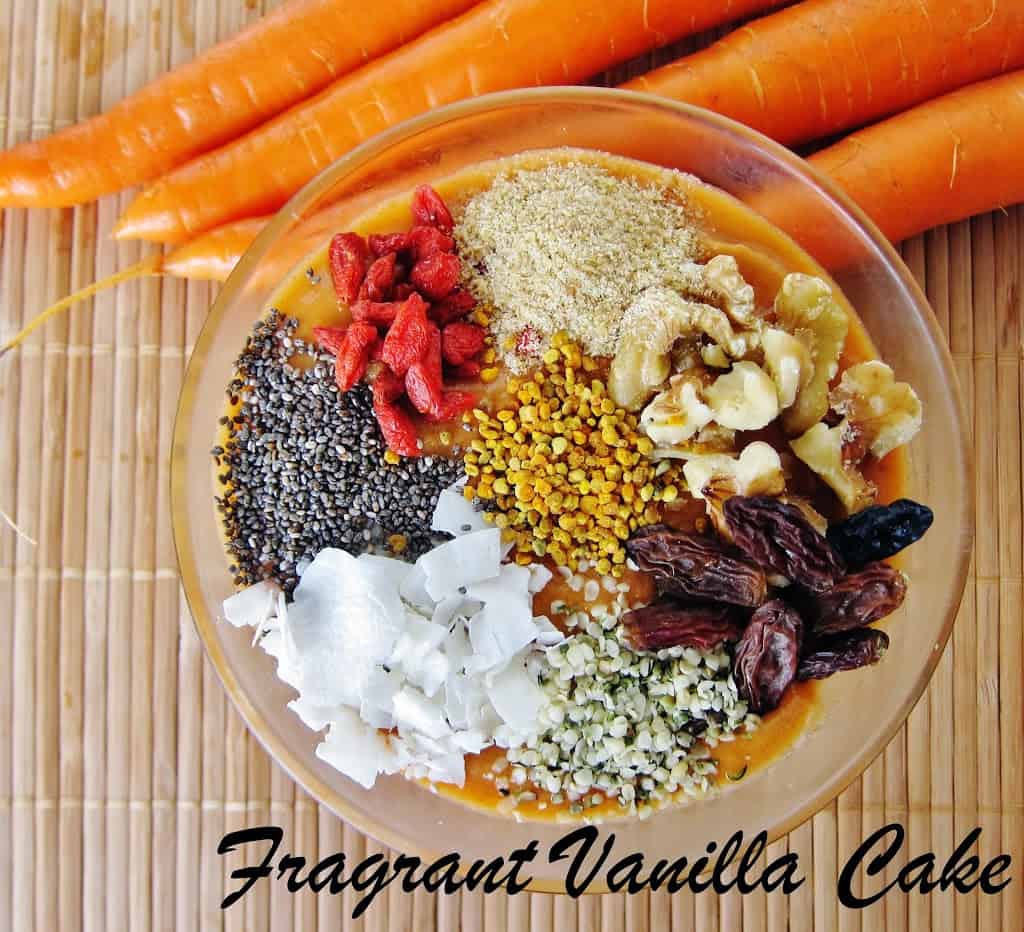 This easy, creamy, and oh-so-delicious Carrot Cake Smoothie bowl is packed with wholesome, healthy ingredients that are sure to please. Sweet bananas, nutrient-packed carrots, and aromatic spices all blended together and topped with delicious goodies create a fabulous breakfast treat. Head on over and check it out on Fragrant Vanilla Cake!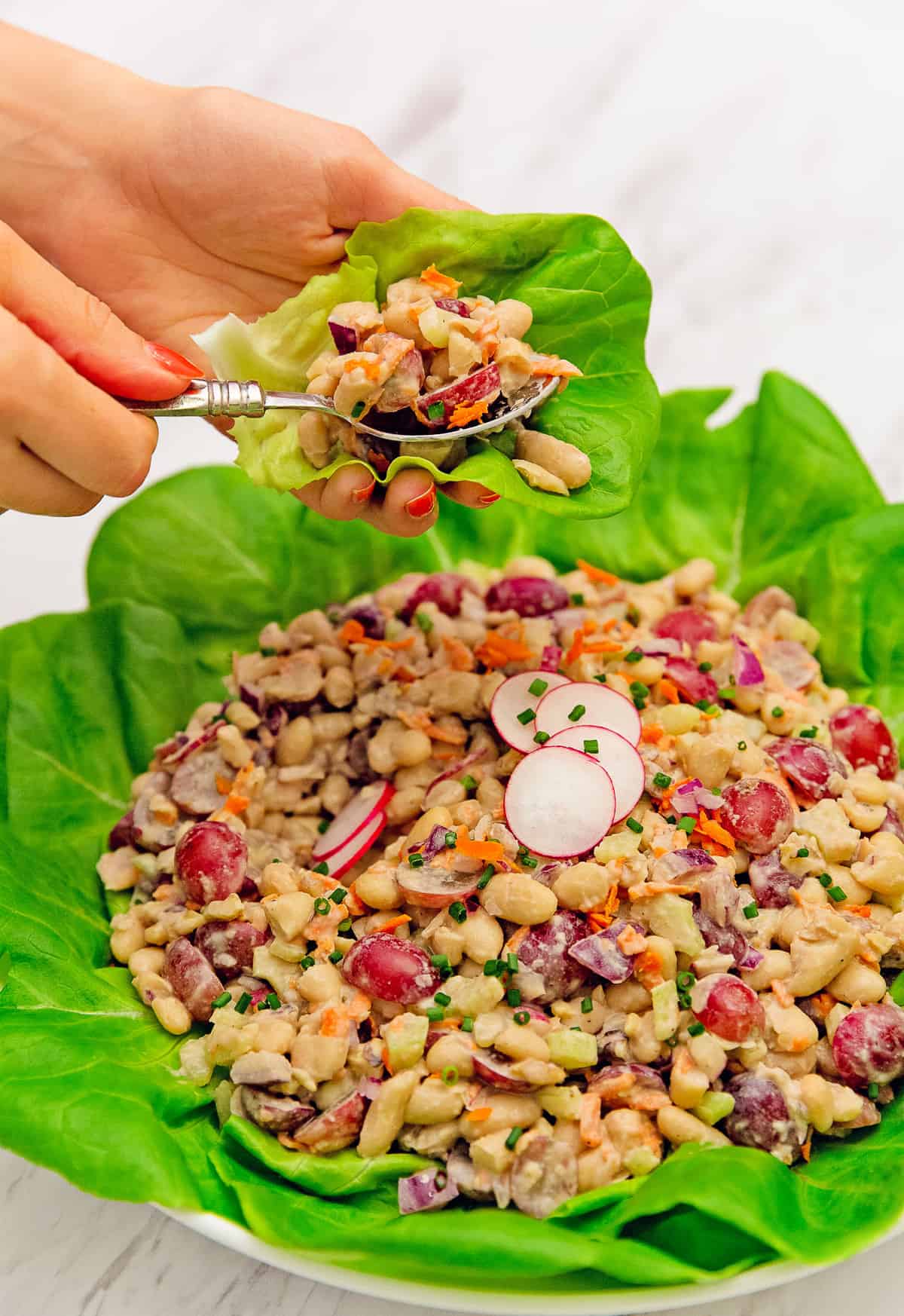 Creamy, delicious, and protein-packed, this nod to the classic Waldorf Salad is a much healthier version than the original, but tastes like the real-deal.  It is as yummy as it is filling featuring hearty beans, sweet grapes, zesty onions, and creamy dressing. Perfect in a wrap, lettuce cup, or on a beautiful salad. A fabulous Whole Food Plant Based recipe. Head on over and check it out on Monkey and Me Kitchen Adventures!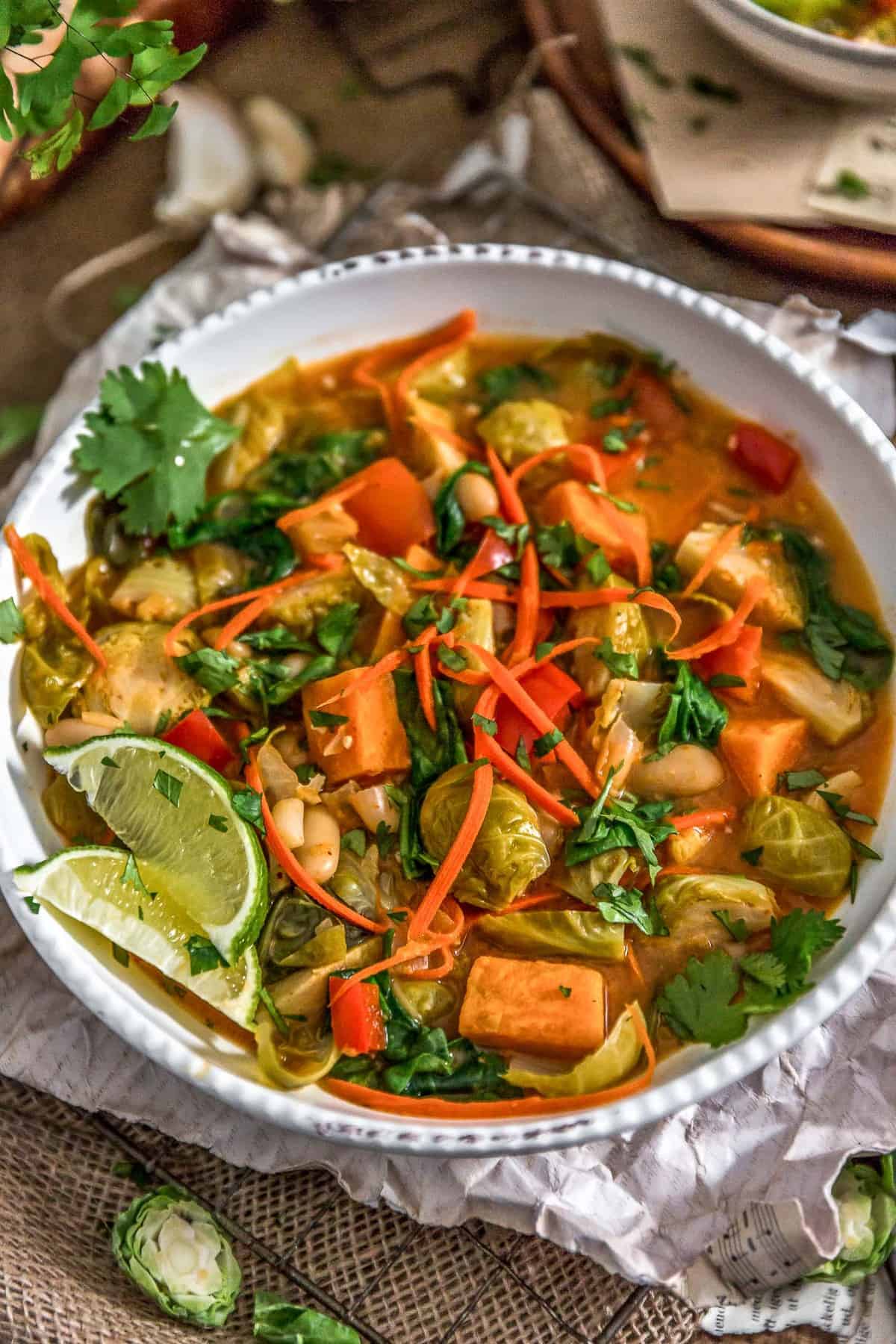 Red curry paste is that awesome, dependable friend that you can count on to make your day a little brighter, and it's on with this delicious Thai Curry Brussel Sprout Soup! Bold Thai curry flavors, coupled with creamy soothing lite coconut milk, all delightfully simmering together with nutritious Brussel Sprouts, hearty sweet potatoes, protein-packed beans in a wholesome and healthy soup! A fantastic, satisfying, and cozy soup that is sure to put a smile on your face. Head on over and check it out on Monkey and Me Kitchen Adventures!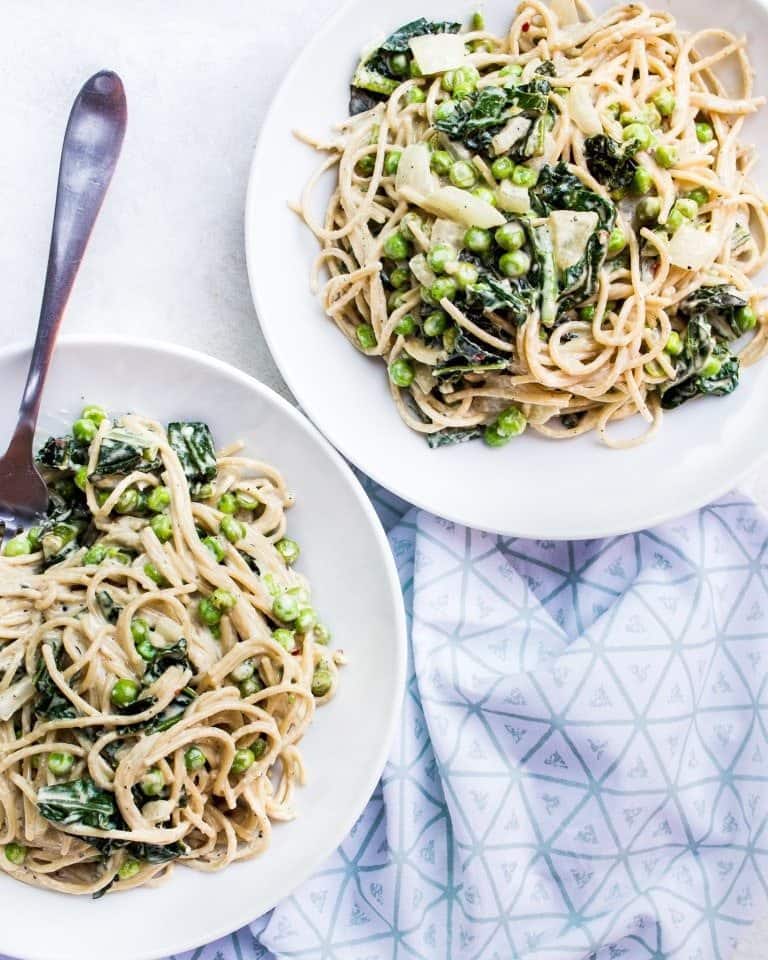 Grab a fork and get ready to dive into this creamy, rich, and full of flavor Spicy Tahini Pasta with Sautéed Kale + Peas + Onions. Beautiful, hearty, and packed with feel-good ingredients, this quick and easy dish will be ready in no time and sure to have everyone running to the dinner table. Head on over and check it out on Healthy Little Vittles!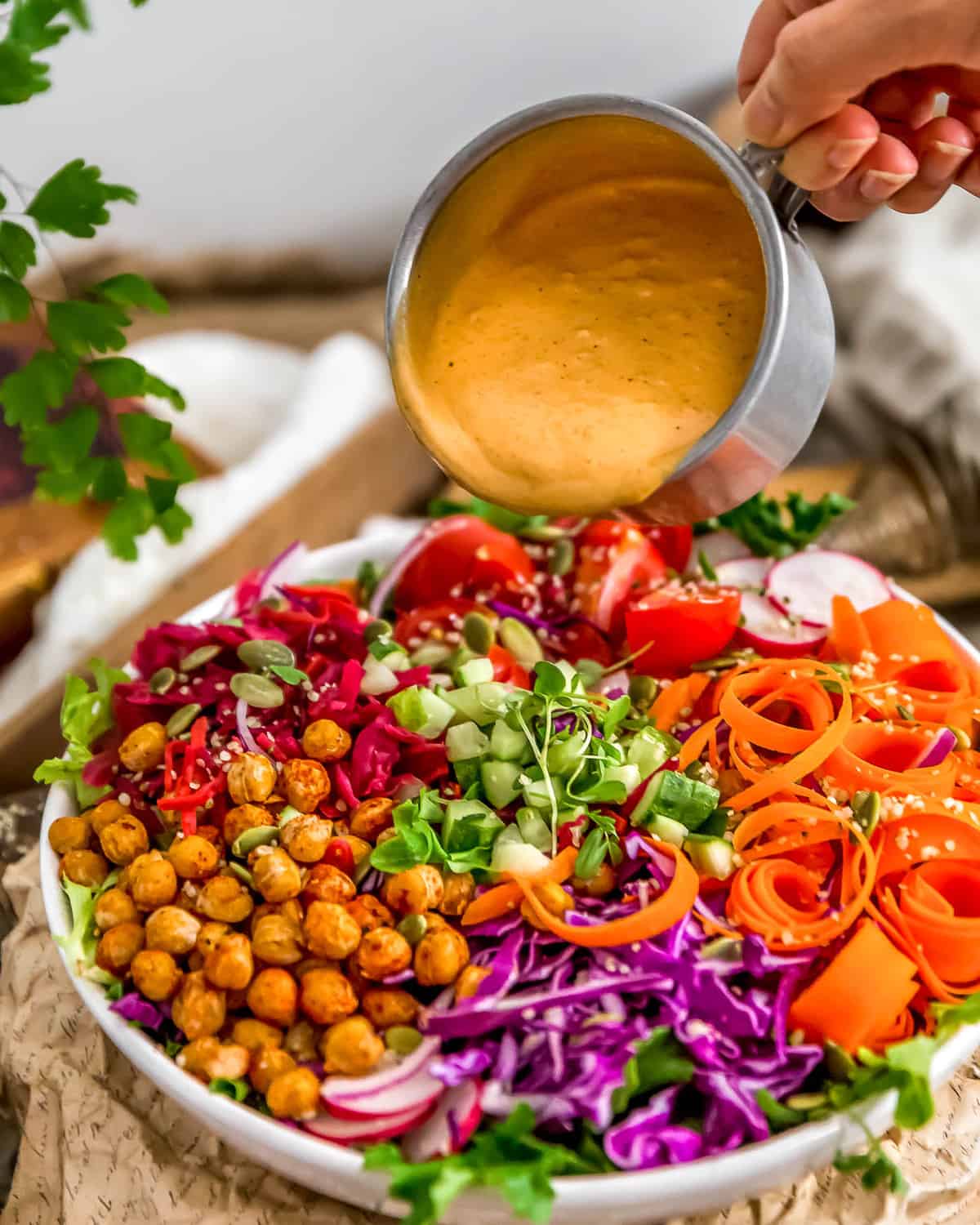 If you're not a huge salad fan, maybe you just haven't meet the right dressing to sweep your off your feet. Our homemade Oil Free Vegan Thousand Island Dressing is just that dressing that will give you heart eyes when looking at your new and improved salad. Rich, tangy, healthy and refined sugar free, this delicious dressing is fast, easy, and the perfect POW of flavor for salads and dipping veggies. Deliciously bold undertones with creamy, decadent cashews will hook you with the first bite. Perfect on your favorite veggie bowl, it is sure to absolutely delight your taste buds. Head on over and check it out on Monkey and Me Kitchen Adventures!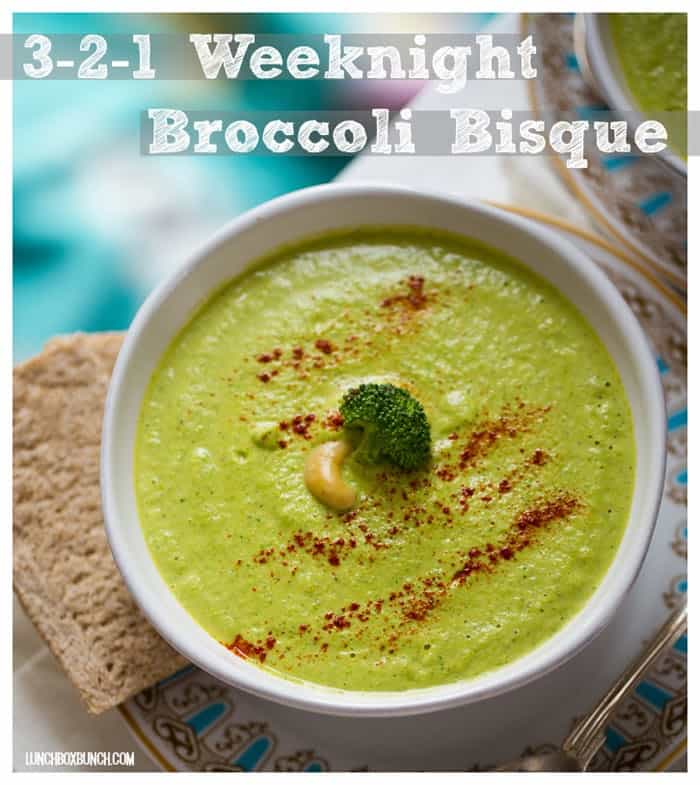 Nutritious broccoli, flavorful broth, rich cashews, and aromatic spices are blended together making this super-easy and delicious 3-2-1 Weeknight Broccoli Bisque. A cozy and comforting bowl that is as healthy as it is tasty. Head on over and check it out on Healthy Happy Life!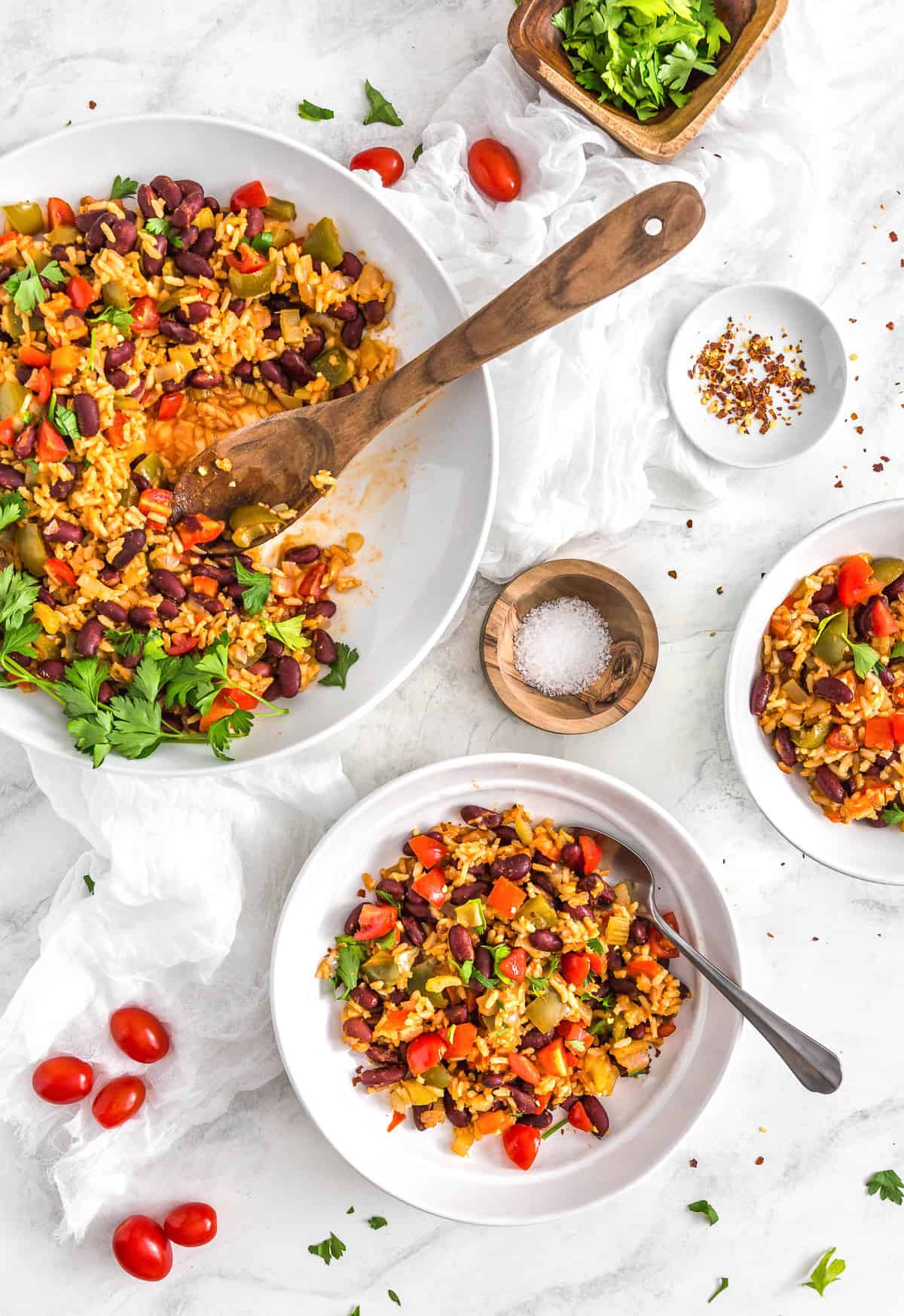 Spicy Cajun flavors magically turn beans and rice into a BOMB bowl of *where have you been all my life* deliciousness!  This Red Beans and Rice dish is packed with yummy, wholesome veggies.  This nod to the traditional Louisiana recipe is a deliciously healthy version and simmered to perfection. You'll be singing WINNER WINNER PLANT BASED DINNER when making this new family favorite dish. Head on over and check it out on Monkey and Me Kitchen Adventures!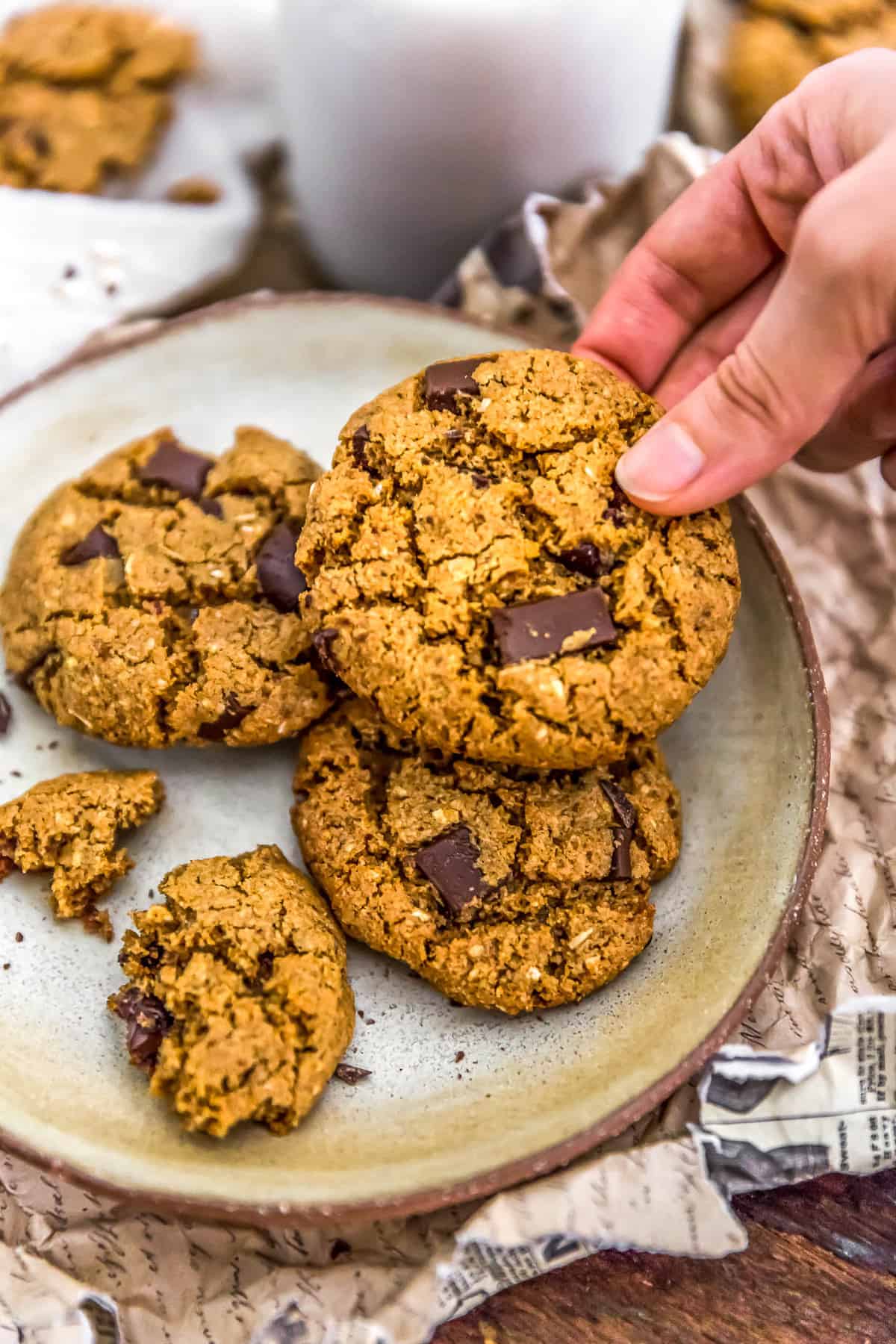 Chocolate Chip Cookies are truly the most quintessential satisfying cookie that just saying the name makes you smile, and these perfectly soft, ultra-thick, amazingly delicious Healthy Vegan Chocolate Chip Cookies are all that and more!  Warm gooey melty chocolate chips are nestled inside a soft, chewy cookie that is sure to knock your socks off. Head on over and check it out on Monkey and Me Kitchen Adventures!