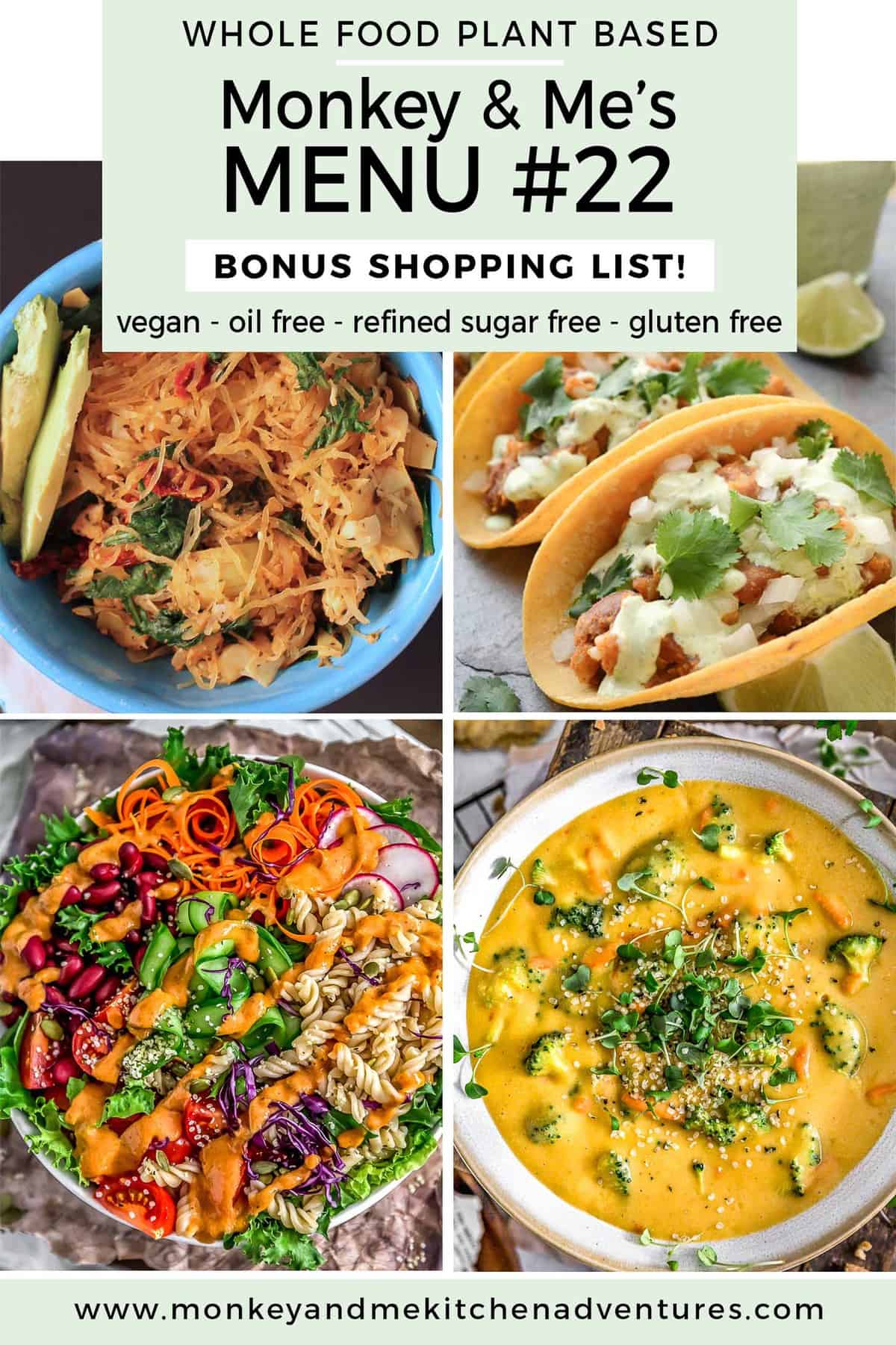 This week's Monkey and Me's Menu features some of our favorite foodie bloggers in menu #22 as well as a FREE bonus shopping list.  All recipes are Whole Food Plant Based, vegan, plant based, oil free, refined sugar free, no highly processed ingredients, and gluten free.
This super tasty menu features delicious dishes from Marlena at Where You Get Your Protein, Sarah and Rachel at Bad to the Bowl, Deborah at Vegan Vigilante, and Anthea at Rainbow Nourishments, as well as featuring a few of our own dishes. 😉
Monkey and Me's Menu #22 meal plan features the following:
Downloadable Menu which offers the following:

2 Breakfast ideas
2 Lunch ideas
2 Snack Ideas
5 Dinner Ideas, including a FREE downloaded shopping list (PDF – Below)

A comprehensive (downloadable) shopping list for the 5 Dinners

The shopping list is segmented into the common grocery store sections like "produce, spices, etc." making it easy to pick up these items from your local grocery store.
It also includes product suggestions that are Whole Food Plant Based compliant* for easy reference.  Note: These products are suggestions, please feel free to select your own favorite products.
Includes helpful codes so you can easily subtract items that you choose not to make.

Downloadable Instructions on how the meal plan work.
Note:  The term "Whole Food Plant Based compliant" is from a general standpoint.  There are Whole Food Plant Based diet branches that restrict certain food items.  Our recipes are all Whole Food Plant Based compliant based upon a high-level compliance standpoint. i.e. vegan, no oil, no refined sugar, minimally processed foods.
Some breakfast, lunch, and snack ideas are simple concepts that require no recipe.
Meal Plan #22 includes the following recipes: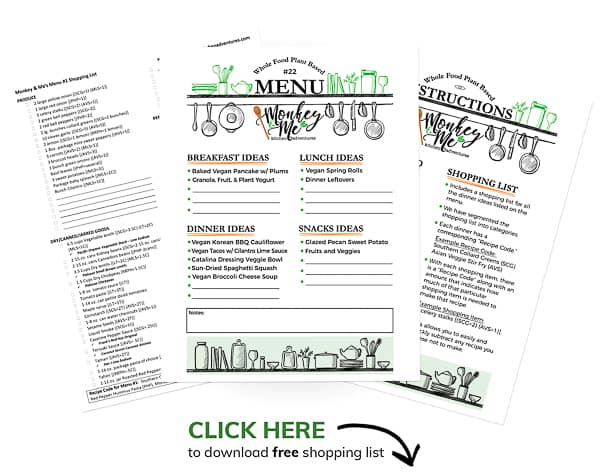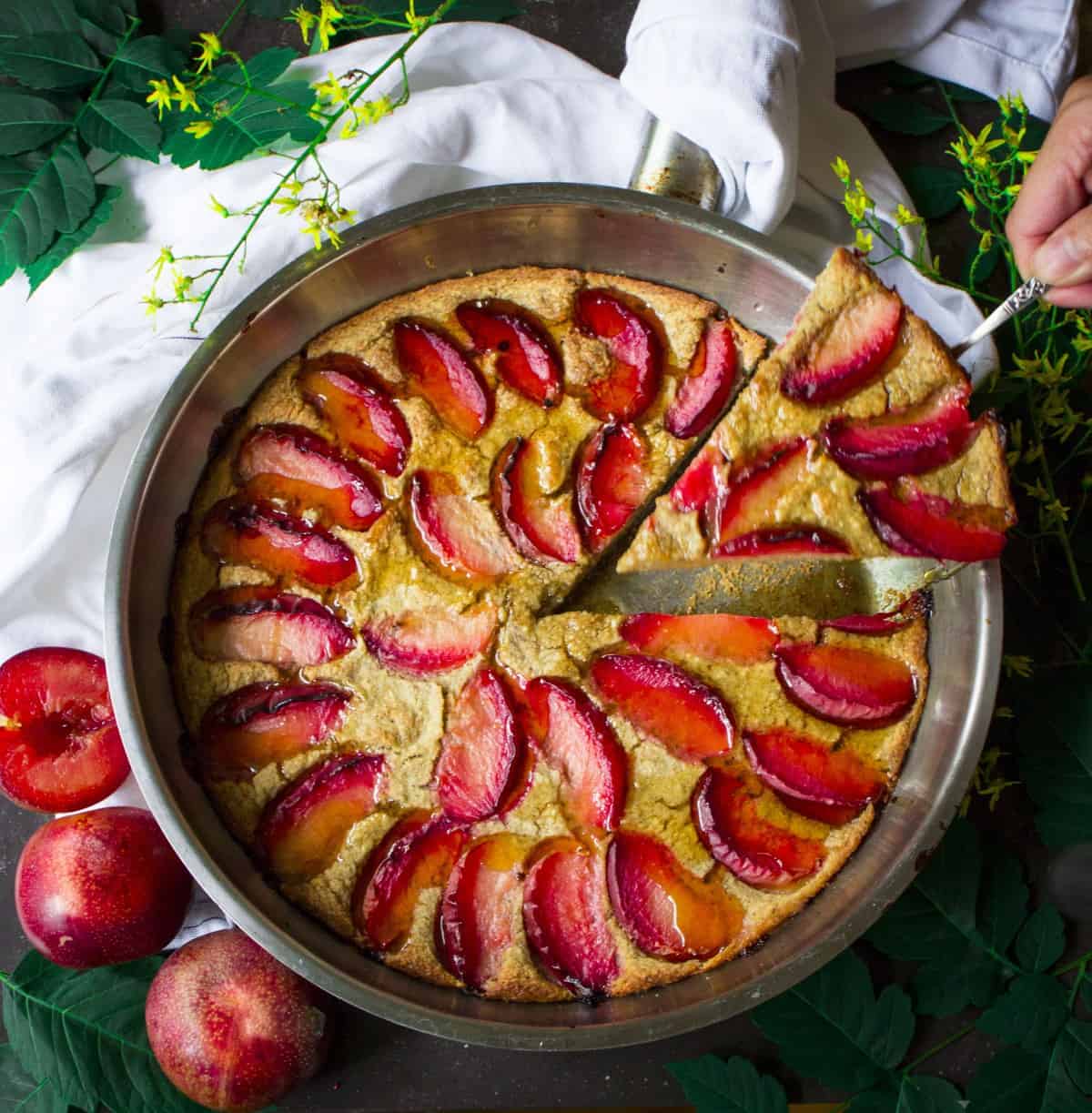 This easy, ultra-simple ingredient list, oh-so-yummy Baked Vegan Pancake with Plums is a delicious and satisfying way to start the day. Hearty oats and sweet plums are the star of the show, blend, bake, and enjoy. It can't get any simpler, so grab a fork and get ready to dig in. Head on over and check it out on Rainbow Nourishments!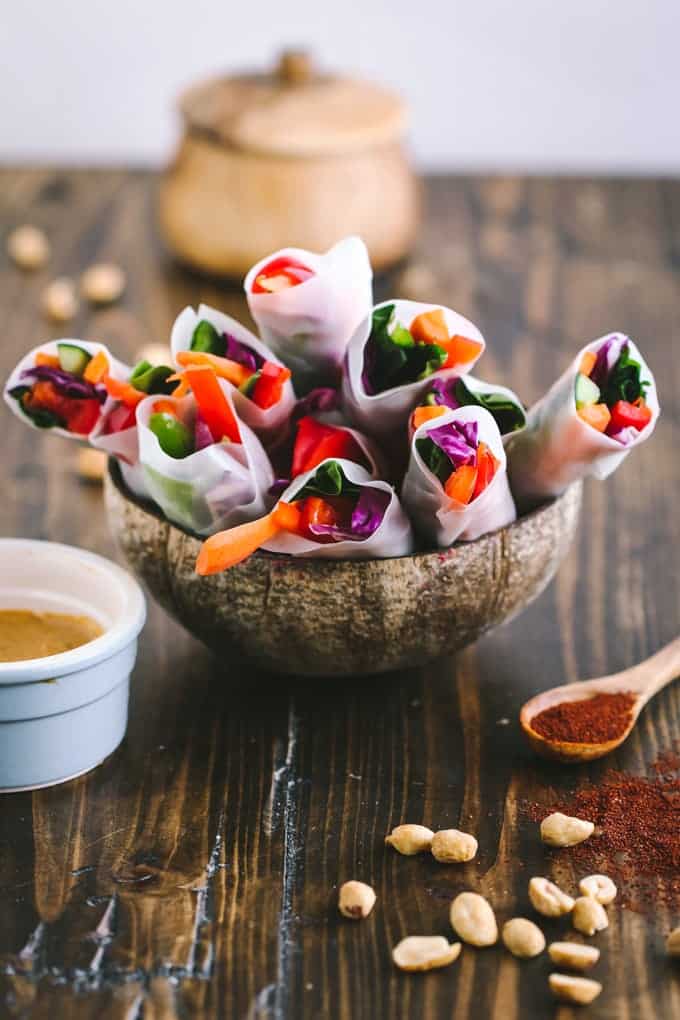 A delicious and perfect way to eat the veggie rainbow. This wholesome, nutritious, and satisfying Rockin' Vegan Spring Rolls w/ Chili Ginger Peanut Sauce is a perfect addition to your lunch routine. Crisp and refreshing veggie flavors paired with a creamy and flavorful peanut sauce is sure to put a smile on your face. Head on over and check it out on Vegan Vigilante!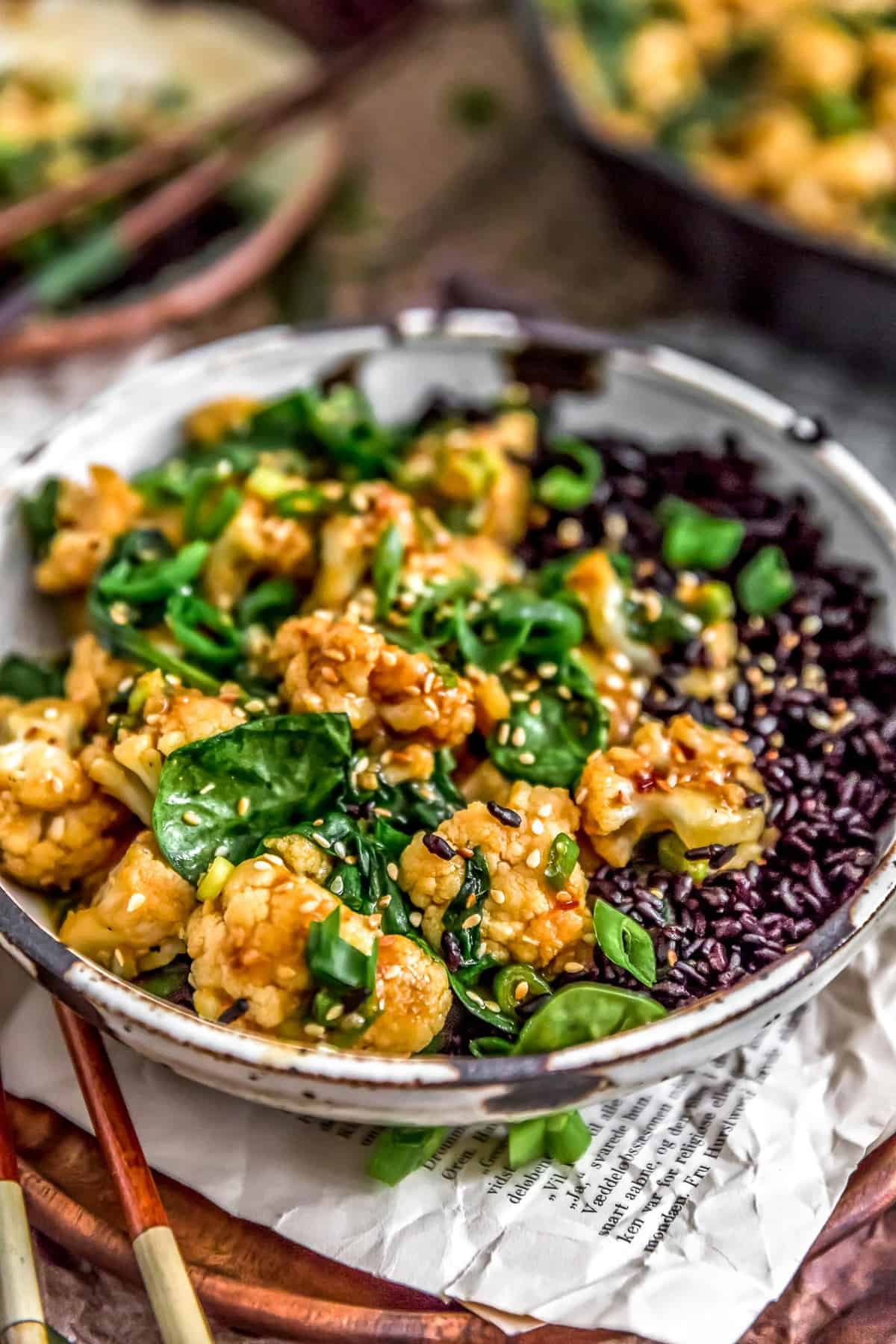 This easy to make, irresistible Vegan Korean BBQ Cauliflower checks off ALL the must haves of tender and crisp texture, sweet and tangy flavors, and *get in my belly* deliciousness. It is packed with nourishing healthy goodness. Serve this tasty cauliflower with your favorite rice for a wholesome and satisfying meal. We must warn you to plan on getting requests to add this dish into your regular weekly rotation of delicious foods, it's totally that good. Head on over and check it out on Monkey and Me Kitchen Adventures!
Comforting, hearty, and bursting with flavor This 20 Minute Vegan Tacos with Cilantro Lime Sauce is just as nourishing as it is delicious. Protein packed pinto beans and aromatic spices are simmered to perfection and nestled with zesty onions, fresh cilantro, and topped with a drizzle of creamy cilantro lime sauce for an ultra-yummy taco feast. Head on over and check it out on Where You Get Your Protein!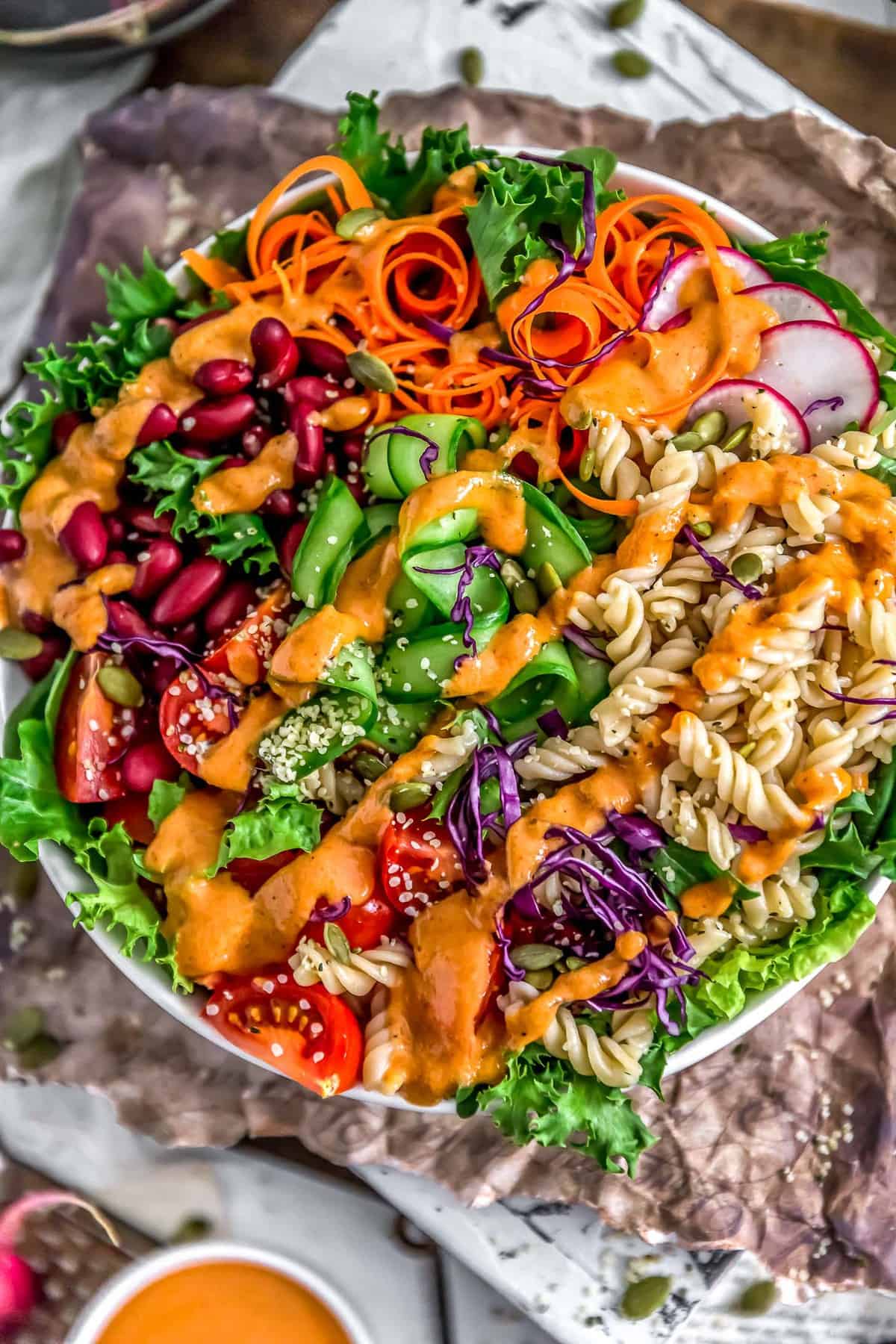 When salads put a smile on your face, you just know that there's a FABULOUS dressing along side it, and boy, oh boy, do we have a new, flavor-packed, creamy dressing that is sure to sweep you off your feet. This healthy, lush Oil Free Catalina Dressing is just that, and boasts no refined sugar too – yah hoo! Not only is it fast and easy, but it's a BLAST of delicious flavors: tangy, sweet, and full of aromatic spices! A perfect addition to salads and a dipping sauce for veggies. Deliciously bold undertones with rich umami flavors will hook you with the very first bite. Head on over and check it out on Monkey and Me Kitchen Adventures!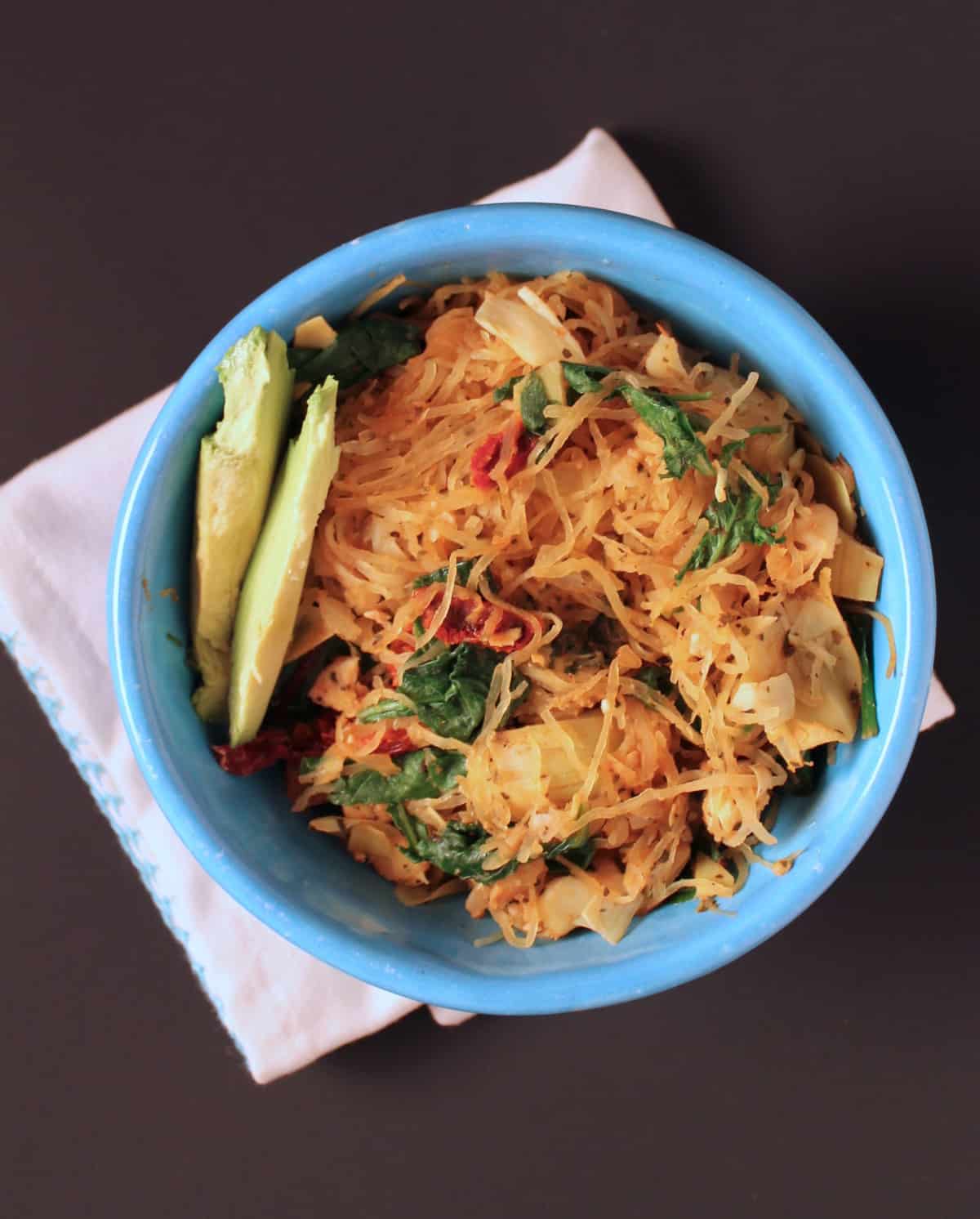 Bursting with feel-good ingredients and oh-so-satisfying flavors, this Sun-Dried Artichoke Spaghetti Squash is sure to have everyone running to the dinner table. Nutritious spaghetti squash, hearty artichokes and spinach, protein packed chickpeas, and rich sun-dried tomatoes all simmering together with aromatic spices and sauce for a delicious and cozy dish that is sure to please. Head on over and check it out on Bad to the Bowl!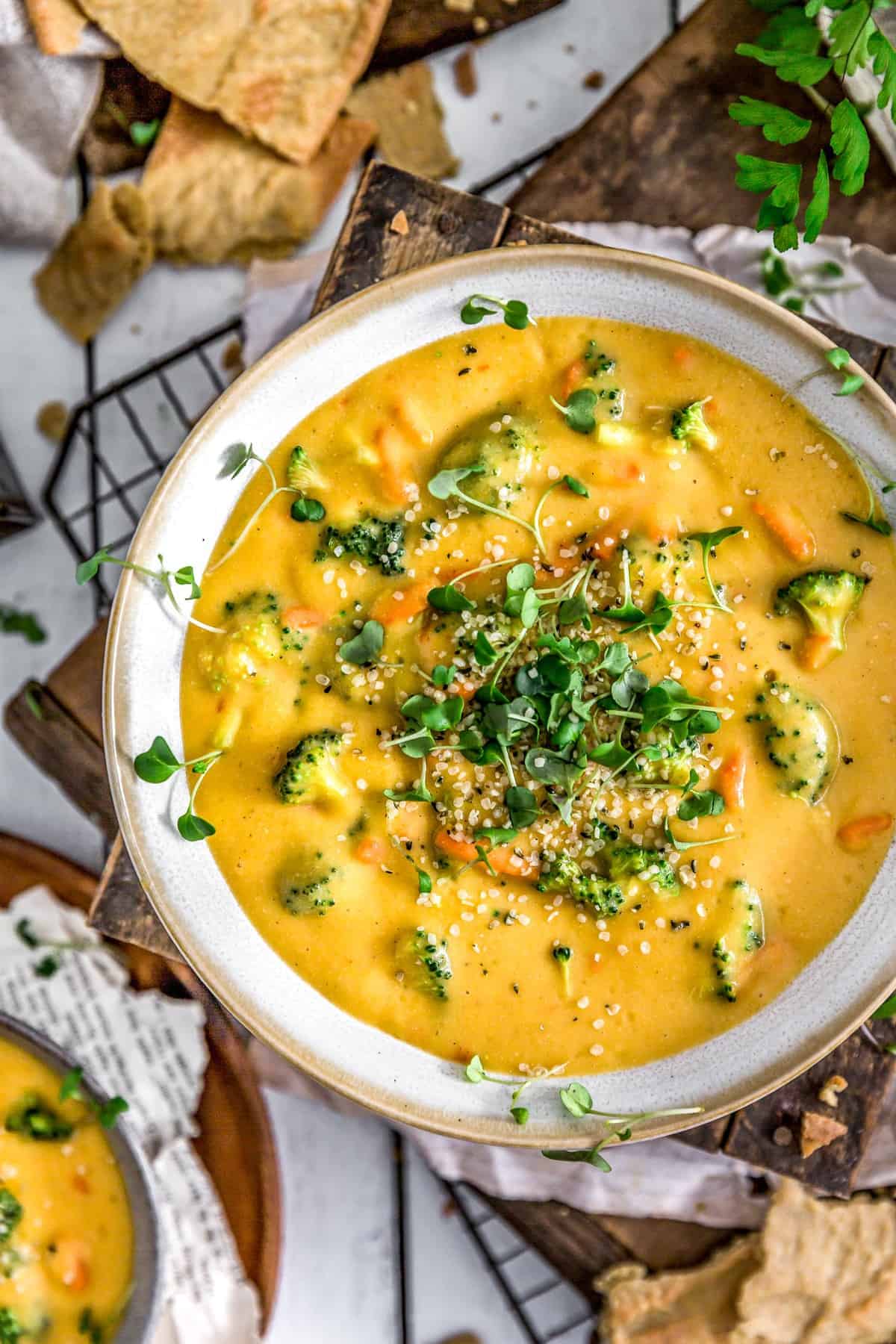 This soup is like one giant, cozy HUG! Full of flavorful feel-good ingredients, this soul-warming Vegan Broccoli Cheese Soup is ultra-comforting, satisfying, and bursting with delicious rich cheesy flavor.  Tender, wholesome broccoli florets are bathed in a velvety cheesy broth that warms you from head to toe. Grab your favorite bowl, and get ready to cuddle up with this fabulous dish. It is a sure bet that you will get second requests for this deliciousness! Head on over and check it out on Monkey and Me Kitchen Adventures!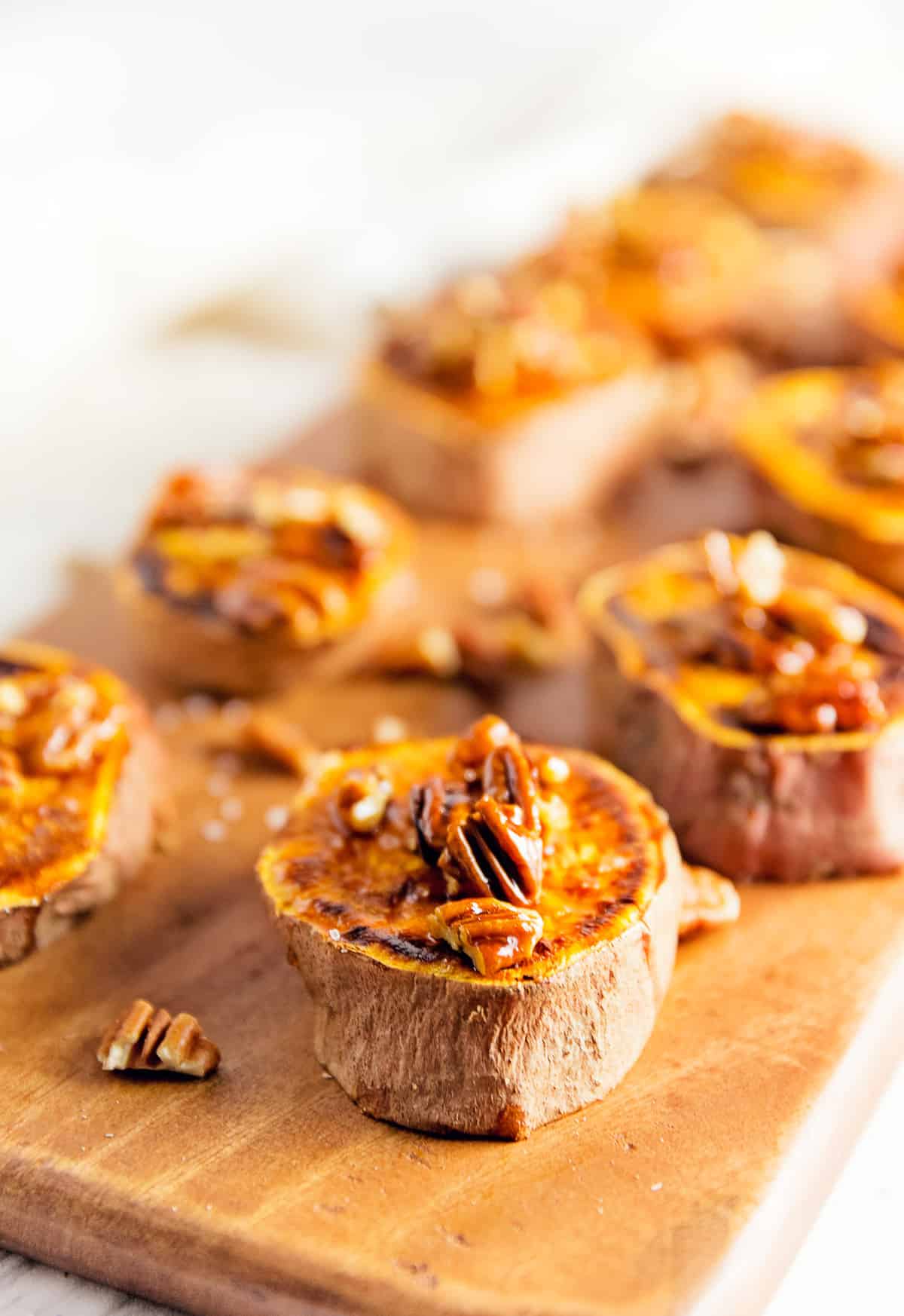 Wholesome, delicious, and just 5 simple ingredients, this Glazed Pean Sweet Potato Rounds are a perfect pick-me-up or after school treat. Tender roasted sweet potato rounds topped with gloriously maple glazed pecans and a hint of cinnamon makes for the ultimate healthy Whole Food Plant Based snack, side, or appetizer.  Head on over and check it out on Monkey and Me Kitchen Adventures!