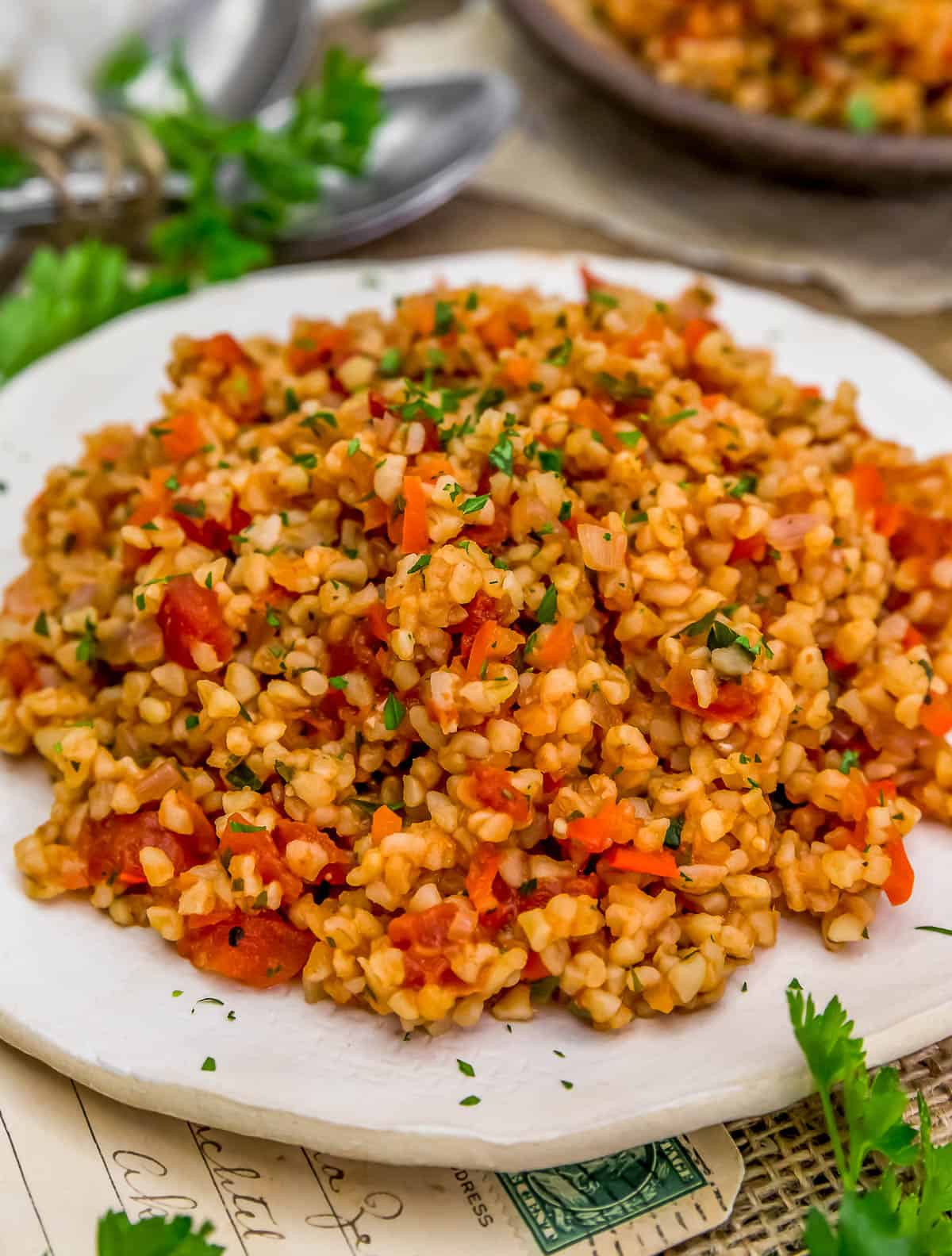 Middle Eastern Bulgur Pilaf! We are switching up our grains with this hearty Middle Eastern classic, bulgur.
Simple and satisfying, this traditional Middle Eastern Bulgur Pilaf recipe is delicious, hearty, and healthy.  Filled with red onions, red bell peppers, garlic, tomatoes, bulgur and spices, this dish is sure to hit the spot! Serve with steamed or roasted veggies or salad for an amazing meal that is sure to please.
Whole Food Plant Based, Vegan, plant based, oil free, refined sugar free, no highly processed ingredients.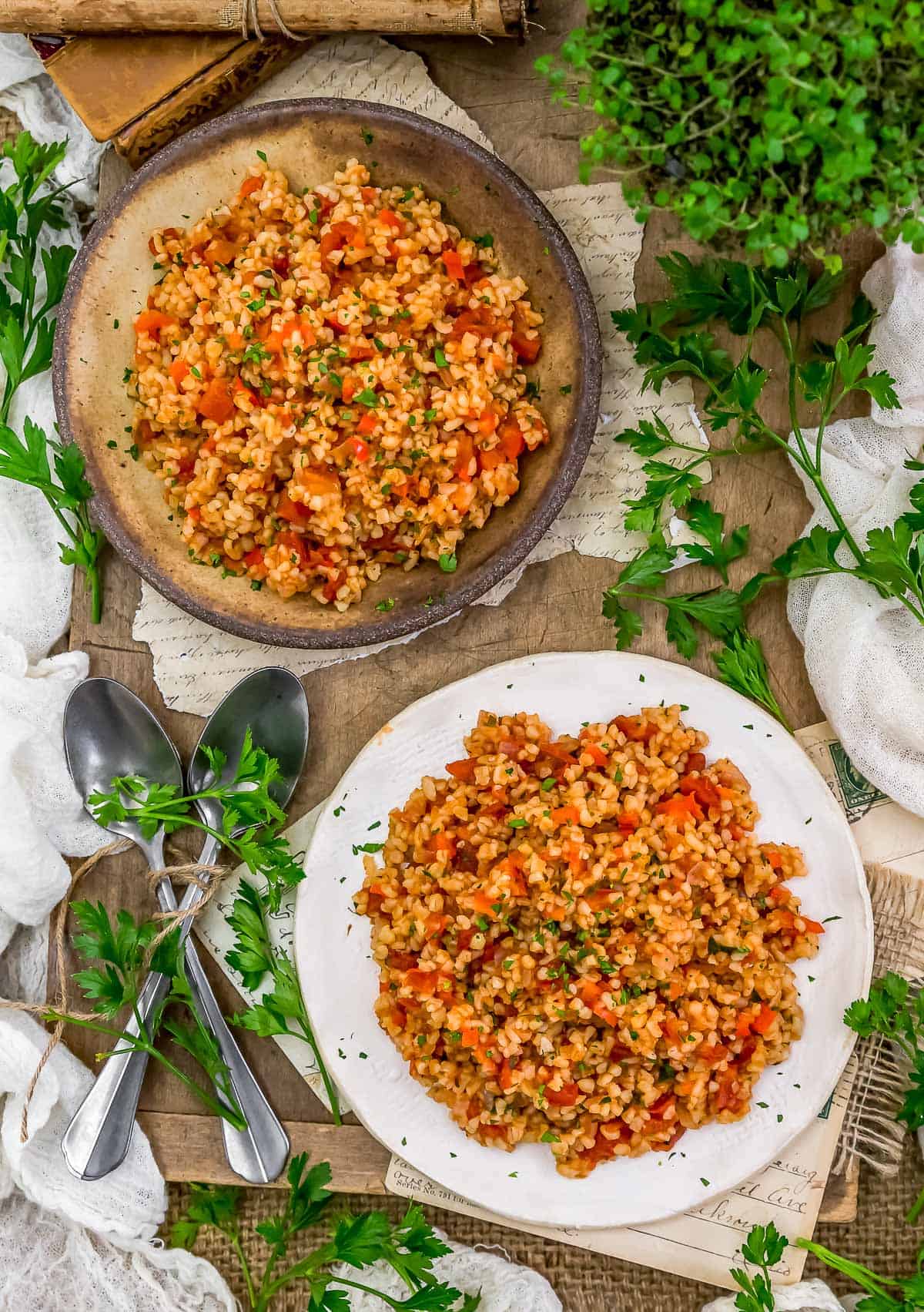 Hi there, Ameera here!
This is a traditional Middle Eastern bulgur dish that is very often made with extra virgin olive oil. During lent, it is made without oil. The flavors are easily customizable by adding extra and/or different spices.
We purposefully kept this dish simple and on the lower end of the spice spectrum to model it after the traditional dish. You gotta give this one a try!
This dish is not gluten free. If you are looking for a gluten free Middle Eastern alternative dish, we suggest our Middle Eastern Rice and Lentils. This is not an equivalent gluten free dish, but a gluten free dish with delicious Middle Eastern flavors.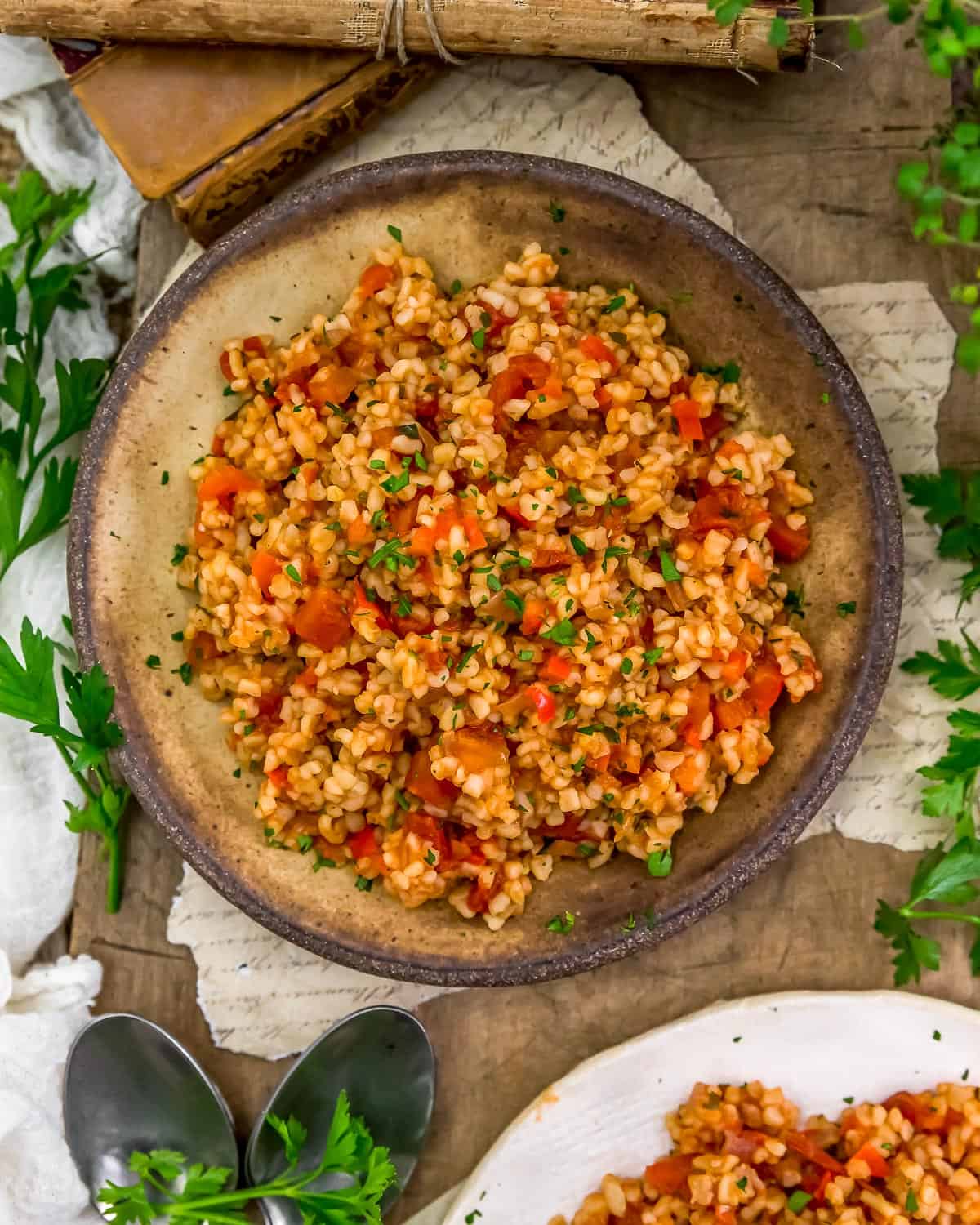 Tips for Success:
Flavor Profile: This dish is a traditional, simple Middle Eastern bulgur pilaf dish.  Typically, olive oil is used and sometimes other herbs and spices; however, in its purest form, minimal spices are used.  The flavor is mild and not complex, but still very enjoyable.
Low-Fat Dish Expectations: This dish was designed to be low in fat. Because it is low in fat, you are not going to experience that endorphin rush associated with eating high-fat foods when eating this dish. It is very tasty for what it is, and that is a low-fat dish. We just want to make sure that our Readers recognize this when contemplating making this recipe.  If you wish to make it more indulgent, add a dollop of unsweetened plain plant yogurt on individual servings or serve with a cucumber salad.
Bulgur: There are many different sizes of bulgur on the market from fine to coarse, use a coarse bulgur. Bulgur has a tiny bit of chew to it.  After simmering for 15 minutes, taste test. If it is still too chewy for you, then place the lid back on and continue to simmer for another 5 minutes or longer.
Simmer rather than Boil: You do not want to create a rolling boil, but rather create a low-boiling simmer.
Excess Liquid: Do no worry if the dish appears juicy (extra liquid), just allow it to sit for another 5 to 10 minutes. Bulgur is thirsty and will absorb any extra liquid.
Fresh Chopped Parsley: The freshly chopped parsley is optional.  It adds great flavor if you enjoy parsley and is part of the traditional Middle Eastern recipe.
Sea Salt Amount: Our family was totally divided over the amount of sea salt to use in this dish.  We ultimately landed on 1 ¼ teaspoons of sea salt.
Red Onion Substitute: You can use a yellow onion instead of a red onion if you wish.
Finely Diced Vegetables: Finely dice the onions, red bell peppers, and garlic.  They should be in a 'nearly' minced consistency.  Finely dicing them helps ensure that the vegetables are perfectly tender in the end product and pleasing to the eye.
Finely Chopped Onions: Be sure to chop the onions to a fine consistency. The onions will sauté faster and add extra flavor. Cutting an onion into fine pieces releases flavor compounds, the more you cut it across the grain, the more flavor compounds it releases. Don't have the extra minute to spare chopping, then simply dice them as fine as you can.  Note:   Additionally, a word of caution, do not overthink this and believe that placing the onion into a food processor to get the job done will work better, because it won't.  The food processor will overprocess the onion and can potentially produce an off-flavor.
Baking Soda: Baking soda is often used as a neutralizer for dishes that contain a lot of acidity, typically from tomatoes.  We use it in this dish to remove some of the tomato acidity (from the tomato paste and petite diced tomatoes) without losing the tomatoey flavor. When you add it, the mixture may bubble up, then settle down as it neutralizes the acidity. However, if you prefer that 'tinny' flavor that comes from canned tomatoes, then leave out the baking soda or perhaps use a tiny pinch.
Gluten Free: Bulgur is not gluten free.  You can substitute quinoa or millet instead of bulgur to make this dish gluten free.   You may need to slightly adjust liquids accordingly.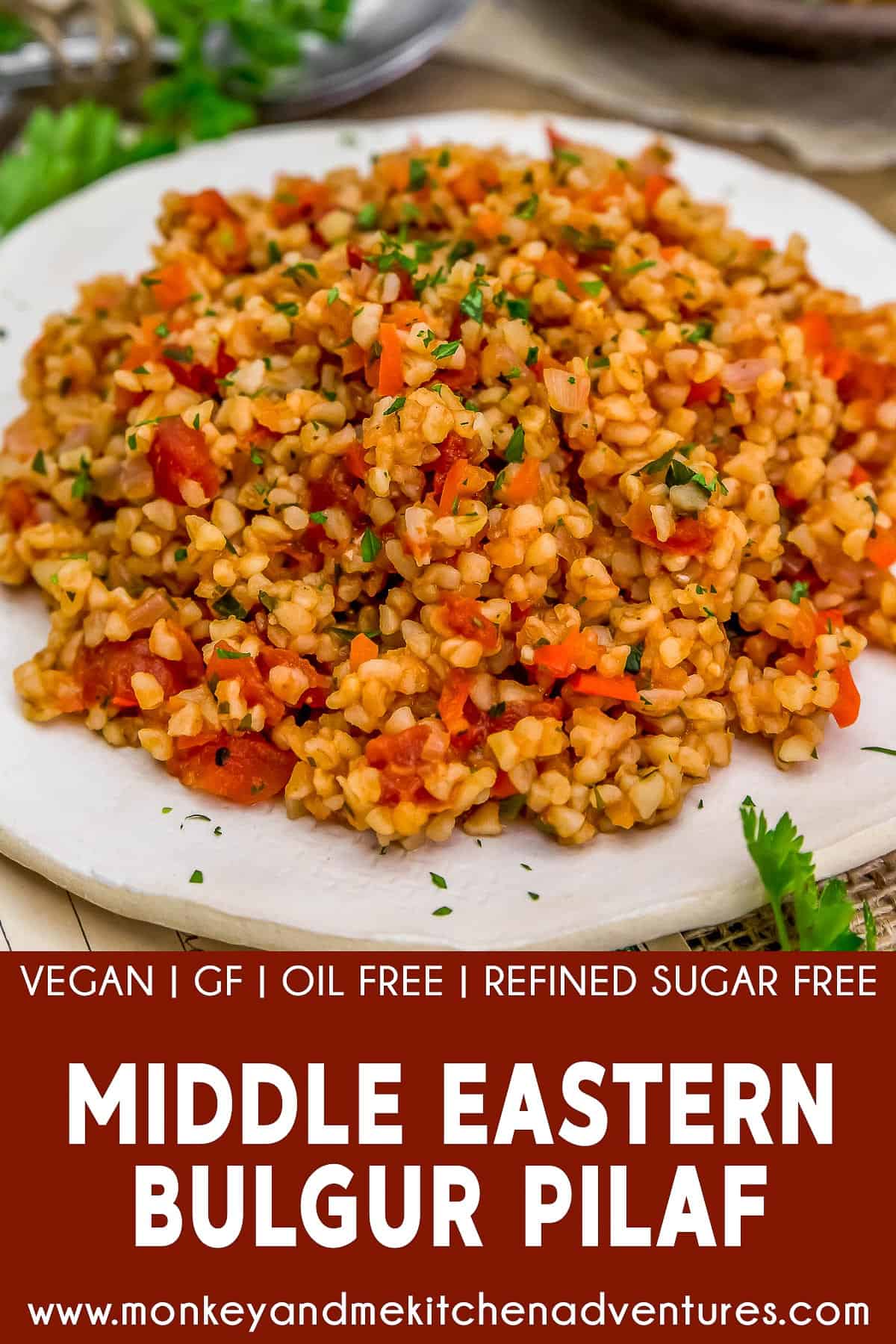 Leftovers and Freezing:
Leftovers will generally keep for 3 – 4 days in the refrigerator.  Store in a covered container.  Reheating can be done on the stovetop or in the microwave.
This dish can be frozen.
Pantry Products Used:
Sea Salt: Please adjust the sea salt based upon your family's sea salt preferences and/or based upon dietary needs.
Vegetable Stock: We use Pacific Organic Low Sodium Vegetable Stock. We love this brand because it is Whole Food Plant Based compliant, as it does not contain MSG, has no oil, and does not contain any highly-processed ingredients.
Bulgur: We used Duru Coarse Bulgur.  Feel free to use your favorite bulgur; however, make sure it is a coarse bulgur.
Kitchen Products Used:
Large enamel/ceramic lined skillet or similar non-stick skillet with a tight-fitting lid
If you try this comforting side dish, we would love to know if you enjoy it as much as we do! Please leave us a review! Post a picture on Facebook or Instagram and tag us!  We would love to hear from you.
Print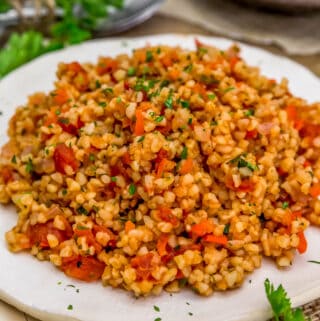 Middle Eastern Bulgur Pilaf
Author:

Prep Time:

10 Minutes

Cook Time:

30 Minutes

Total Time:

40 Minutes

Yield:

4

Servings

1

x

Category:

Side Dish

Method:

Stovetop

Cuisine:

Middle Eastern

Diet:

Vegan
---
Description
Simple and satisfying, this traditional Middle Eastern Bulgur Pilaf recipe is delicious, hearty, and healthy.
---
Ingredients:
1 cup

red onions, fine dice

1

red bell pepper, fine dice

1 Tablespoon

minced garlic

1 Tablespoon

tomato paste

1 cup

low-sodium vegetable broth *

1 cup

water

1

– [ 14.5 oz. can ] petite diced tomatoes, undrained

1/8 teaspoon

baking soda *

1 cup

coarse bulgur, rinsed
Herb/Spice Ingredients:
1 teaspoon

onion powder

1 teaspoon

garlic powder

¼

to

½

teaspoon cumin (+/-)

¾

to

1 ¼

teaspoons sea salt *

1/8 teaspoon

black pepper
Other Ingredients:
¼ cup

finely chopped fresh parsley (optional) (+/-) *
Serving Ideas:
Serve with a cucumber mint salad
Dollop of unsweetened plain plant yogurt
---
Instructions
Place all the Herb/Spice Ingredients into a small bowl, mix well.  Set aside.
In a large ceramic/enamel lined skillet, Dutch oven, or non-stick skillet, add the finely diced onions and red bell pepper, sauté over medium-high heat for 7 to 9 minutes to soften, then add the finely minced garlic and tomato paste, and sauté over medium heat for one minute, stirring constantly.
Next add all the remaining Ingredients (except the baking soda and bulgur) and the Herb/Spice Mix.  Stir well, bring to a boil, then immediately lower to a simmer.  Add the baking soda, stirring constantly for 30 seconds.
Next add the bulgur, stir well, then cover with a lid, let simmer for 15 minutes or until the bulgur has reached the desired tenderness.
Remove from the stove, let sit (covered) for 5 minutes, untouched.
After 5 minutes, stir in the freshly chopped parsley. Serve and enjoy!
---
Notes
*Please reference the blog post for Tips for Success, Pantry Items Used, Storage and Freezing, and Kitchen Products Used. 
*Sea Salt:  Please adjust the sea salt based upon your family's sea salt preferences and/or based upon dietary needs.   
*Servings: 4

This post contains affiliate links, and we may receive a very small commission if you purchase through those links at no additional cost to you. Thank you for supporting Monkey and Me Kitchen Adventures! For more information, see our disclosures here.