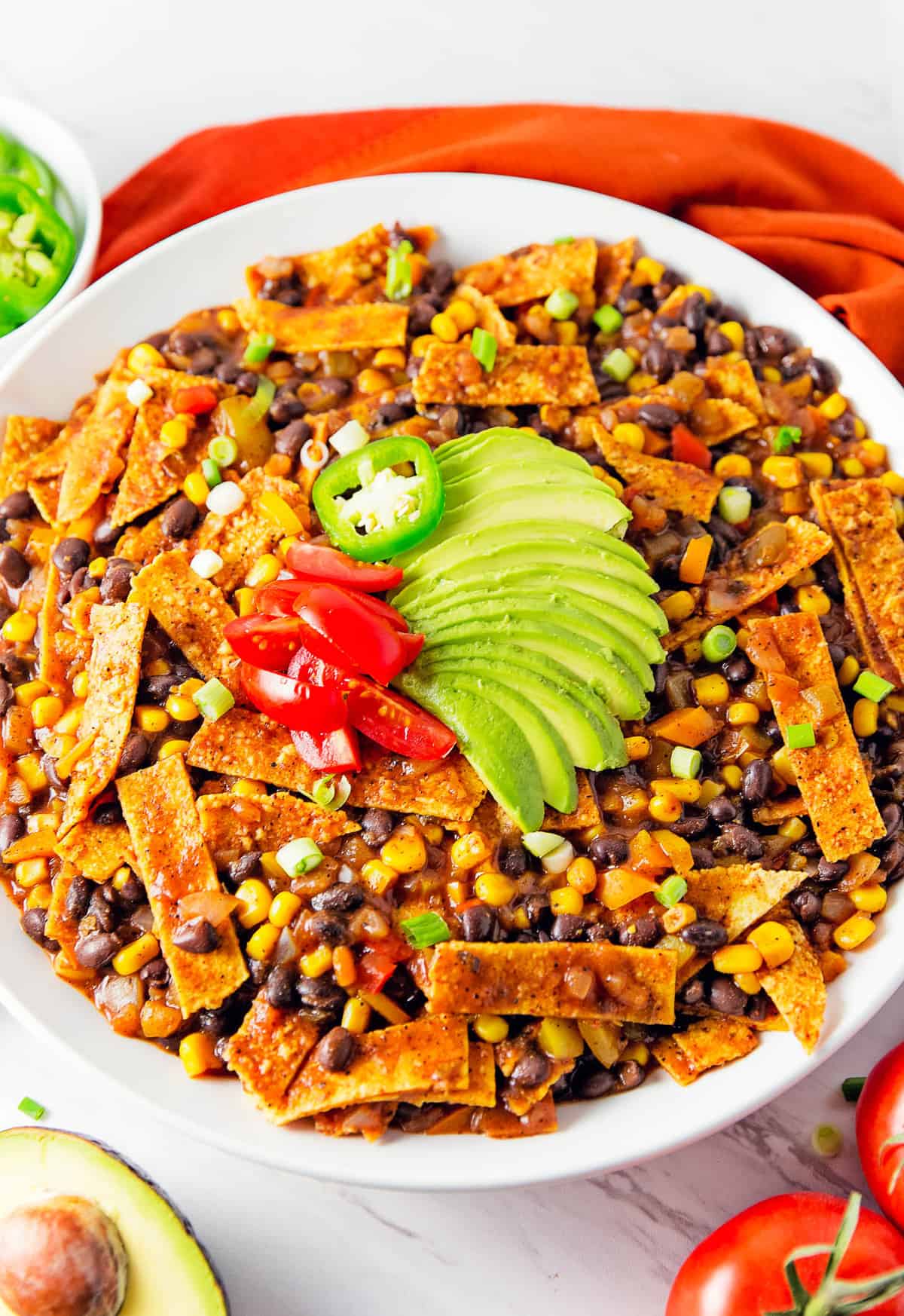 This amazing enchilada skillet is sure to be a BIG hit with the family!  The recipe comes together quickly, and it's very easy to make.   A fabulous Whole Food Plant Based recipe. Oil free, sugar free, no highly processed ingredients, and gluten free.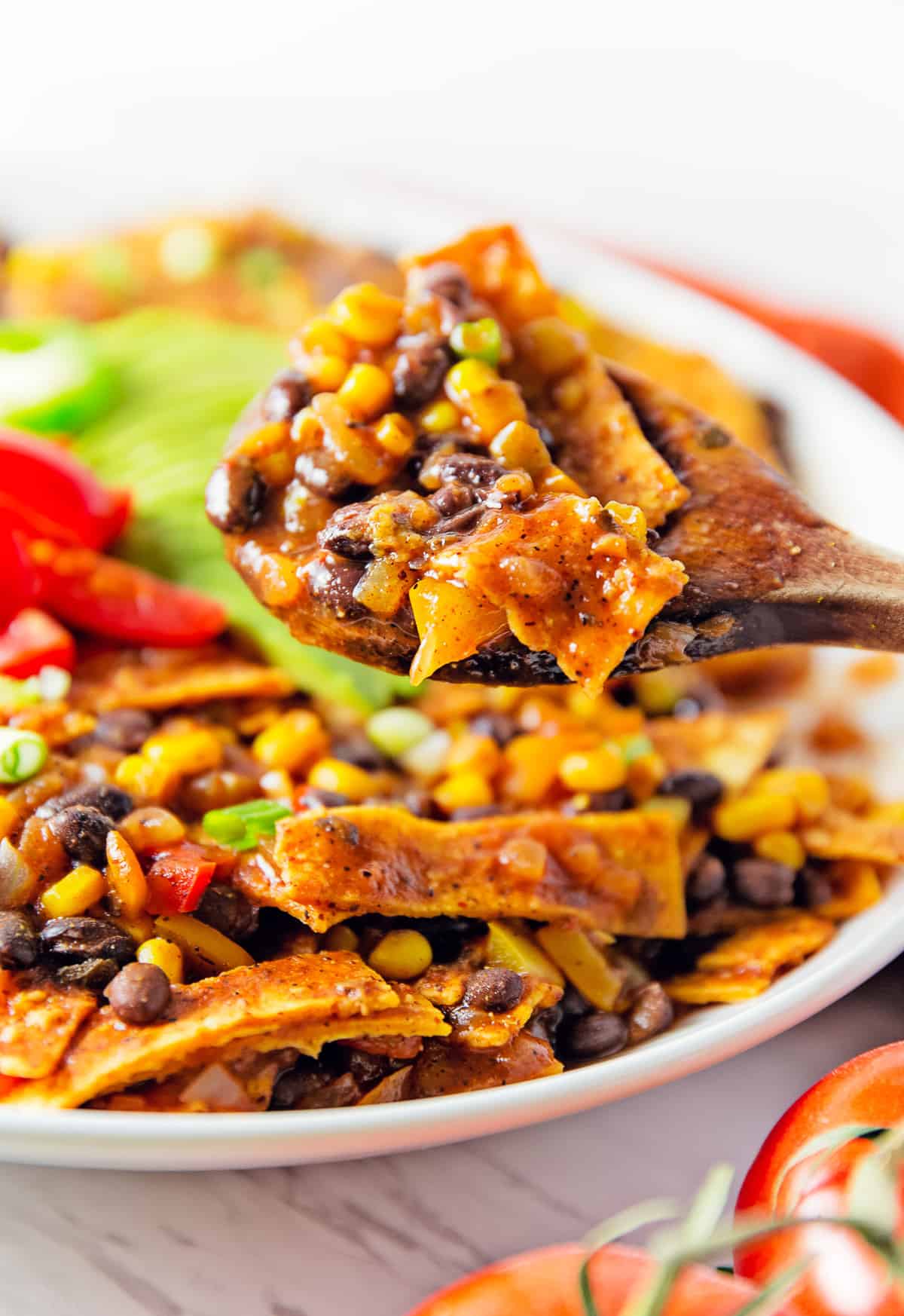 Hi!  Robin here!
If you love spicy Southwestern food as much as I do, then you are going to love this recipe.  I literally wanted to eat the entire dish all by myself.  It is sooooo darned good.  I love topping it with sliced avocadoes, tomatoes, and green onions.
This recipe was adapted from One Pot Stove Top Enchiladas by She Likes Food.
It's 9:50AM, is it lunch yet?
We made this fabulous Enchilada Skillet yesterday, and I am thinking about the leftovers in the frig right now! And it's only 9:50AM on a Saturday morning. I am seriously wondering if I could get away with eating an early lunch!  LOL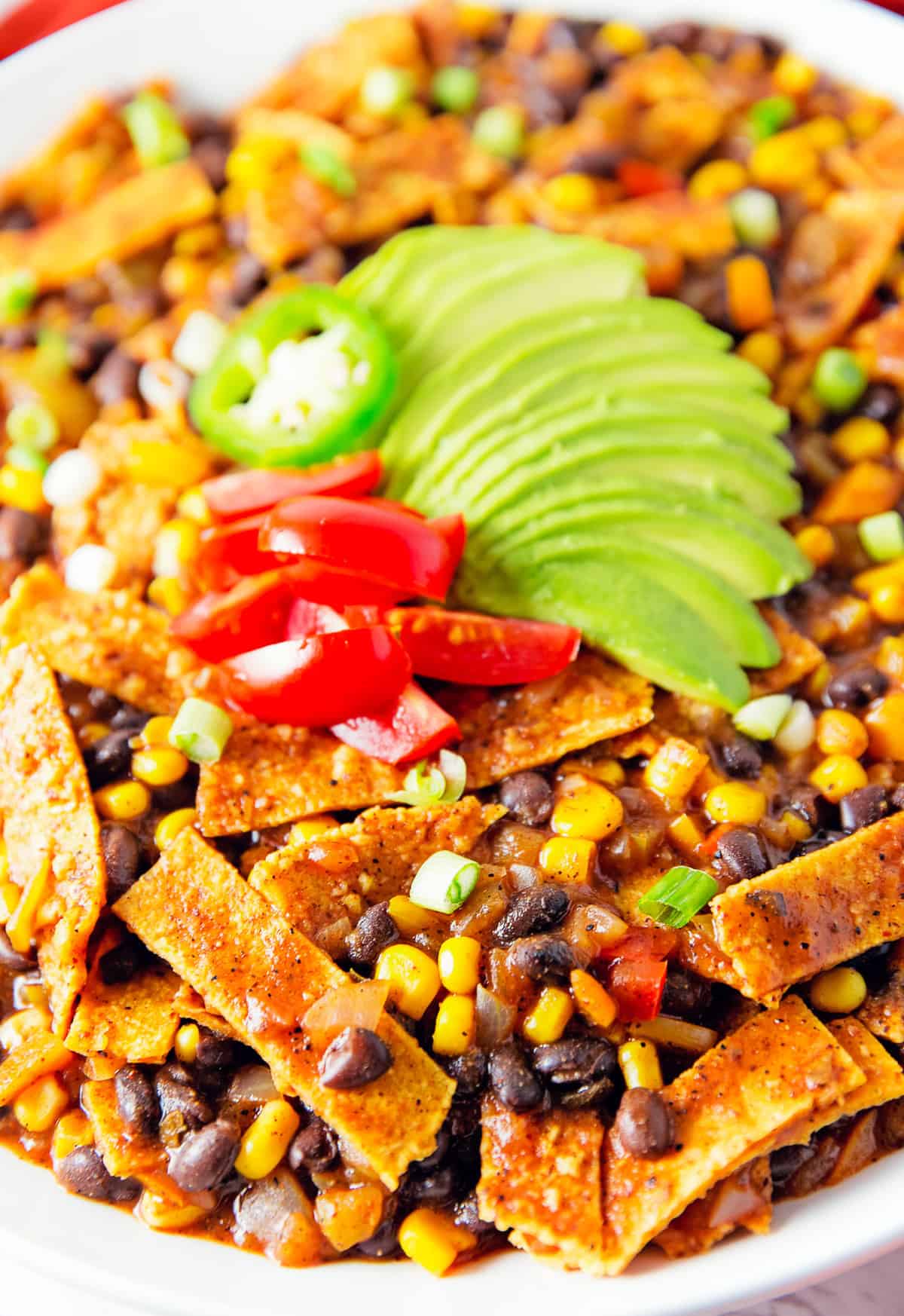 Enchilada Sauce Perfection!
Additionally, we are happy to announce that we have perfected our WFPB Enchilada Sauce that can be made ahead.  It works perfectly with this dish.  Or, if you want to go the super duper fast route, you can use two 14 oz. cans of store bought enchilada sauce.  We would have probably gone that route too; however, we could not find an enchilada sauce that was WFPB compliant.  All the enchilada sauces in the stores we checked had sugar or oil listed in the ingredients, so we did our research and made our own. 🙂

Tips for success!
A great tip for success is selecting a hearty WFPB corn tortilla for this recipe.  You want one that is sturdy and won't disintegrate when added to the dish.  After you cut the tortillas into strips, toast them in the oven on a baking sheet until they are lightly browned and very crunchy.  Toasting the tortillas will ensure that they hold up in the enchilada skillet dish.
Green chilies!
Watch your green chilies can label.  We used a 4 oz. can of MILD diced green chilies in this recipe and the flavor train is utter perfection.  However, if you pick up a can of HOT diced green chilies, scale back on how much you use.  If using hot chilies, taste the sauce to test the heat level, this will help you gauge how much heat you and your family can tolerate.  Start with 1 Tablespoon if you are using the HOT diced green chilies.  You can always add more if you enjoy the extra spicy/hot!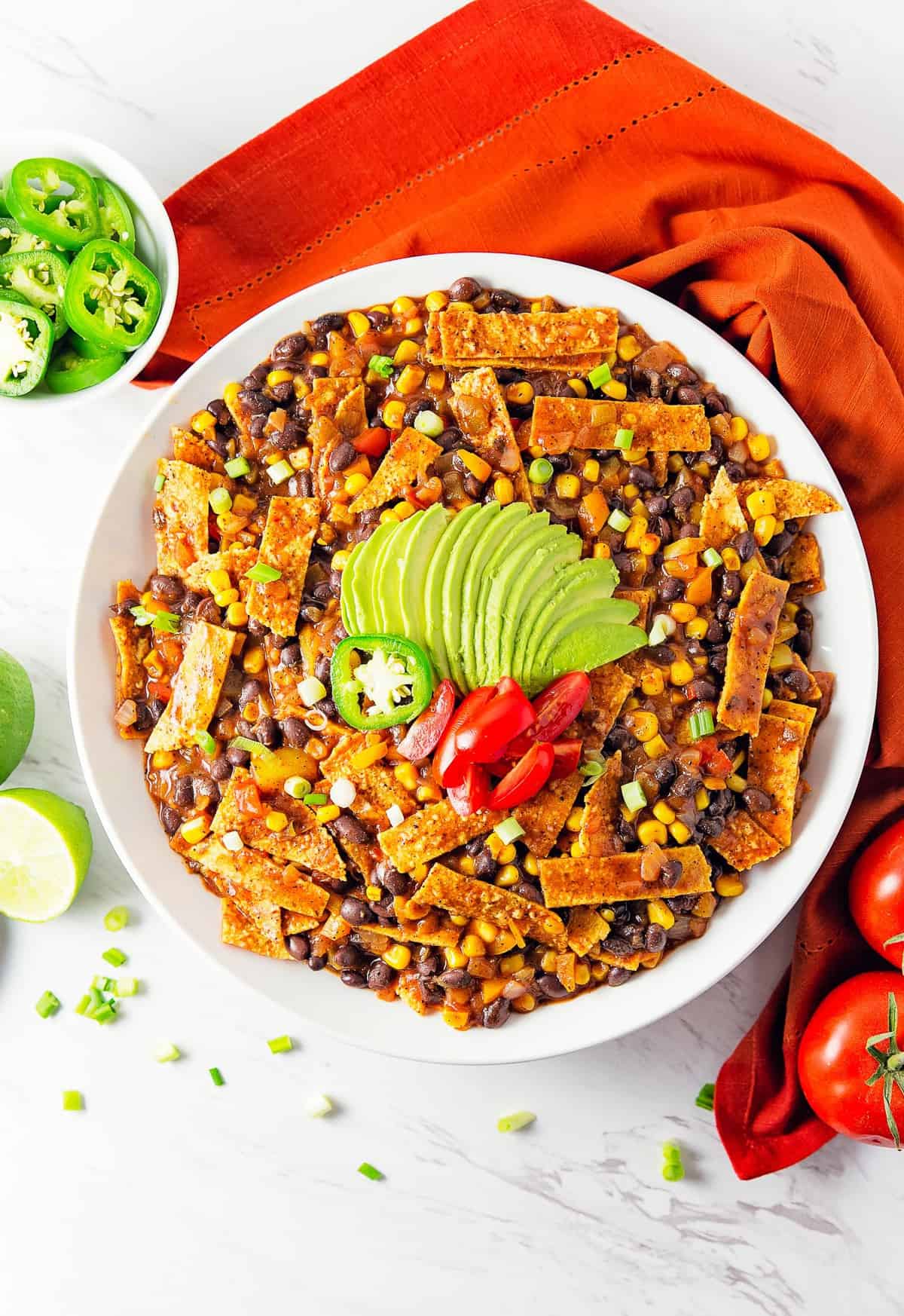 Toppings are a must!
Who loves avocadoes?  Seriously, I could eat them 24/7, I love them so much.  This dish is amazing, but what really sends it over the top is the toppings.  The fresh avocado, tomatoes and green onions just take it to the next level.  Black olives are also really tasty too!  The avocadoes really give it that creamy texture that perfectly complements this dish.
Transitioning Adults and Kids to WFPB!
If you are searching for a dish to transition adults and kids, then this is the perfect dish for doing exactly that as it has so much flavor, just the right amount of spice, and is very close to the Western diet flavors.
We hope you give this recipe a try.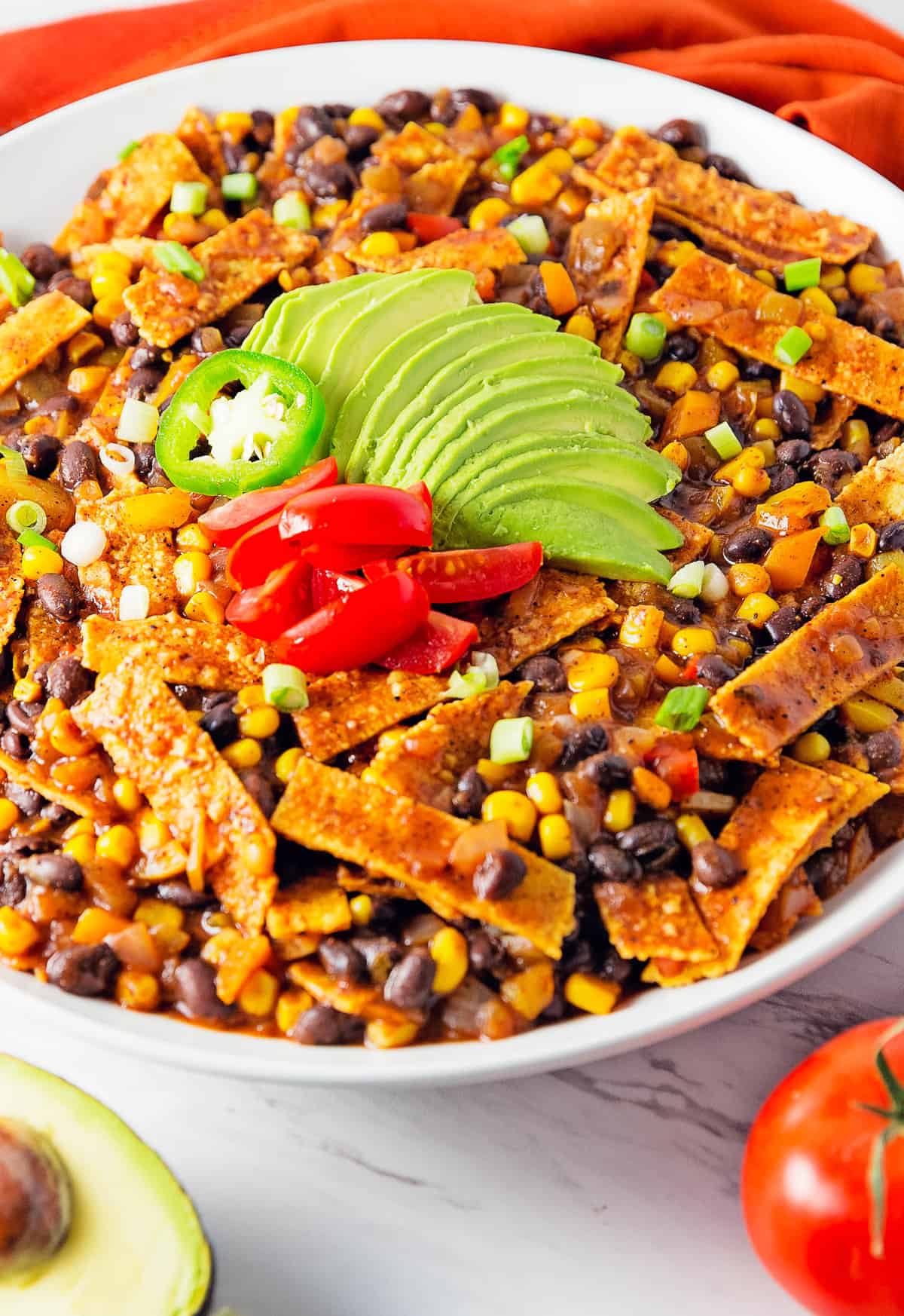 Ameera here!
The first time we made this dish, I instantly fell in love with it, not only because of the amazing flavor, but it is also visually appealing. When we put this dish together, it created such a beautiful table presentation that it literally made my mouth water in anticipation.
We eat first with our eyes, so making WFPB dishes that are visually appealing can ensure that your family will try it.


Products used:
8-quart ceramic/enamel lined Dutch Oven or similar nonstick skillet
14 x 20 baking sheet (or other cookie sheet works as well)
Print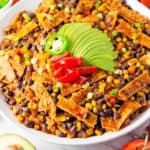 Enchilada Skillet
Author:

Prep Time:

10 minutes

Cook Time:

20 minutes

Total Time:

30 minutes

Yield:

4

-

6

Servings

1

x

Category:

Lunch, Dinner

Cuisine:

Mexican, Southwestern
---
Description
This amazing enchilada skillet is sure to be a BIG hit with the family!  The recipe comes together quickly, and it's very easy to make.   A fabulous Whole Food Plant Based recipe. Oil free, sugar free, no highly processed ingredients, and gluten free.
*This recipe was adapted from One Pot Stove Top Enchiladas by She Likes Food.
---
Enchilada Skillet Ingredients:
1

medium onion, fine dice

1 ½ cups

mixed red, yellow, orange bell peppers, small dice

1 ½ cups

corn (frozen or canned – if frozen-thawed)

2

–

15

oz. cans black beans (or pinto beans), rinsed and drained

3 cups

Enchilada Sauce (store purchased or homemade)

¼ cup

water

1

– [ 4 oz. can ] mild green chilies

1 ½ teaspoons

chili powder

½ teaspoon

smoked paprika

½ teaspoon

Mexican oregano (or regular oregano)

¼ teaspoon

cumin

½ teaspoon

garlic powder

1 teaspoon

sea salt (+/-) *
pinch cayenne pepper

8

or

9

corn tortillas, cut into

one

inch strips
Topping Ingredients:
Sliced black olives
Chopped tomatoes
Chopped green onions
Avocado slices
Vegan Cashew "sour cream"
---
Instructions
Preheat oven to 350 F.
In a large nonstick skillet or Dutch oven (ceramic or enamel lined), over medium heat, sauté the onions and bell peppers until softened (5-9 minutes). If the veggies start to stick add a few tablespoons of water and water sauté until soft.
Add all the remaining ingredients (except the tortillas and toppings).
Stir well and then bring to a boil, then immediately reduce the heat to a simmer. Cook for 10 minutes.
In the meantime, slice 8 or 9 corn tortillas into half, then cut each half into one inch width strips. Place on a parchment paper lined baking sheet and toast in the oven for approx. 5 minutes
After 5 minutes, check the oven to see if the tortilla strips are lightly browned and crunchy. If not, leave in for another minute or so.
Test the seasonings of the enchilada skillet; add more salt and seasonings to taste (if needed).
Once the skillet enchilada flavors marry (after 10 minutes), add all the toasted tortilla chips and mix well to coat all the tortilla chips, cook the mixture for approx. 2-3 minutes.
Serve immediately.
Top with your favorite toppings.
---
Notes
*Hot vs Mild:  This recipe does not have a lot of heat to it. It is spicy and flavorful. If you are trying to avoid a "hot" dish, then note the following to ensure a mild recipe.  Cans of green chilies come in hot and mild.  Store purchased enchilada sauce comes in hot and mild.  Chili powder also comes in varying degrees of heat as well.  We used our own enchilada sauce, a can of mild green chilies and Penzeys regular chili powder.
*Amount of Tortillas:  If you like more corn tortilla to enchilada mixture ratio, then use 9 tortillas, if you like less, use 8 tortillas.
*Sea Salt:  Please adjust the sea salt based upon your family's sea salt preferences and/or based upon dietary needs.
Storage:  Cool to warm, place in glass/plastic storage and refrigerate.