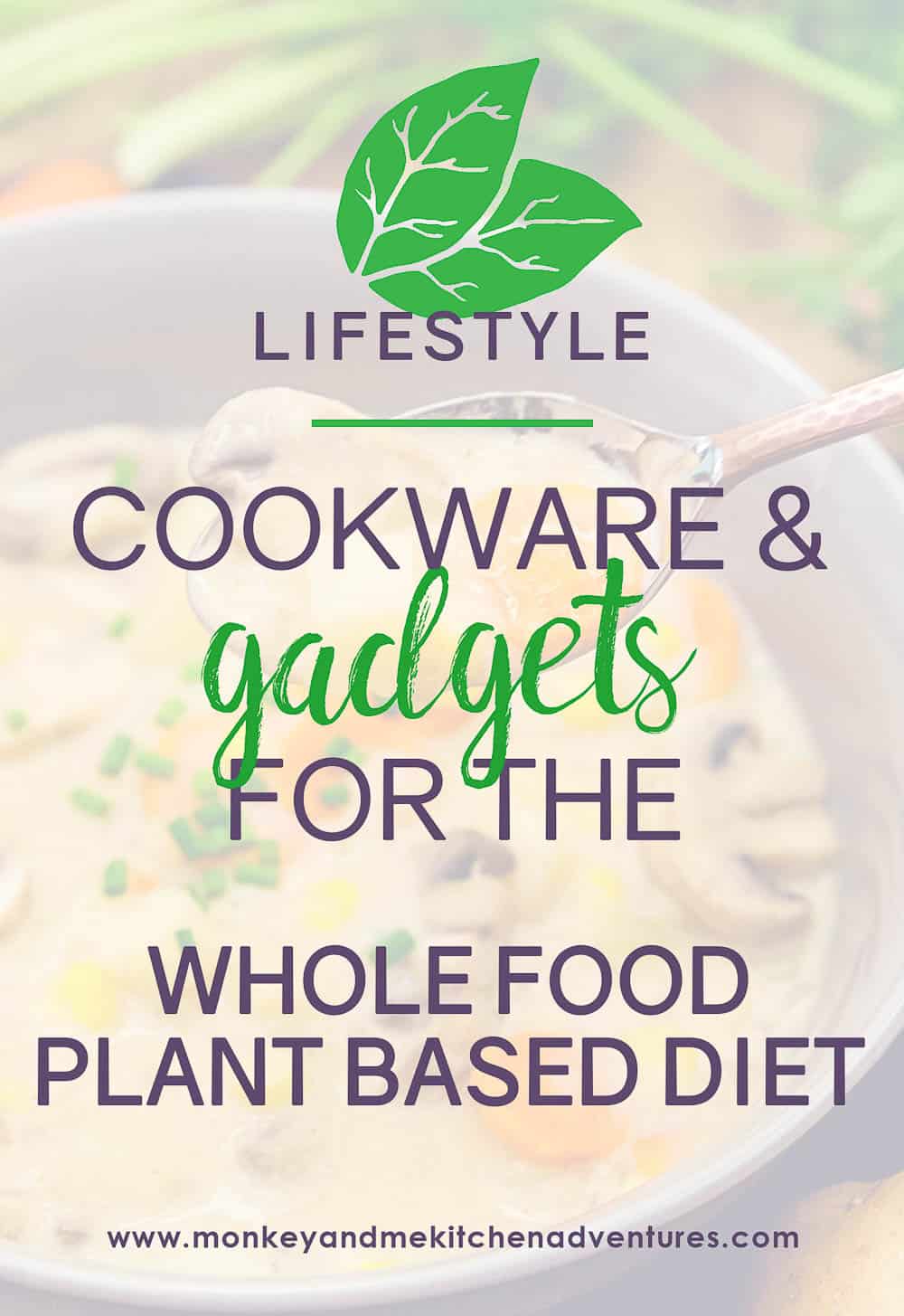 Cookware?  Why do I need special cookware for this diet?
Excellent question!  First of all, you don't necessarily need new or special cookware, but there is cookware that can make your life easier.  We found it challenging to cook and sauté food without oil, so we are thinking that maybe you are finding it challenging too!
Say What? No oil?
Yes, that's right, no oil!  This lifestyle does not permit oil of any kind.  It does makes sautéing food just a bit of an adventure.  Food tends to stick to the pan when sautéing without oil as you can imagine. This can be frustrating, especially since it can be a little stressful when you are trying to learn a new way of cooking on top of that. You don't need that added stress.  Trust me, we were right there with you.  We just learned to relax and experiment a tiny bit.
We tried a lot of different skillets and pans.  Our experimentation paid off, and we love cooking this way.  We really enjoy being creative in the kitchen and finding the right skillets and pots made us super happy!
The list of products below is by no means comprehensive.  We are offering some suggestions on what cookware that we found helpful.  We would love to hear from you on the cookware you love.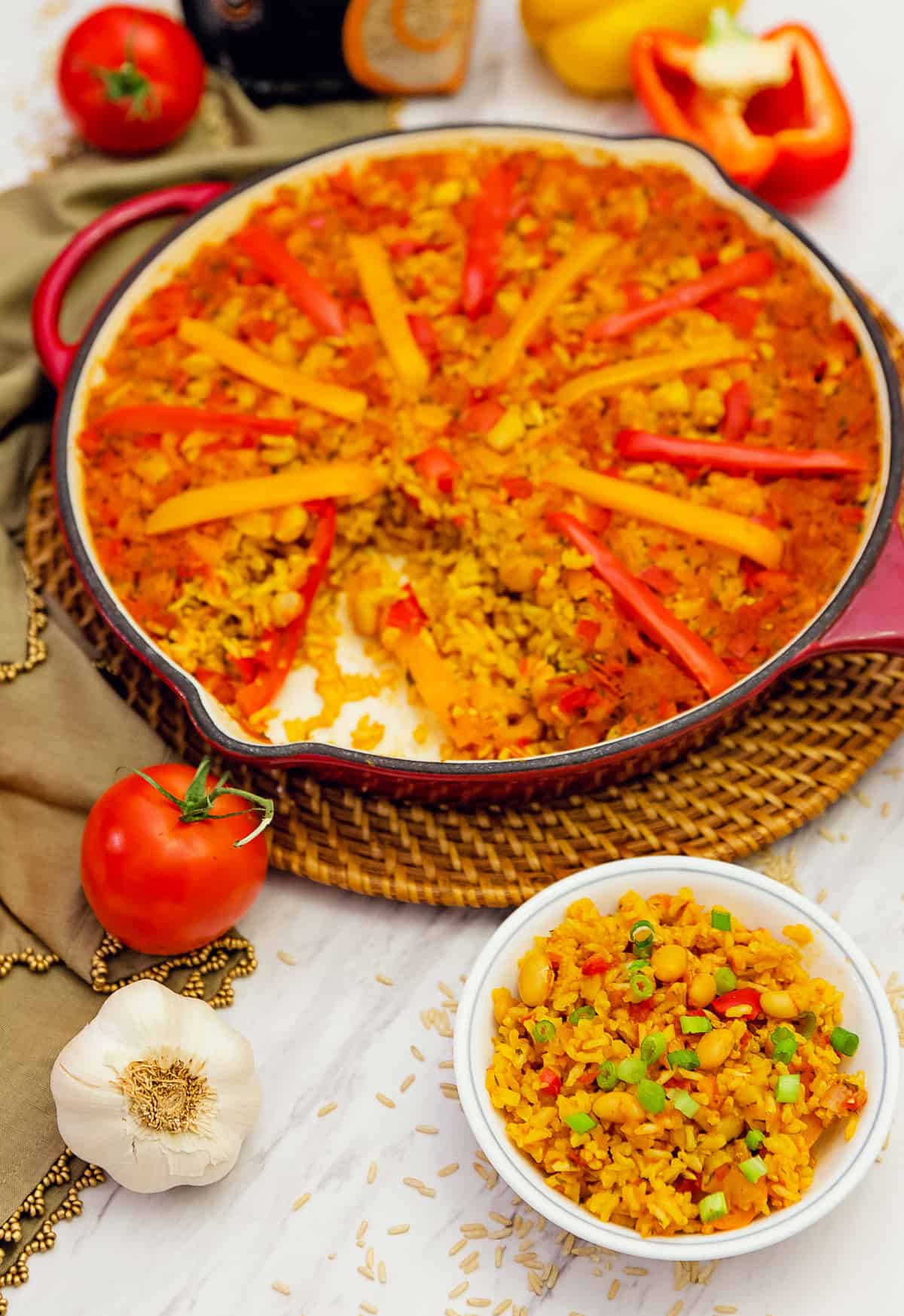 (Paella Recipe HERE)
Pans and Skillets
Ceramic/enamel coated cast iron skillets, Dutch ovens, etc.
Copperware such as Copper Chef and Gotham Steel
Porcelain Nonstick cookware that is free of PFOA and PFTE
Circulon Symmetry Hard Anodized Nonstick Cookware (submitted by readers)
T-Fal Ultimate Hard Anodized Scratch Resistant Titanium (submitted by readers)
Instant Pot
We currently do not have an Instant Pot.  We have a lot of Whole Food Plant Based friends that LOVE Instant Pot.  It is currently on our Amazon "Wish List".  We are looking for the 8-quart one, but prices have rocketed to over $300, which is insane.  We are hoping for the price to come down after Christmas.  Fingers crossed as we have a couple Amazon gift cards that are burning a hole in our pockets. 🙂
Air Fryer
We have almost purchased an air fryer several times.  Every time we go to make the purchase, we read a new review from our WFPB friends that makes us reconsider the investment.   Bottom line is there isn't anything that an air fryer can do that our oven can't except for one thing.  That one thing is that an air fryer heats up faster and since it is smaller, it does a great job of crisping veggies without oil that perhaps your oven can't quite accomplish as well.  The jury is still out.  We are in a holding pattern for this purchase.
Although, we did see an amazing blooming onion done in an air fryer this past week that had our mouths watering!  Hmmmm maybe  . . .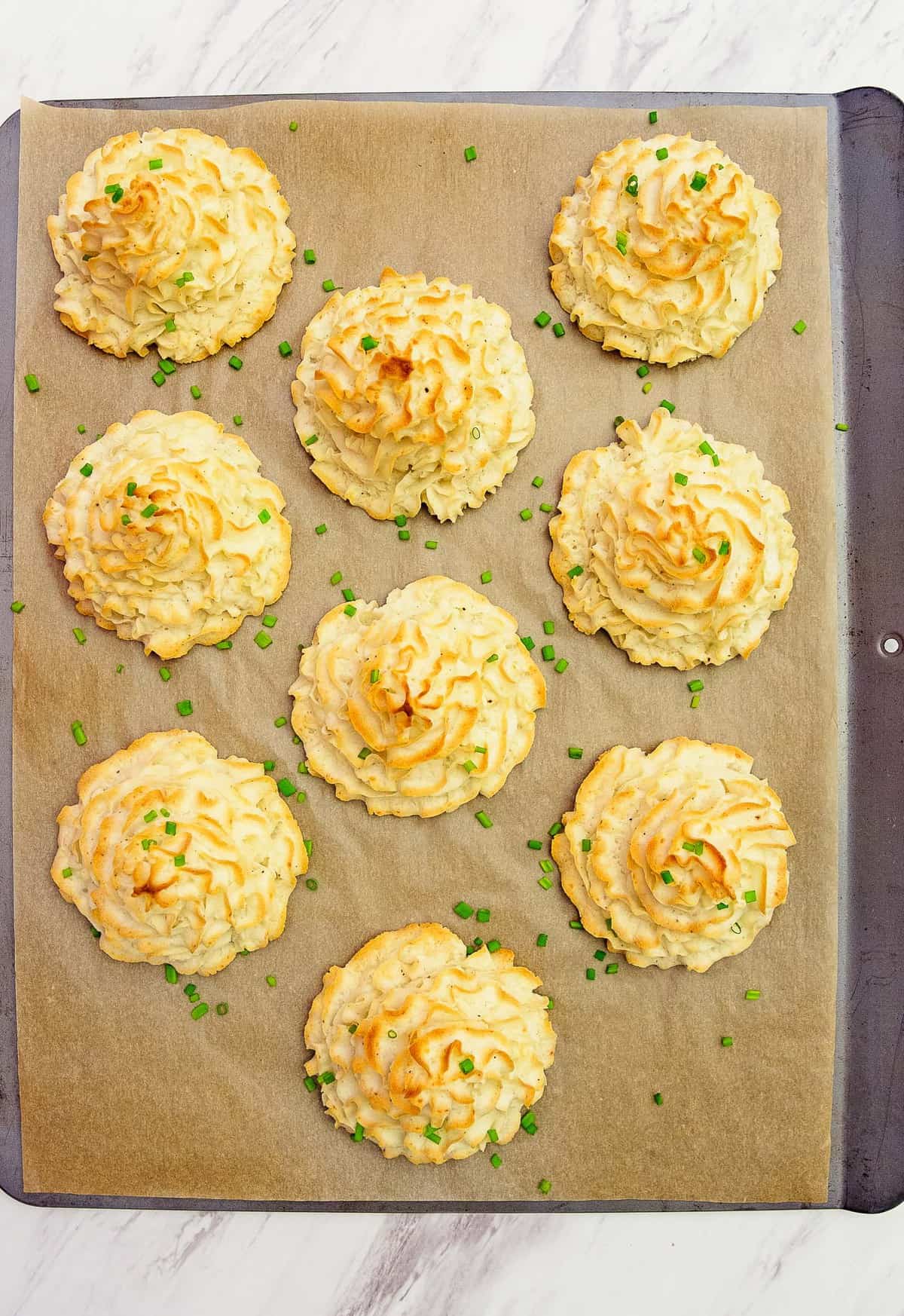 (Duchess Potatoes Recipe HERE)
Baking Sheets
We love our 14 x 20 baking sheets as we use them all the time for roasting vegetables.  Our baking sheets are huge (14 x 20) and this allows us to really spread the vegetables out on these baking sheets, giving them room to breathe or rather "roast" is necessary.  This ensures that they roast and not steam because they are too close together.
We also love our insulated baking sheets.  We use them when we want to ensure that the bottoms of whatever we are baking do not become overly brown.  I especially like the flat ones that do not have an edge or lip on 3 of the 4 sides.  Your baked goods can slide right off the sheet onto a plate or your countertop.
Food Processor
Honestly, we have had our food processor for years and years.  It is still functional and gets the job done.  We use it all the time to make hummus.  If you have a brand that you think outperforms others, let us know as we are not sure how much longer my food processor can last.  We will use it to the very bitter end as we can't part with it.  We love it.
We also have a KitchenAid mini chop.  We love that little nugget of gold!  It is so cute and it works perfectly for little jobs without hauling out the clunky, heavy, ancient artillery referenced above.  You just gotta adore the simplicity of the mini-chop.  It isn't a requirement, but dang it saves hauling time and back pain.  If we didn't have it, we'd have forearms the size of Popeye since our ancient food processor is so darn heavy in comparison to the mini-chop.
Immersion Blender
We make a lot of soup!  Our refrigerator always has soup in it.  It is our every day "go to" when we are short on time and "hangry".   Where would we be without our immersion blender?  For us, it is a must have.  We use it all the time.  You can find any number of immersion blenders on Amazon.  We don't even know the brand of our immersion blender as we use it so much, we have rubbed off the sticker!  :O  Another ancient product in our kitchen, but it works like a charm!
This list is by no means comprehensive; we just wanted to provide some basic items that we found super helpful.  Items that we use every day or every week.  We hope this list helps you with your journey into the Whole Food Plant Based lifestyle!
We would love to hear from you. What are your favorite kitchen gadgets, things that make your life easier? Comment Below 🙂