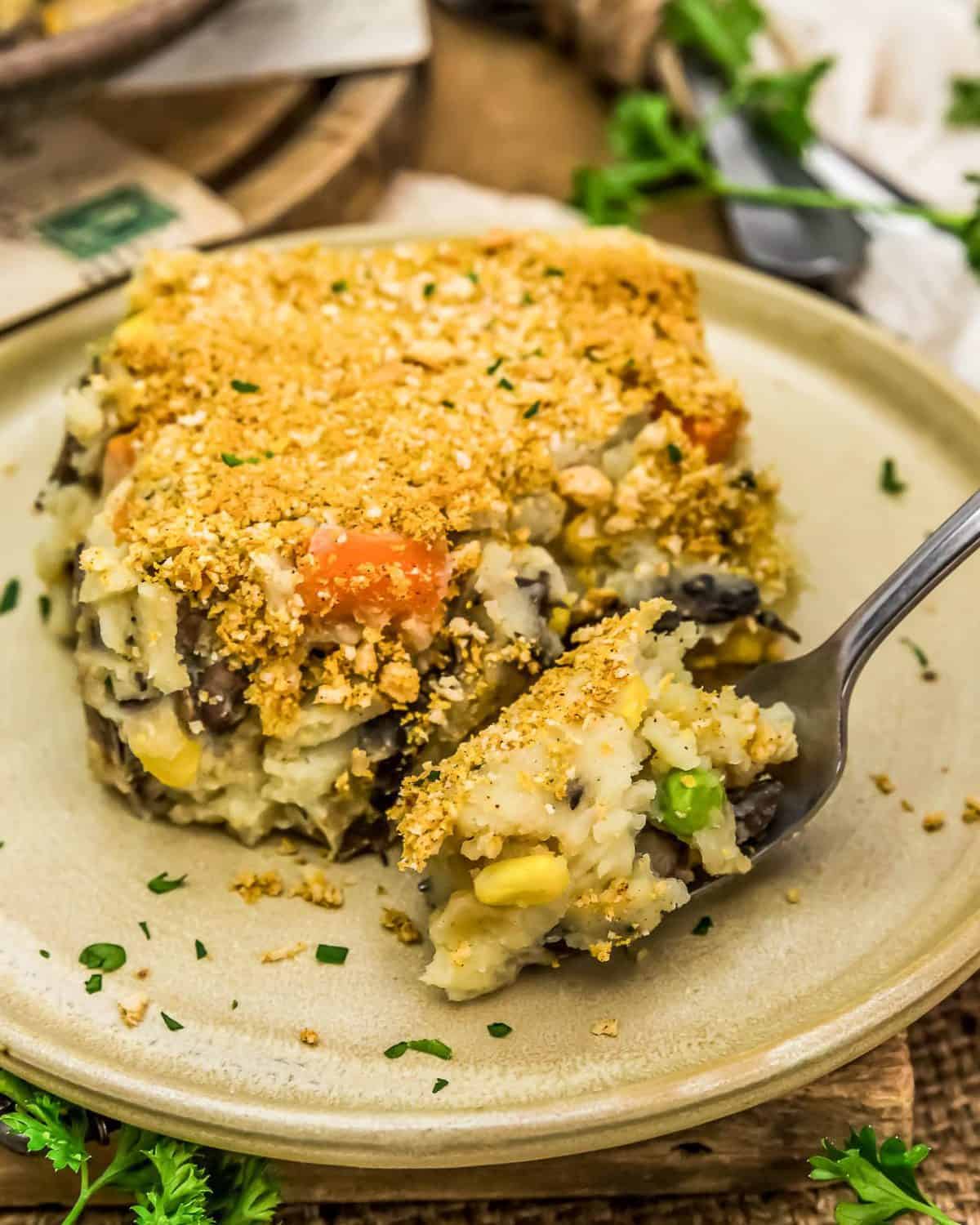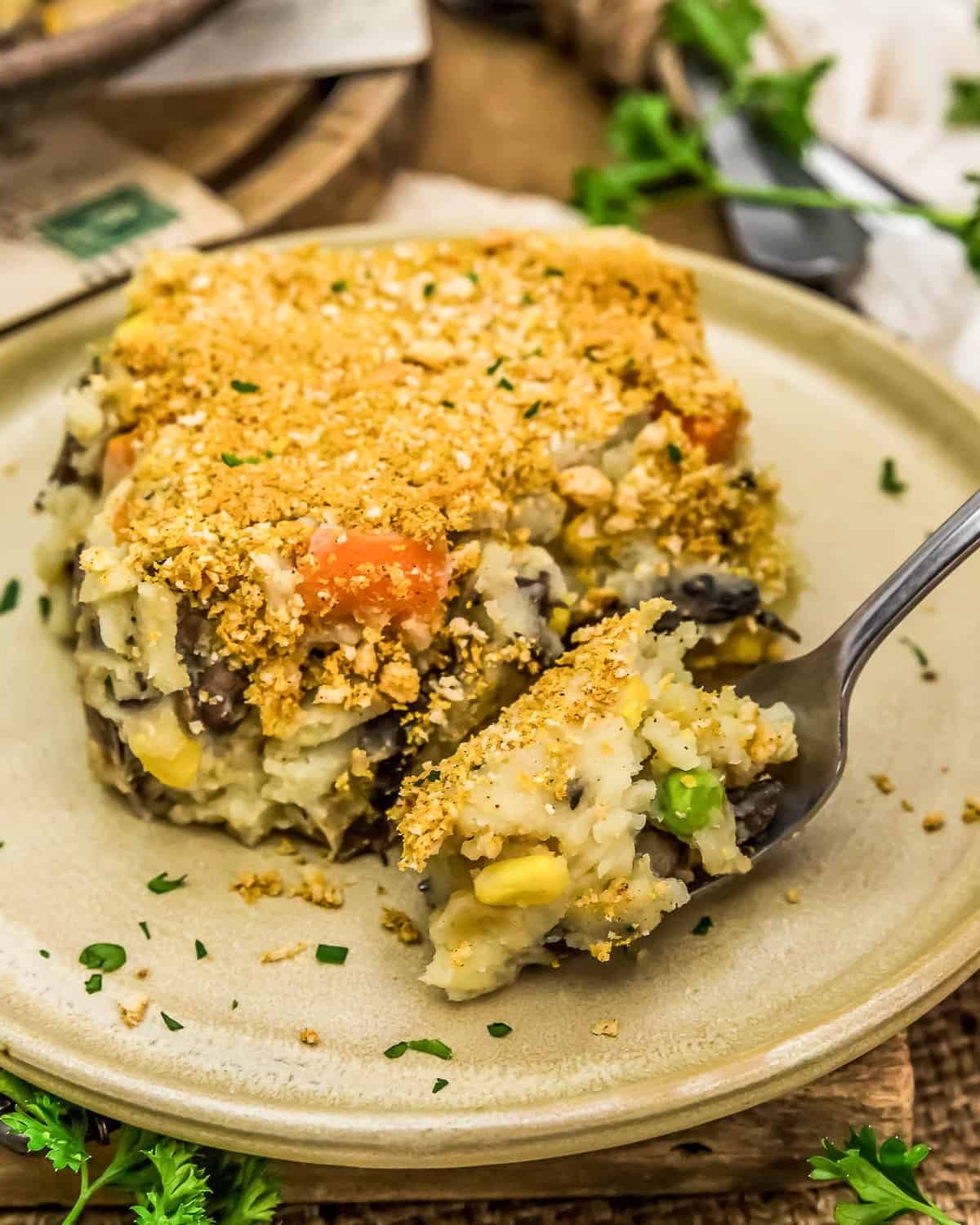 Nothing more comforting than a big bowl of mashed potatoes and this delicious, cozy low-fat Vegan Garlic Herb Mashed Potato Bake is the perfect tasty casserole dish that the whole family will love. These low-fat creamy mashed potatoes are brimming with harvest herb-infused mushrooms and wholesome veggies, topped with a delicious seasoned panko crumb topping, then baked into a winning casserole that is sure to become a family favorite. Serve it up for the holidays or every day; this dish is loved by little kids and big kids alike!
Whole Food Plant Based, vegan, plant based, oil free, refined sugar free, gluten free, no highly processed ingredients.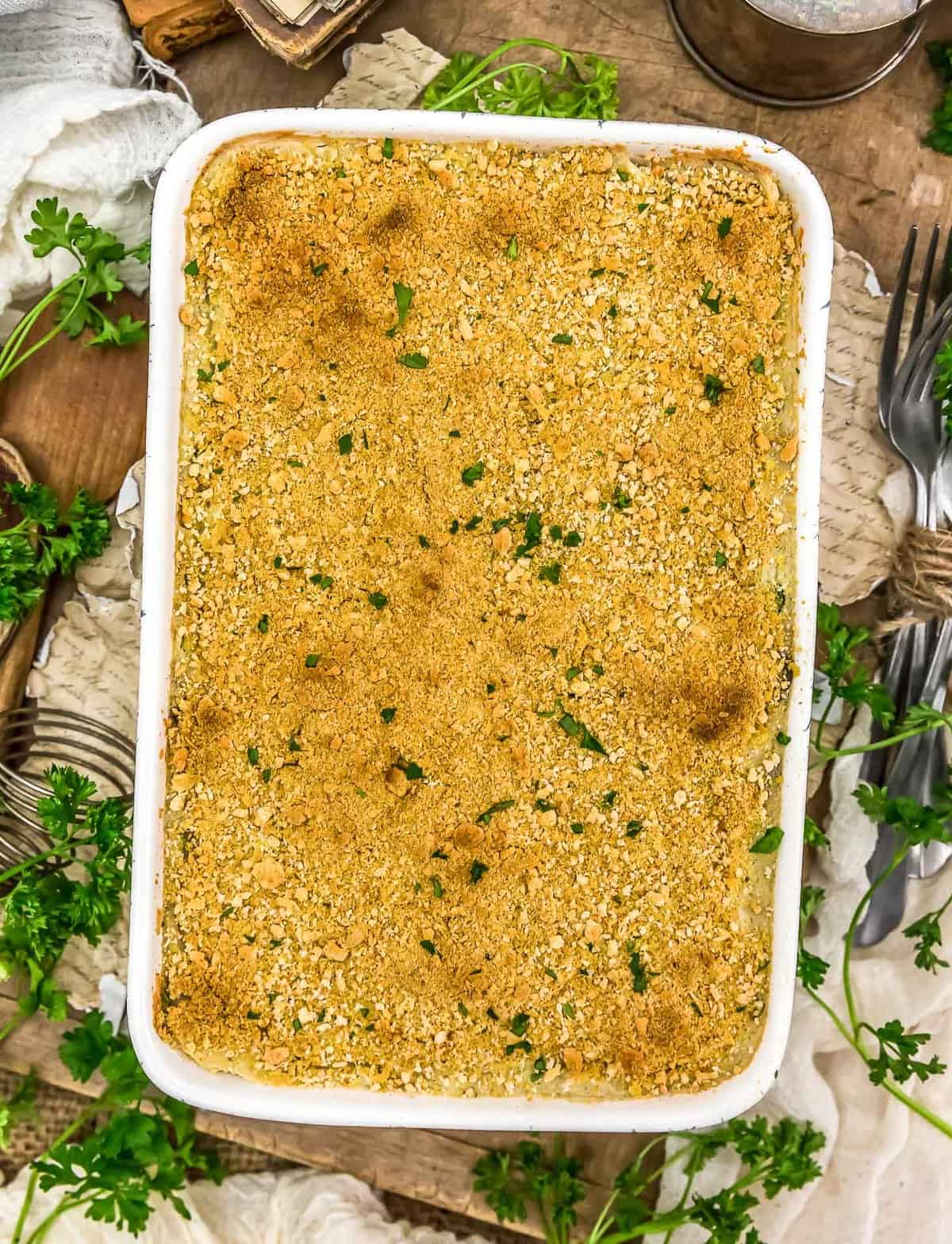 Hi there, Ameera here!
We love garlic mashed potatoes. I mean loooooooove them! Can't stress that enough 😉 Our garlic mashed potatoes that we used to top our Shepherd's pie is super tasty too.
So, Mom and I wanted to flip that recipe around a tiny bit and make a holiday casserole that will have everyone digging in and fighting over leftovers.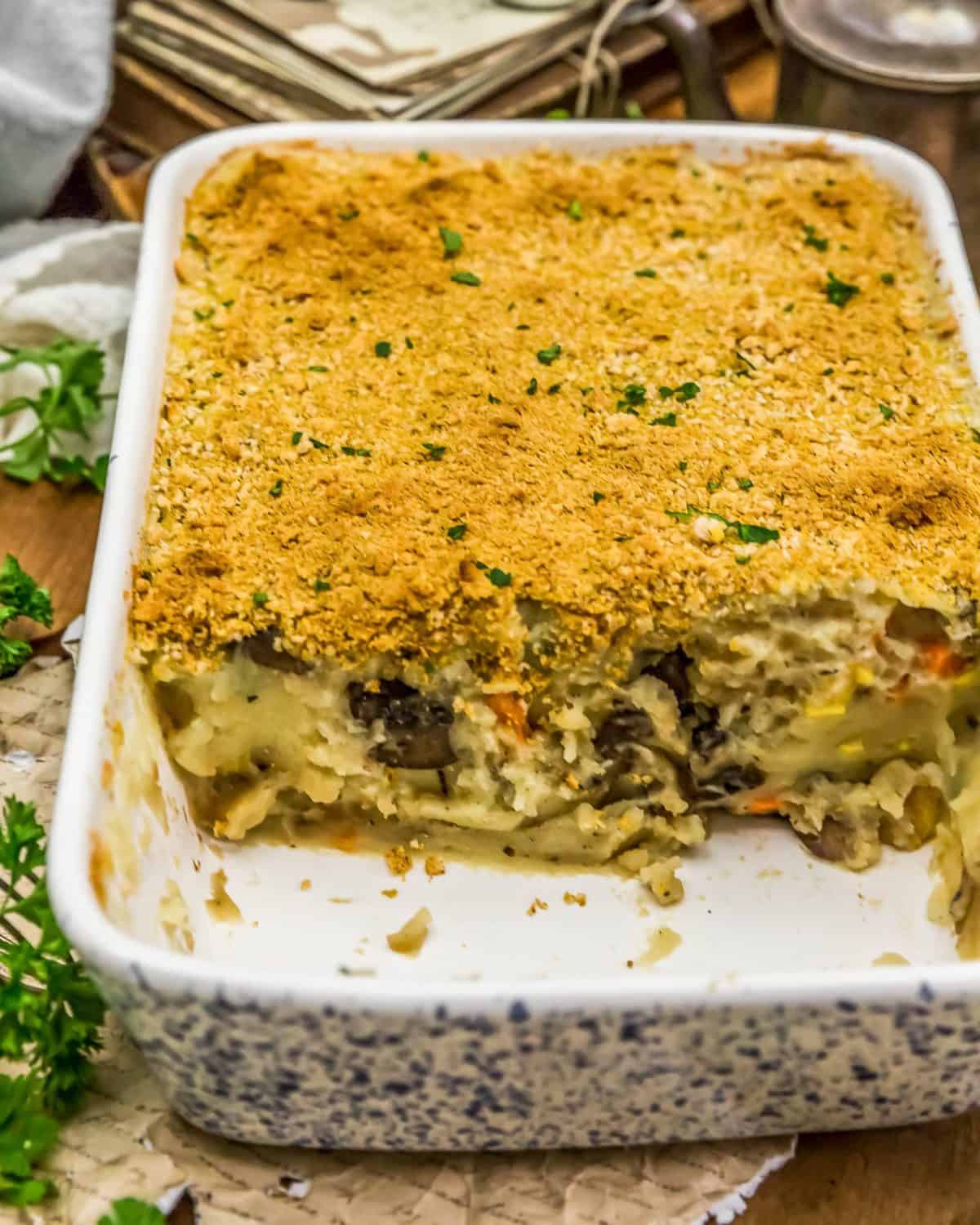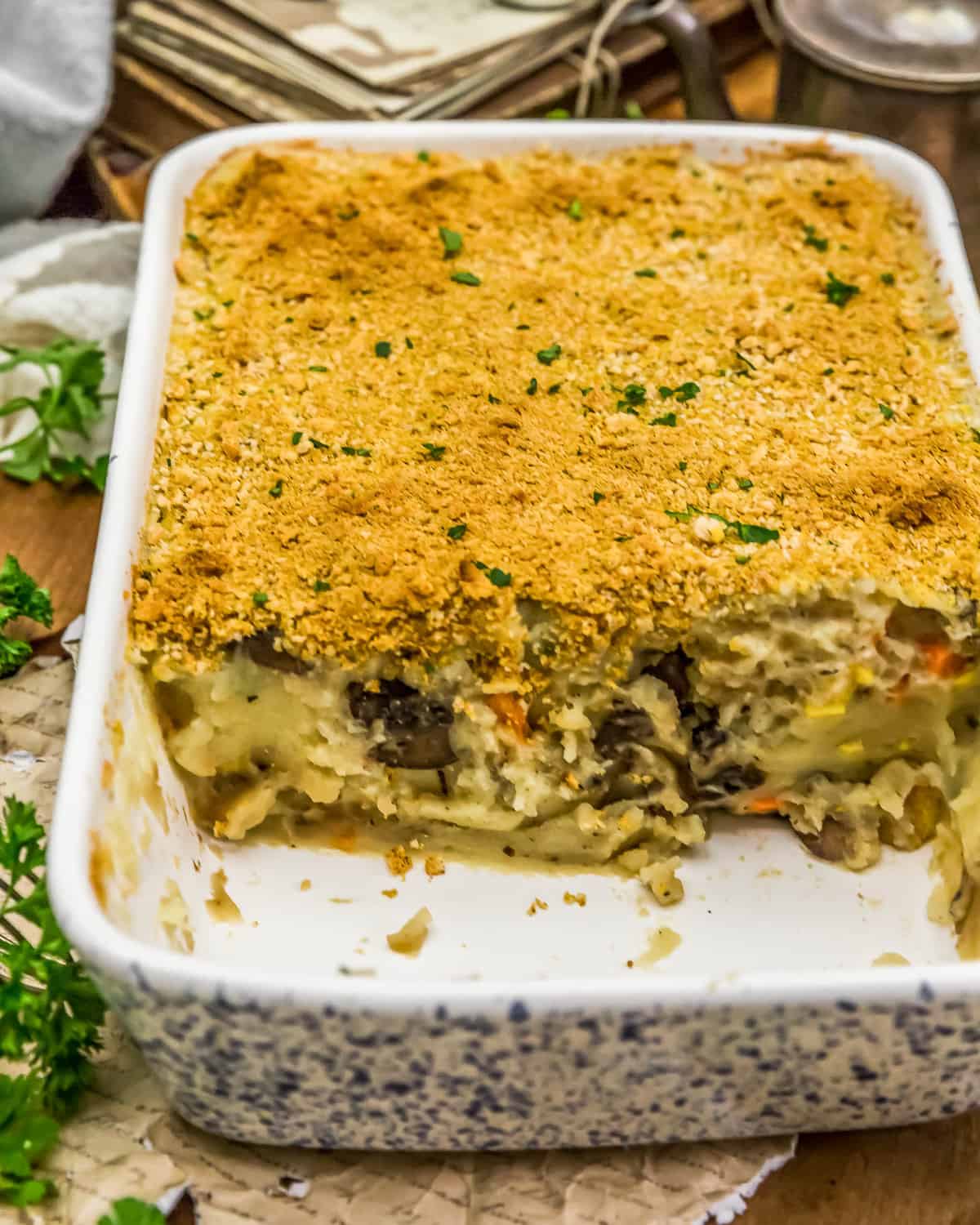 Mixing it Up
Who doesn't love to mix their veggies into their mashed potatoes? I know we do. We took that tasty concept and pushed the envelope a tad to make it a casserole. We added in some herb infused mushrooms for a delicious twist.
As this dish bakes, the moisture evaporates a bit creating a hearty, "sliceable" mashed potato casserole. It is denser and less creamy due to the baking, but what comes out is delicious potato goodness.
Lowering the Fat
We designed this dish specifically to have a low-fat content without sacrificing flavor and this dish really delivers.
Our bodies are designed to seek fat. Fat sends endorphins to the brain telling us to eat more. That is why we take such great pleasure in eating fatty dishes.
If this subject interests you, then we suggest reading "The Pleasure Trap" by Alan Goldhamer and Douglas J. Lisle.  The authors provide great insight into the science-based facts that make us susceptible to our biological drives to consume fats, processed foods, meat and dairy.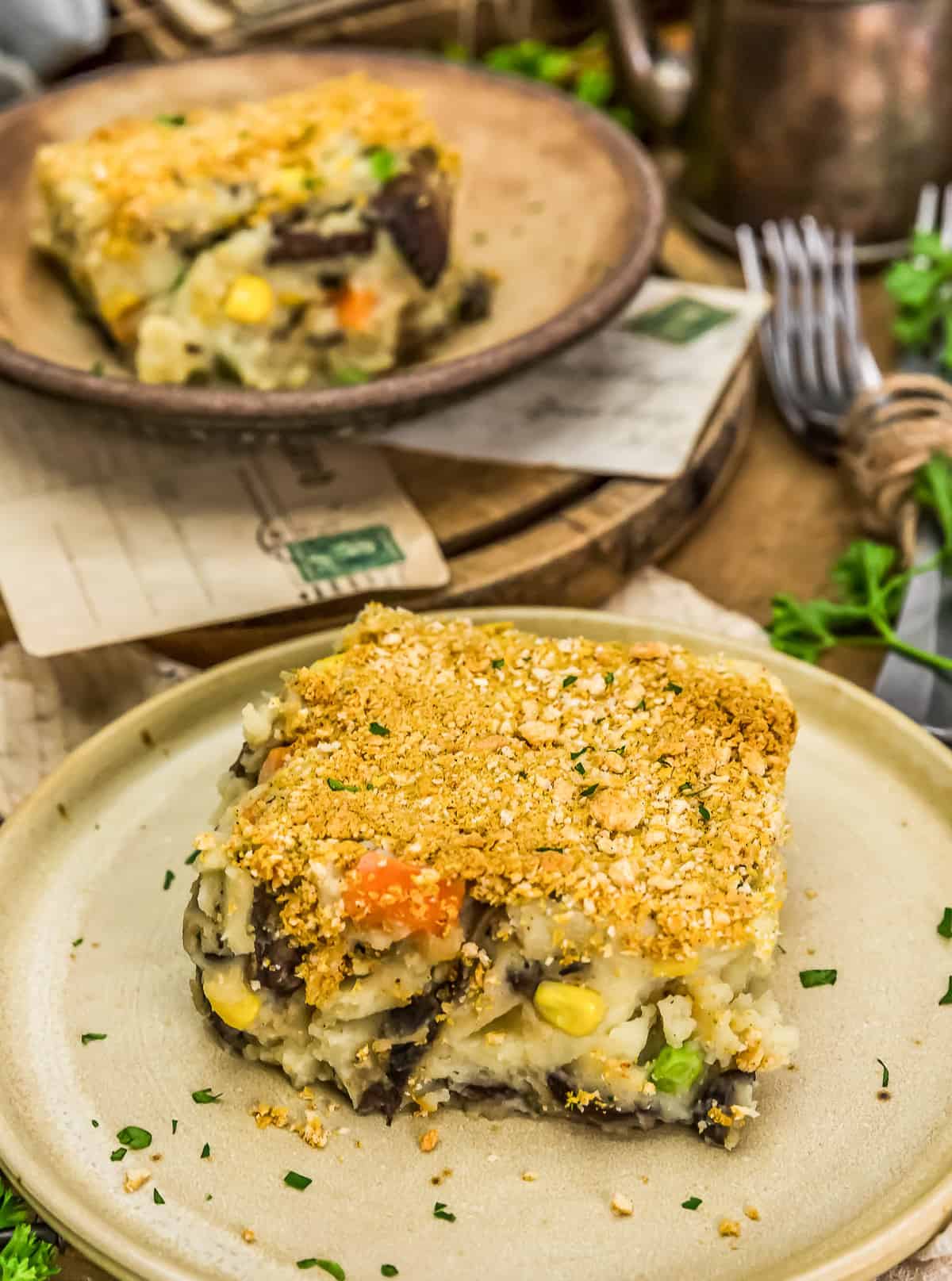 Savory Potatoes
I swear I could eat a whole bowl of mashed potatoes!  I freaking love them so much, probably why I absolutely LOVE this casserole. As it bakes, all those herbs and spices intensifies for a POW of big flavor.
The mixed veggies are a nice pop of veggie goodness.  But I think the crumb topping is what makes this dish feel decadent.  The texture perfectly compliments the soft fluffy mashed potatoes.  You get that crunchy vibe with that soft textural vibe, then the mushrooms and veggies – it just works!
This casserole will definitely be on our holiday dinner table!
I'll let Mom tell you more.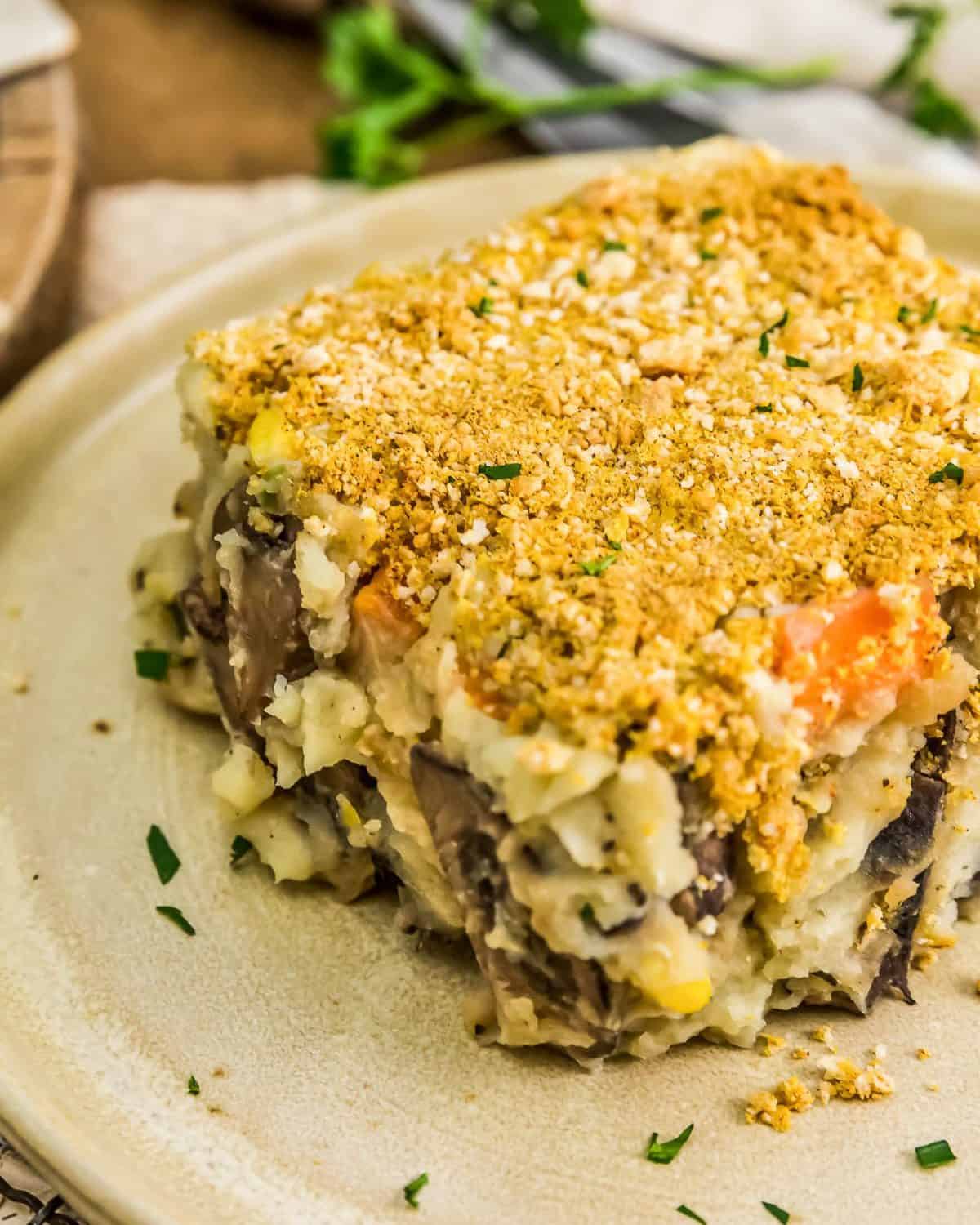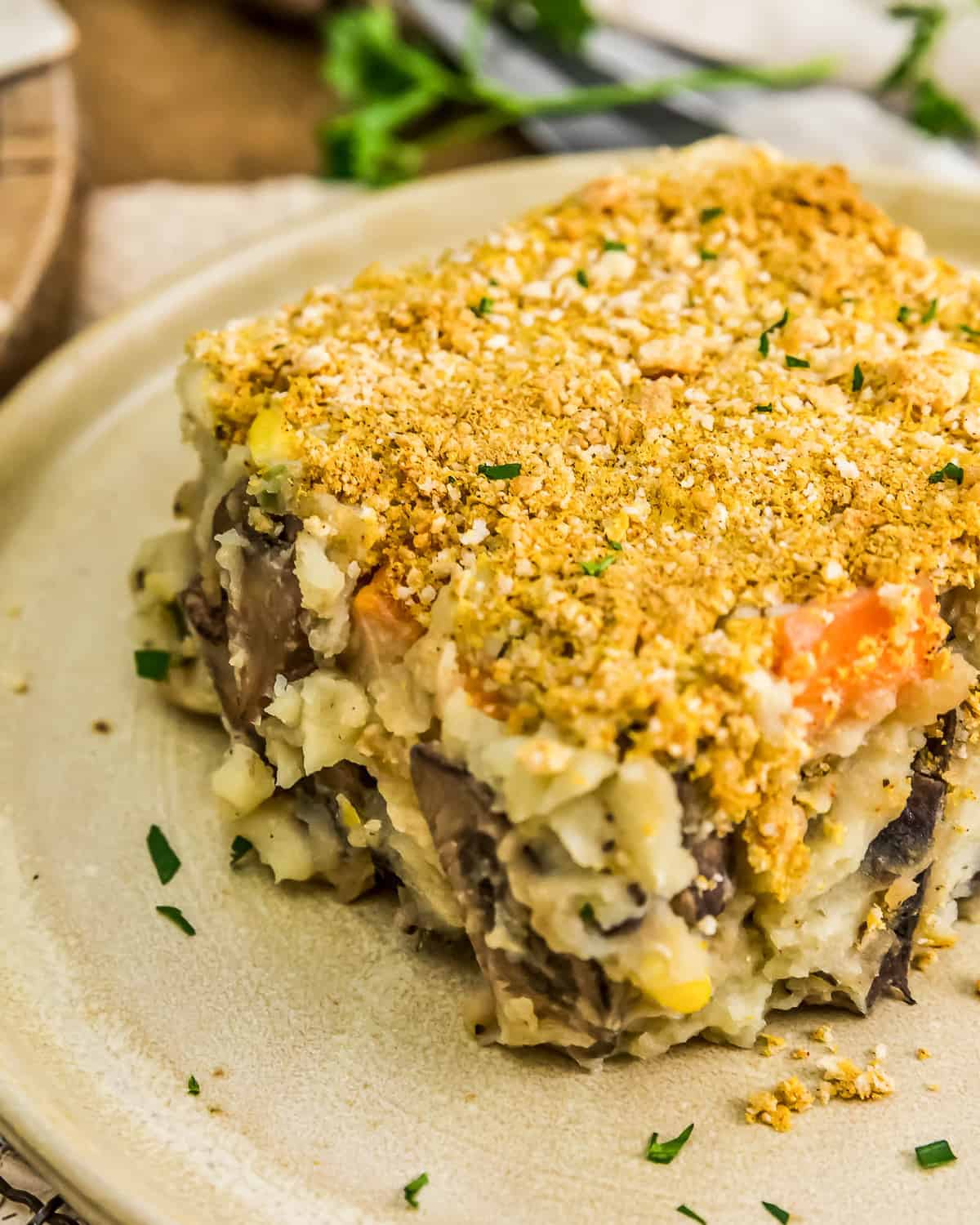 Hi!  Robin here!
We devoured this casserole!  TP109 was licking the beaters with left-over mashed potatoes on them, which I thought was hilarious. Totally reminded me of when the kids were little and they fought over the licking beaters when making a cake.
If you are a mashed potato and mushroom lover like me, then this casserole was made especially with YOU in mind 😀
If you try this comforting casserole, we would love to know if you enjoy it as much as we do! Please leave us a review! Post a picture on Facebook or Instagram and tag us!  We would love to hear from you.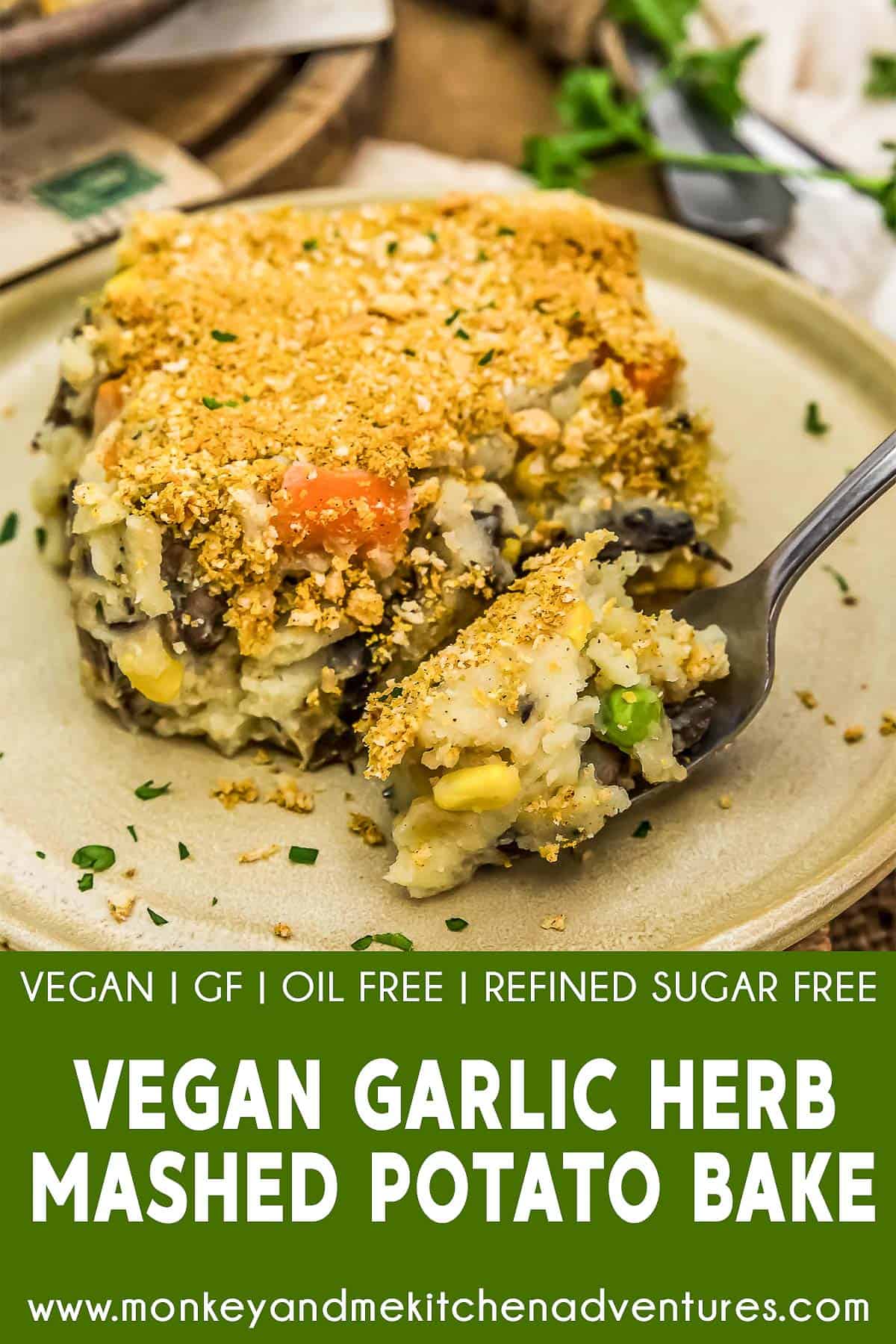 Products Used:
Large nonstick skillet to sauté the mushrooms
Stock pot to boil the potatoes
Electric beater (recommended, but optional)
Casserole dish  (We used a 7 x 11 casserole dish. You can use pretty much any size you wish, the small, the thicker cut philosophy applies)
Print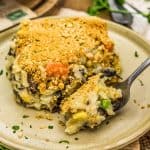 Vegan Garlic Herb Mashed Potato Bake
Author:

Prep Time:

35 Minutes

Cook Time:

25 Minutes

Total Time:

60 Minutes (+Rest Time)

Yield:

4

-

6

Servings

1

x

Category:

Dinner, Side

Method:

Stovetop, Oven

Cuisine:

American

Diet:

Vegan
---
Description
Delicious and cozy, this low-fat Vegan Garlic Herb Mashed Potato Bake is brimming with harvest herb-infused mushrooms and wholesome veggies.
---
Mashed Potato Ingredients:
3

lbs. potatoes, cut into

1 ½

inch cubes *

1 teaspoon

onion powder

1

to

1 ½

teaspoons garlic powder

½

to

1

cup unsweetened plain plant milk *

2 Tablespoons

nutritional yeast

1 teaspoon

sea salt (+/-) *

¼ teaspoon

black pepper
Mushroom Ingredients:
8 oz

. to 1 lb. cremini mushrooms *

1

to

2

Tablespoons reduced-sodium tamari *

¼ teaspoon

garlic powder

¼ teaspoon

onion powder

¼ teaspoon

dried rubbed sage *

¼ teaspoon

dried ground rosemary *

¼ teaspoon

dried crushed thyme leaves *
Pinch sea salt (+/-) *
Pinch black pepper (+/-)
Topping Ingredients:
3 Tablespoons

panko crumbs (or bread crumbs) *

2 Tablespoons

nutritional yeast

1 teaspoon

onion powder

1 teaspoon

garlic powder

½ teaspoon

sweet paprika

¼ teaspoon

sea salt *
Other Optional Ingredients:
2 cups

frozen vegetable mix (warmed) *
---
Instructions
Preheat the oven to 400 F.
Make the topping by placing all the Topping Ingredients into a small bowl, whisk well, set aside.
Cut and place the potatoes into a medium-sized pot, sprinkle with some sea salt. Boil until tender, approximately 15 to 20 minutes.  Go to Step 4.
In the meantime, add the cremini mushrooms to a nonstick skillet with the tamari, sauté for several minutes, then add all the remaining Mushroom Ingredients, sauté for 5 to 7 minutes to allow the mushrooms to release their moisture and reduce in size, then take off the burner and set aside. Note:  If there is extra mushroom liquid left over after the mushrooms sauté and sit, discard – or feel free to save for another dish. We had less than a teaspoon of liquid that did not sauté off.
After the potatoes are boiled until tender, drain off all the water, mash with a potato masher, then add all the remained Mashed Potato Ingredients into the pot with the mashed potatoes and mash/beat with an electric beater until smooth and creamy. Taste test and adjust seasonings to fit your personal preference. Note: keep in mind the seasonings will intensify as the casserole bakes.
Fold in the sautéed mushrooms and (optional) warmed frozen vegetable mix to the mashed potatoes.
Scoop out the mashed potato mixture into a small casserole pan, smooth out evenly, then sprinkle the Topping Mix over top.
Bake in a 400 F oven for 20 minutes, then switch the oven to high broil and broil for 3 to 5 minutes until the top is golden brown.
Remove from the oven, allow to set for 5 minutes, then sprinkle with freshly chopped parsley.  Serve.
---
Notes
*Tips for Success:
Plant Milk: Do not dump all the plant milk directly into the mashed potatoes. Start by using about ½ cup, then beat with an electric beater, continue adding the plant milk a little at a time until you feel you have a great consistency. You may need to add an extra tablespoon or two of plant milk beyond the one cup measurement. The mashed potatoes should be creamy, full bodied, but not runny.  The mashed potatoes do bake in the oven which allows them to set up and dry out a tiny bit.
Electric Beater: Normally we wouldn't use an electric beater with mashed potatoes as it is easy to over process them, and they can turn almost gluey.  In this case we are using the electric beater to whip them into a fluffy creamy consistency. Once you get them very smooth, stop.
Mashed Potato Bake: If you are looking for mashed potatoes, then simply mash and whip the potatoes and serve (Step 3).  Placing them in the oven does dry them out a little creating a casserole-style bake that can be cut into squares.  We want to note this, so you understand the goal of this dish.
Mushrooms and Mixed Vegetables: Both of these ingredients are optional; however, the herbs are connected to the mushrooms should you decide to skip the mushrooms; then you may wish to consider mixing the herb seasoning (minus the tamari) with the mixed vegetables.
Mushroom Amounts: We tested this recipe with both 8 oz. and 1 lb. of mushrooms with varying results. If you love mushroom use 1 lb.  If you enjoy mushrooms, then use 8 oz.  Or just leave them out if you are not a fan of mushrooms.  If you use 8 oz. of mushrooms, then use 1 Tablespoon of tamari.  If you use 1 lb. of mushrooms, then use 2 Tablespoons of tamari.  The spices/herbs do not change based upon the amount of mushrooms used.  Most family members preferred using 8 oz. of mushrooms; however we has some who loved 1 lb.
Warm the Mixed Vegetables: Make sure to warm the mixed vegetables to the tenderness that you enjoy.  Microwaving them for several minutes will work well before mixing them in with the mashed potatoes.
*Notes Continued:
*Tamari: We used San J Tamari Soy Sauce, Gluten Free, Reduced Sodium.  You can substitute the tamari with reduced sodium soy sauce, Braggs Liquid Aminos, or Braggs Coconut Liquid Aminos.
*Dried Rosemary Powder:  We used Penzeys Rosemary Spain Powdered.  Feel free to use your favorite powdered Rosemary.
*Dried Rubbed Sage:  We used Penzeys Sage Albanian Rubbed.  Feel free to use your favorite rubbed sage.
*Dried Thyme Crushed Leaves:  We use Penzeys French Thyme.  It has amazing flavor.  If you can't find dried crushed thyme leaves, you can use ground thyme, but use half the amount.
*Potatoes:  We used Russet potatoes, peeled, and cubed.  You can use your favorite potato; however, we do recommend Russets simply because other potatoes like Yukon Golds tend to go from fluffy to gluey in a matter of seconds when using an electric beater.  You do not have to use an electric beater, you can hand mash them if you wish into a smooth consistency.
*Frozen Mixed Vegetables:  We used Birds Eye Frozen Mixed Vegetables.  Which consists of frozen corn, peas, carrots, and green beans.  Feel free to use your favorite mixed vegetables.  Just make sure they are at the tenderness that you enjoy before adding them into the mashed potato mixture.
*Mushrooms:  We used cremini mushrooms; however, you can use your favorite mushroom. Mushrooms are optional.
*Panko Crumbs: We used Ian's Gluten Free Panko crumbs for this recipe. Ian's is oil-free, but does contain a small amount of sugar.  Ian's is generally accepted by the WFPB community.  If you do not need to be gluten free, feel free to use any panko crumbs or bread crumbs of your choosing.
*Sea Salt:  Please adjust the sea salt based upon your family's sea salt preferences and/or based upon dietary needs.
*Serving:  4 to 6
*Storage:  Use within 4 to 5 days.

This post contains affiliate links, and we may receive a very small commission if you purchase through those links at no additional cost to you. Thank you for supporting Monkey and Me Kitchen Adventures! For more information, see our disclosures here.