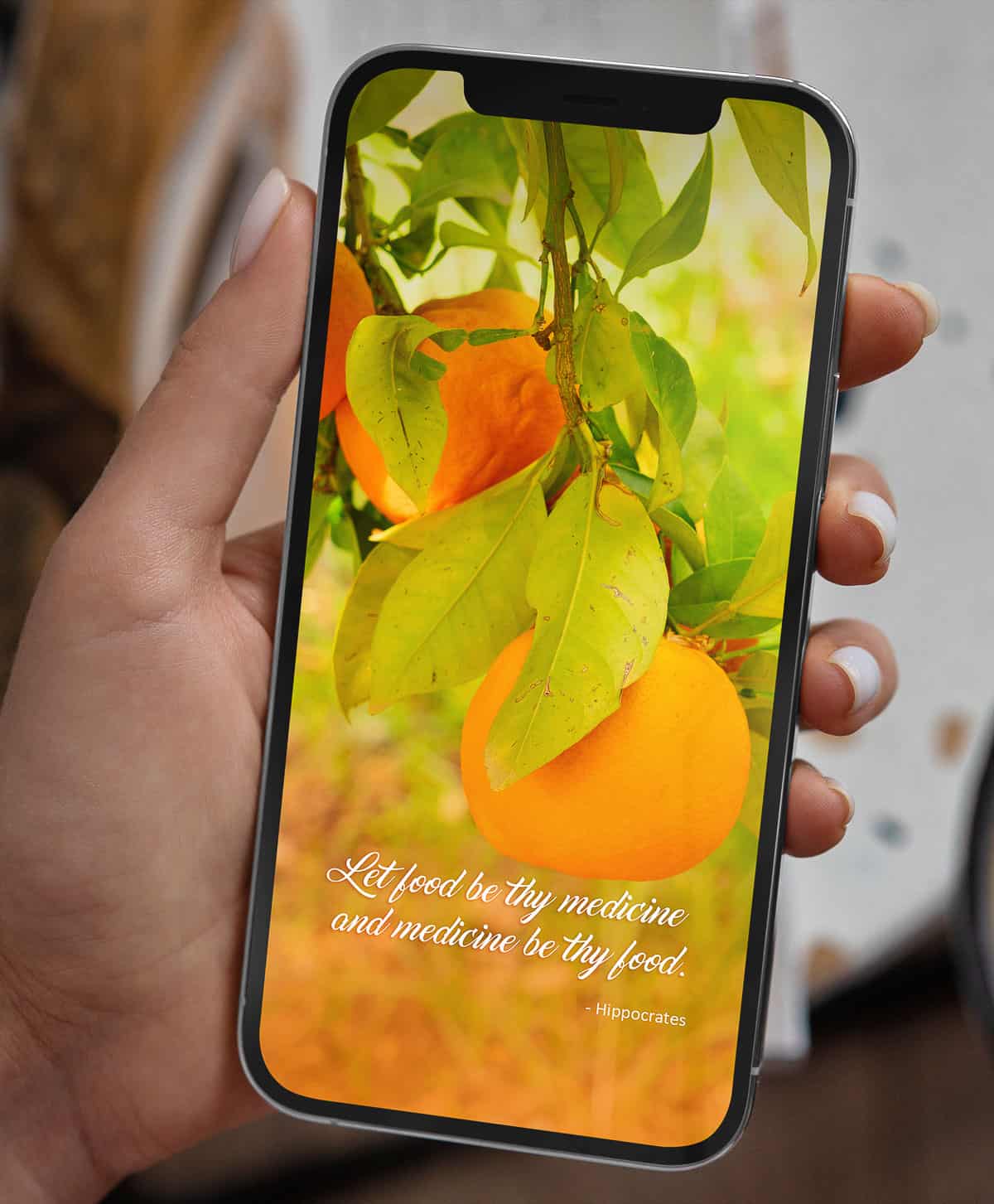 We are so excited to be able to offer our readers these 7 wonderful and vibrant phone wallpapers. You can use them in the Lock Screen and/or Home Wallpaper mode for your phone.
With this wallpaper pack, when you turn on your phone, you will be reminded to stay positive, be kind to yourself, eat more plants, and work towards your goals. Feel free to switch between wallpapers as you see fit!

Wallpapers
Once you enter your email address, you will receive 1 zip file including 7 free digital downloads that will fit most phones. There is no physical product.
You will Receive
Citrus Grove Wallpaper with Hippocrates quote
Farmers Market Wallpaper with Hippocrates quote
Garden Produce with Hippocrates quote
4 Different Vibrant Salad Wallpapers
This is an optional free gift to our Whole Food Plant Based community. We are a small business, and unfortunately, we do not have the means for tech support. There is no troubleshooting offered to assist the user. You must be familiar with how to download, adjust size (if needed), and add/replace/delete wallpapers on your phone. We will offer some general instructions below.
General Instructions
Open email, then download the file by clicking on the zip folder in the email we sent you. Save to downloads.
Go to your downloads folder and click on the zip file.
A Plant Based Wallpaper folder will appear. Click on the folder and you should see the 7 images.
Click on the image you would like to save.
Click on the bottom left of the screen with the download arrow. This will pop up a menu with multiple options.

Option 1: Save as wallpaper directly from the pop up menu. You may need to adjust the image to fit the screen better, and select set.
Option 2: Save Image. Go to your phone settings, select Wallpapers, select Choose a New Wallpaper. Find the image in your photos. Select image, adjust image as needed, and select set.
This is not for commercial use or for sponsored content including but not limited to Facebook, Twitter, TicToks, Instagram posts/reels/stories, sponsored setup photos, Youtube videos, etc. Please do not re-distribute and/or make revisions.
Specifications
Again, these products are for your own personal use only. Products should not be shared or resold.
Resolution Size: 1080 x 1920 px (9:16 ratio.) A Standard ratio across smartphone devices.
You will receive one (1) zip file containing 7 digital high resolution (300dpi) jpg files at 1440px X 2960px
Due to the variations in different phones, the colors shown may vary slightly.
We hope that you enjoy these phone wallpapers as much as we do!

This post contains affiliate links, and we may receive a very small commission if you purchase through those links at no additional cost to you. Thank you for supporting Monkey and Me Kitchen Adventures! For more information, see our disclosures here.