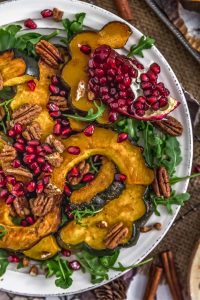 Roasted Maple Glazed Acorn Squash with Cinnamon Pecans
Yield 2-3 servings
Simplicity at its best, this flavorful Roasted Maple Glazed Acorn Squash with Cinnamon Pecans is a perfectly wholesome holiday side dish or for serving every day of the week, it's that good! Oh-so-satifying and beautiful, this fantastic dish features a maple syrup and molasses glaze with just the right amount of cinnamon spice sprinkle, topped with crunchy pecans and sweet pomegranates, and makes for a beautiful holiday table presentation.
Whole Food Plant Based, vegan, plant based, oil free, refined sugar free, gluten free, no highly processed ingredients.
Ingredients
1 acorn squash, unpeeled, cut into ¾ inch slices *
2 Tablespoons organic maple syrup
¼ teaspoon molasses
Sprinkle of cinnamon
Sprinkle sea salt (+/- to taste) *
Sprinkle of black pepper
 Optional Toppings:
Instructions
Preheat the oven to 400 F.
Line a baking sheet with parchment paper, set aside.
In a small bowl make the glaze by adding together the maple syrup and molasses mix well, set aside.
To create beautiful half-moon slices, first cut a small slice off the bottom of the acorn squash to stabilize the squash so it sits flat when upright and does not wobble around.  Next take a very sharp knife and slice directly down the center/core, top to bottom. This is a vertical slice, not a horizontal slice.  Then scoop out all the seeds and stringy pulp out of each half, clean it up nicely so the cavity is nice and smooth.  Then take each half of the squash and lay it down on a cutting board (acorn slice is cut side down) and cut ¾ inch slices. Note: It is not required to peel the skin off the acorn squash as the skin is edible.
Place the acorn slices in a medium sized bowl and pour the maple syrup/molasses mixture over them. Using your hands, make sure that each slice is completely coated with the glaze, then place onto the parchment paper lined baking sheet (single layers). Take any remaining mixture and brush the acorn slices with the glaze. Very lightly sprinkle with sea salt.
Place in a preheated 400 F oven and bake for 15 minutes.
In the meantime, make the Cinnamon Maple Glazed Pecans, set aside.
After 15 minutes, remove from the oven, flip the slices over, brush on any remaining glaze and place them back into the oven for another 7 to 15 minutes (+/-) until fork tender.
Once the acorn slices are tender, remove from the oven and sprinkle with a nice sprinkle of cinnamon and finish with a light sprinkle of sea salt and pepper. (Only one side, not both sides)
To serve, lay roasted acorn slices on a flat dish and sprinkle with coarsely chopped Cinnamon Maple Glazed Pecans and pomegranate slices.
Notes
*Double/Triple Recipe: This recipe is for one acorn squash, it can be easily double/tripled, etc.
*Roasted Look: If you are looking for a "roasted" caramelized look, you can place the roasted squash slices under the broiler for a few minutes to caramelize the maple glaze after they are fork tender. Watch them constantly as you do not want the parchment paper to catch fire.
*Sea Salt: Please adjust the sea salt based upon your family's sea salt preferences and/or based upon dietary needs.   
*Serving:  2 to 3 
*Storage: Refrigerate and use within 5 days.
Courses Side Dish
Recipe by Monkey and Me Kitchen Adventures at https://monkeyandmekitchenadventures.com/roasted-maple-glazed-acorn-squash-with-cinnamon-pecans/